How I Knew When to Turn Bullish on the Market
Nov 24, 2020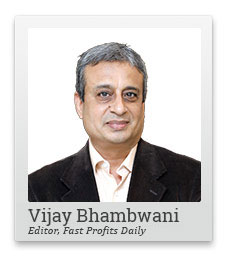 Back in May, I said the markets were looking positive.
At that time, many viewers did not agree. They thought the market was going to crash again like it had in March.
But my 360-degree world view approach told me otherwise.
In this video, I'll tell you how I knew it was time to be bullish. This will probably seem unconventional to you, so I request you to keep an open mind.
Let me know your thoughts.
Hi, this is Vijay Bhambwani. I hope you're enjoying your trades in the markets and your P&L, your profit and loss from these trades is growing with time.
I also sincerely hope that my videos are helping you become better traders, earn better trading profits, and the quality of your earnings, that means the amount of stress that you have to undergo to earn profits per trade, the quality is going up and your stress levels are going down. Knowledge and knowing what to see in the markets basically reduces stress in the trading process.
So today's video is about a very unconventional metric, or rather, metrics that you can use to basically arrive at decisions about whether you should be bullish of bearish. These, like I mentioned, are unconventional at best.
Once the long down was partially lifted a couple of months ago, wine shops were allowed to open for a couple of days and one saw a huge amount of rush and serpentine queues outside wine shops to buy liquor.
DISCOVER: How to Potentially Multiply Your Returns by Upto 5x...
Social media posts went haywire. They went crazy. There were a lot of memes, a lot of jokes created about how the tipplers, the people who consume alcohol, are actually reviving the economy and helping the turnover in the movement of cash and liquidity flow by consuming alcohol and how they should basically be thanked for turning the economy around.
Guess what? It's true. This is one of the many metrics that are used to basically arrive at decisions about whether I should be bullish or bearish in the markets.
Let's go back in time in, say, December of 2015 and since we are almost in December in the year 2020, I decided this would be the right time to bring this empirical anecdote up in this video.
As is the case the media was inviting fund managers on their shows and forward guidance was being solicited. Forward guidance in the sense, 'What are you going to do in the coming year?' In this case, January of 2016 onwards? Remember we're talking about December 2015.
So the media wanted to know what the fund managers would do, and the fund managers, of course, retorted back. They were very bullish on India, and FII allocations in India would go up and how they would come back from their Christmas and New Year holidays, collect their performance bonuses in December because their accounting year is January to December, as I have recorded in my recent video How to Make Profits in the Year End, which was uploaded very recently here.
So all that was very interesting and of course heartening to know that FIIs were bullish on India but evidence suggested that the month of January would actually bring a decline in the stock market and if you go back to your charts and check out the Nifty 50 and the bank nifty in January to March 2016, you will actually realise that this quarter was a debilitating.
By debilitating I actually mean bone crunching. Something that hits you. So are your body is a rattle down to the bones. Now, this decline in January to March 2016 was actually very, very painful for the bulls. What really happened?
Now what really piqued my interest was a statement in one of the pink papers that I read in December very late December 2015 was from one of the leading alcohol distillers and brewery company, which said alcohol sales in terms of number of cases sold, a case is a carton of alcohol, bottles of alcohol in a cardboard carton, the number of cases sold, were at a multiyear low in spite of downgrading.
By downgrading, I mean, if you are used to the idea of consuming a bottle of alcohol all which costs about Rs 1000 a bottle, you downgrade to a battle which costs you 700 maybe 500 because your disposable income or the money in your pocket is now reduced.
So in spite of people downgrading and buying lower cost alcohol, the sales in terms of bottles or in terms of cases, cartons sold, was actually lower. Now, this is something that made me sit up in my chair.
Alcohol constitutes a commodity which I call inflexible demand commodity. It's something that people do not really want to cut down on. If you have seen a hardcore alcoholic, he will skip a meal, but he will not skip the daily quota of booze.
Now this is something which is an intoxicant. It is a habit forming, and it's actually to the point of calling in a vice. Now, whether you consume alcohol or not, whether you consider it as a social evil or not, whether you basically for it or against it, you can't ignore it, if you are somebody who invests money in the financial markets.
Guess what happened in the months following the statement from the leading distillery and brewery company? Stock markets Fell.
Go back further in time in 2008. We know that the declined that occurred in 2008 was the biggest, and in terms of sentimental destruction or damage to the investor sentiments, the biggest decline was in 2008, after the great recession of 1929 to 1933.
Now here again, sales of many items, which I would call inflexible in nature where demand is concerned, including toothpastes, you know the sale of toothpaste declined and there was a rise in the sale of tooth powder because tooth powder happens to be cheaper in relative terms as compared to toothpaste. So that's down trading again.
Now, in spite of downgrading, in spite of number of tubes of toothpaste falling, the number of a tins of packets of tooth powder rising, did not rise in commensurate terms. Which means that the sales net net, in spite of down trading were falling.
So this time around when I saw huge serpentine queues outside wine shops when I was passing by walking or driving in that area and I saw huge queues outside wine shops, believe me, in a way, I am not encouraging alcohol consumption, but from a financial a market investment point of view, I was very, very glad that people are coming out to buy booze because this is one of the many metrics that I use to determine whether the market is going to go up or go down.
In the month of May, when I put out a video saying that there are four metrics that I have seen in terms of numbers, wherein I feel that the market is likely to turn higher, a lot of people thought I was talking out of my hat.
Now, you will basically put the pieces of a jigsaw puzzle together and see what I really was getting at. Many more of these metrics exist and these are commonplace. You look around you in the world and you will see that there are signals which you can make money out of the stock market by simply observing in your day to day life of what is happening in the world around you.
Welcome the 360 degree worldview approach of looking at financial markets. On this happy note, I'll bid goodbye to you in this video, not before we meet again in my next but if you're watching this video on YouTube, don't forget to click life on this video if you liked what you saw.
In the comments section, do let me know what you think about this video and what you would want me to record next. Also, subscribe to my YouTube channel, if you already haven't done so. Click on the bell icon.
Help me reach out to fellow like-minded traders who believe in a world view which is balanced, based on knowledge based investments and studies by recommending my videos to your family and friends.
Do take very good care of yourself, your health, your family, your friends, your trades, and investments. Have a very, very profitable day ahead. Vijay Bhambwani signing off for now. Thank you for watching my video.
Warm regards,

Vijay L Bhambwani
Editor, Fast Profits Daily
Equitymaster Agora Research Private Limited (Research Analyst)
Recent Articles