The One Sector to Avoid in 2022
Nov 24, 2021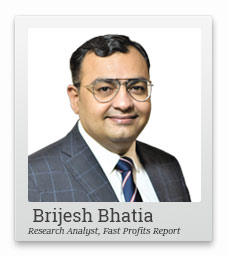 Stocks of most sectors had a great run in the market this year.
But there was a sector that many people were bullish on at the start of the year and failed to impress.
I believe this sector is the one to avoid in 2022 as well. Let me show you why.
Watch the video and let me know if you agree.
Hello viewers. Welcome to the Fast Profits Daily. Myself Brijesh Bhatia.
Well in the previous videos, we have discussed that the metals could continue to rally in 2022 as well, and we have seen the market has been correcting from higher levels to 17,300 levels now. It's time that you grabbed the metal stocks. I believe that metals still has a huge room.
EV Stocks: Which is Tanushree's Top Pick?
But in this video I'll be discussing one sector which you should avoid in 2022. It's one of the most outperforming sectors of 2020: Pharma.
Pharma Index rose up by around 60-61% in 2020 due to the covid and as we have known that pharma was outperforming IT. But in 2021, so far, it's been underperforming a huge margin. Most of the sectors are up about 10, 20, 30, 40% but this sector is flat to positive with around a gain of 2% so far.
I would say, if you look at the 2021, pharma has been hugely underperforming and I believe in 2022 as well, it will continue to underperform.
Why so?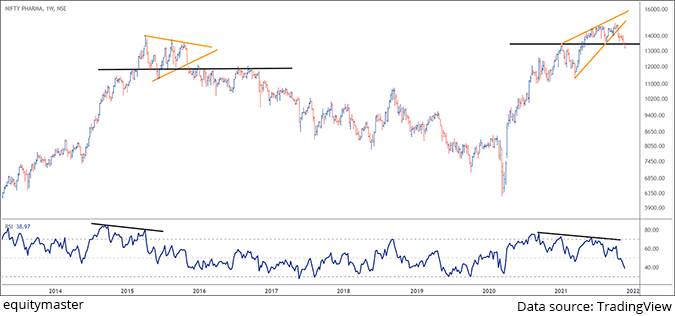 If you look at the first chart over here, this is the weekly chart. I have compared 2014-15 highs where pharma index was one of the most outperformers between 2013-14 and since then, it started underperforming.
We saw a triangle breakdown over there. The previous lows which were being held were where the breakdown happened and if you look at the lower panel, the RSI negative divergence. A similar structure is being witnessed in 2021 again. In that case, it was a triangle. In this case it's a rising wedge.
Basically, a rising wedge is an indication of the top sort of structure. Now we saw a rising wage structure breakdown. The previous lows, which were around 13,600 has been breakdown in the current fall.
So if you remember 14,800-14,900 was the high. A psychological resistance of 15,000. Now the breakdown confirms that the structure is very, very negative.
Now similarly, if you look at the RSI divergence similarly what we saw in 2014-15, the history is repeating back in 2020-21. We are with facing the negative divergences and this is of the weekly chart negative divergence, which plays a major, major role.
Probably we might not see the quantum of fall which happened between 2015-2019. But yes, I think the slow fall would continue in the pharma space.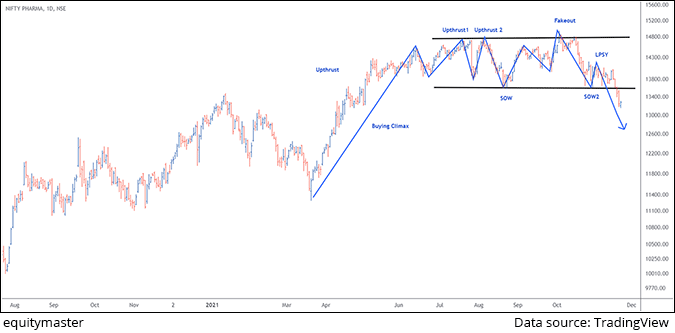 If you look at the daily chart over here, we are witnessing a Wykoff distribution structure. Now the rally of 2020 was majorly a buying climax. We saw the pharma, day in day out, were one of the strongest counters in 2021.
Since then it went into the consolidation. We saw an up trust. We saw a sign of weakness. A fake out happened with the previous two highs up thrusts, if you look at 14,800. We broke out of that high 14,960 was the high. Took a psychological resistance of 15,000. Fell back towards the sign of weakness and a slight bounce with the last point of supply, which we say as per the distribution theory.
Now the sign of weakness levels have been broken down at 13,600 which conforms the distribution structure is in place.
So I believe that in 2022 the sector which you should avoid is pharma. I believe it will be a slow poison momentum on the downside and 2022 or we might if I just look at the time cycle theory, this underperformance might prolong till April or June 2023. So for another 1, 1.5 years, I believe pharma should be an avoid sector.
In case you are holding some stocks, it would be stock specific momentum because pharma has a huge divergence between generic pharma, specialised pharma. So stock selection will be important over here. But I believe that pharma index will likely underperform against the major indices and it's the one sector that should be avoided in 2022.
So before a sign off, I request, click on to the like button and share the video in case you think they are helpful and to comment on how you like our videos.
Signing off. Brijesh Bhatia.
Warm regards,

Brijesh Bhatia
Research Analyst, Fast Profit Report
Equitymaster Agora Research Private Limited (Research Analyst)
Recent Articles