Will the Market Fall because of the Saudi Aramco IPO?
Nov 25, 2019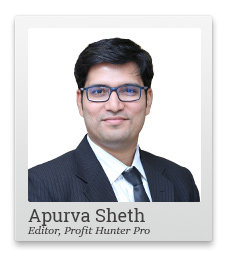 Hi,
This is Apurva Sheth. Vijay invited me to talk to you today in the Fast Profits Daily.
He wanted me to share my insights about large IPOs and how they can lead to corrections in the market.
In the video, today...
The Saudi Aramco IPO is underway. Should you be worried?
What does history say about large IPOs and market corrections?
Indian IPOs which caused grief for short-term traders.
Enjoy the video!
Hi,
I'm Apurva Sheth and today I'm going to talk about Saudi Aramco.
Now Saudi Aramco is coming up with its initial public offering. It is one of the largest oil producing company in the world. It produces about 10% of the global oil production.
Now, apart from being a largest producer, it is one of the most profitable companies in the world. Last year, its net profits to write US$ 111 bn. This year in the 1st 9 months of 2019, its profits stood at US$ 68 bn.
Now the company is coming up with its initial public offering on the IPO will close on November 28. The company was initially expecting our values and off US$2 trillion. However, it is marked down to US$ 1.7 trillion. It will be listed on the Riyadh stock exchange.
It is open initially only to the domestic investors, which are in Saudi Arabia and later on it will be listed on the US markets. It is expected that the company would seek a valuation of aboard US$ 1.3 to US$ 1.5 trillion.
Even at that valuation, the company would be the biggest in terms of market capitalisation across the world. Apple, which is the largest company as of now, is marked at US$ 1 trillion. So Saudi Aramco will be far ahead of it.
Now a company of this scale and magnitude, when it comes out with an IPO it is bound to have some repercussions on the markets and not just the Saudi markets, it will have repercussions on global markets.
Now, many times we have seen that companies which come out with IPOs and such large IPOs whenever they heard the markets, markets drop or see a correction.
I will take you through a couple of examples in in Indian markets. So here you can see the chart on your screen right now.
We'll begin with ONGC. ONGC came out with an IPO of about Rs 10,000 crores in March 2004. Immediately after that, we saw the markets correcting about 26%.
After that, there was Jet Airways which came out with a smaller ticket size of Rs 1,940 crores but nevertheless the markets dropped about 13%.
After that, we had seen Reliance Petroleum which came out with an IPO of Rs 2,700 crores and that was right at the peak in May 2006. Markets dropped by about 30% in a very short time.
Then there was Cairn and markets dropped about 15%.
However, the biggest IPO of all times and which saw markets correcting drastically was Reliance Power, which came out with an IPO in January 2008 right at the beak of the bull market.
So immediately after the IPO, we witnessed a sharp correction and markets dropped about 60% from the top to bottom.
The markets eventually recovered and we hit the same highs in November 2010 and even then, there was another IPO which was large enough that was Coal India. Now, Coal India came with an IPO of 15,000 crores. Now right at the peak, it came out with an IPO and markets dropped by about 28% in the next 11 to 12 months.
Similarly, we have seen an IPO come in December 2012 which was of Bharti Infratel and markets corrected by 10%.
We also saw follow on public offer of and NTPC in 2013 which led to a market correction once again and later in 2016, September 2016, we saw IPO of ICICI Prudential which led to a correction of about 12% in the markets.
After that, the was the markets rallied one way in 2017 and there were IPOs, many big-ticket IPOs, General Insurance Company, New India Assurance, ICICI securities and so on but markets didn't correct.
So, we have seen that there are cases when large IPOs have led to market corrections. Now could this happen with Saudi Aramco as well? Could Saudi Aramco lead to a correction in global markets? As I've told you, it will be one of the world's largest IPOs and it will also be listing on the US exchanges in early 2020.
So, what could be the implications on the markets? Will it lead to a correction, as it will suck out liquidity from the markets? Will it lead to a major drop?
To answer all to these questions and throw some more light on the Saudi Aramco IPO, I will invite Vijay to guide you all.
In his video newsletter tomorrow, Vijay will throw some more light on this topic.
Stay tuned until then and happy trading.
Warm regards,

Apurva Sheth
Editor, Profit Hunter Pro
Equitymaster Agora Research Private Limited (Research Analyst)
Recent Articles