How the New Margins Will Impact You
Nov 25, 2020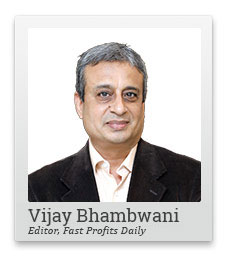 Are you a trader who is serious about making big money in the markets?
If yes, then this video is important for you and your trading.
From 1st December, new margin rules will apply in the Indian stock market.
It will eat into your profits. You will have to make more profits to compensate for the higher charges.
Find out all about it in this video and let me know your thoughts in the comments.
Hi, this is Vijay Bhambwani here. I hope you're enjoying your trading in the markets and taking advantage of the volatility and also making use of the three updates, end of the day post market, which I post on Equitymaster's Telegram channel, which goes by the handle Equitymaster Official. If you haven't already joined this telegram channel, I would urge you to please join in.
Now, this video is for those traders who take their trading very, very seriously, who considered their trading as a business and therefore, look after all the input costs and the end result or the output, which is the P&L, the profit and loss account at the end of every trading session, as a logical conclusion to their trading process.
If you're a serious trader who intends to put food on the table for your family, using trading as a primary source of income, what I'm about to tell you, has serious implications from for you. Come first of December 2020, the laws on margining, leverage, futures and options, trading, and deposits, etc are going through a radical change.
Revealing Tomorrow: The Great Indian Wealth Project
It would actually be in new interest to go SEBI, NSE, BSE websites every evening, if not a couple of times a day, to watch out for the new circulars and media announcements that these websites put up.
Now, from first of December onwards, margining system is going to be made even more rigid and even more stringent. There are going to be penalties and interest on delayed payments of margins etc.
The margin system over the last couple of years has actually gone up telescopically. No, what it really means for you is that if you're going to use trading as a primary source of income, it's going to get more and more capital intensive. You're going to put in a lot more money as base capital to start trading in the first place.
Obviously, either profits are huge, or your returns will fall. In my recent video about algo systems, dark pools, vulture traders etc, which you can see in this playlist a couple of days ago, it's a very recent video, by the way, you will see that a trader actually has a lot of adversities to face before he can take money home.
Believe me, at the end of the day, when you take good money home, it's like a battle or a war actually. You've won a war single headedly against millions of traders out there who were out to get your money in the first place.
So where your requirements of capital go up, either your returns will fall or you will have to fight the markets a little more intelligently. I would suggest fighting the markets little more intelligently.
Now the one thing that comes across when I talk to a lot of traders, or especially wannabe traders, traders who aspire to be full time traders, is that they have no clue about what they're doing and that's a very sad state of affairs.
If I were to ask them what their execution cost is, including commissions, taxes, government levees, STT, exchange turnover tax, etc, per crores of rupees, they have a blank look.
If I ask them, what is their breakeven point if they were to trade one lot of nifty or for that matter any other derivative contract, and how much the price should move before the achieved break even, they have a blank look on their face.
Now, this means that you have no control, no knowledge, and you don't know where you're going in your journey of trading.
First of all, I seriously suggest you go out there and familiarise yourself with the number of levies, taxes, fees, and charges that you're paying and how it impacts your cost after you enter a trade.
Secondly, I was scanning through the records of my companies, I run a limited company which only trades on its prop books for a primary source of income and of course, there are the activities, but trading forms the core of our business. I was noticing the records as to how much money have put in as base capital in trading over the last 10 years or more.
You will be surprised. We have actually had to put in six times more capital over the years because the market lots have increased, the margins have increased, the amount of money that the regulator wants you to put up before you can start trading has increased, which means this will be the survival of the fittest and the survival of the smartest.
So you don't need to be only smart by you also have to be fit, which means you must have the money. After you have the money, you should not lose it, because then you will not have the money. So you need to be fit and smart.
Now how do you go about doing this? I recorded a video for Fast Profits Daily, which, veteran viewers of mine would remember. I gave you a metric called the trade efficiency ratio. Very simply put, it means the amount of net profit after taxes, etc, that you have paid versus all the taxes.
So if you pay Rs 1,000 as execution cost, commissions, and taxes, and after paying the 1,000 you're taking Rs 3,000 home. Your trade efficiency ratio is three. Try to plan only those trades and initiate only those trades where your trade efficiency ratio is 2.5 to 3 or higher.
Of course, there is no guarantee that the trade that you start off with estimating a trade efficiency ratio or a payoff of three times more than your execution costs and commissions, will definitely give you that much.
Hey, there are many times when I start out basically, I start out initiating every trade, expecting to make money, but it doesn't really work out that way. So they say the best laid plans of men and mice often go asunder.
So you can plan whatever you want but actually, you're going to get some losses along the way. So definitely there will be some trades, which you square up before you reach the trade efficiency ratio of three or higher. That's fine but don't take those trades where the payoffs are going to be smaller.
Secondly, trade less often. Trade only the highest probability of success ventures. Now, this is something that I talked to Rahul and Sarit in my hour long podcast a couple of months ago, wherein I said, we are going to take more concentrated bets in my Weekly Cash Alert service and cut down on frivolous trades. It's a conscious decision because margin systems, even in commodities and currencies, are going up.
Remember, you also have vultures, dark pools, and algo traders to contend with. So this is going to be a time when you're going to have to buckle up and fasten your seatbelts, upgrade your skills, learn as much as you can about smart trading, behavioural trading, behavioural technical analysis, cultivate a 360 degree worldview and, if at all, which is if it is needed, do take professional guidance and trade mentorship. This will actually pay you of many times over, and it will make you a better trader.
Secondly, this has implications for everyone. Now more and more traders like me are going to try and flip their trades faster for the fear of losing the profit, which is basically accruing in their books on open trades.
Which means your intraday mobility and volatility on favoured counters might just come down. You will have to adjust your trading models accordingly.
Now there are various types of trades one takes. The broad categories are, take fewer number of shares, wait for a bigger price movement before you square up or trade higher number of shares, wait for small price movements before swearing up.
The risk profile, the aptitude, and kind of pocket size that is needed for these two trades is completely different. So now the traders who are going to take large exposures and wait for very small price moves before flipping that trade are concerned, they're gonna flip their trades a whole lot more. That means you're taking risks a lot more often. The risk profile is going to get a little more challenging.
For options traders, since you're going to put up more margins and more upfront money, your return on writing options is going to get smaller.
For option buyers, vice versa, ditto. Your payoff is going to get smaller as compared to what you were getting a couple of years ago and what you were getting 10 years ago, you can't get now because the markets have become a far more arbitraged. A little bit of movement here in there and arbitragers step in and remove the anomalies and disequilibrium in prices.
So it's going to be a cut-throat competitive world, and a lot of changes are in store in the next 12 to 15 months, the way I look at it, both from the profile of traders who are going to survive and make it in the market, and from the point of view of brokers, who are going to remain in the business two years from now.
On this cautious note, I advise you to take care of your trades and investments a lot more than you already are doing. The fact that you're watching these videos means you are smart traders. You ae serious about what you're doing. I would advise you to take care of your money. Even more seriously.
I bid goodbye to you in this video not before requesting you to click like on this video if you like what you saw, In the comments section, do let me know what you think about this video and what you would want me to record next.
Also subscribe to my YouTube channel if you already haven't done so. Click on the bell icon so you receive notification of other fresh content that I put up here. Help me reach out to knowledgeable investors and traders who are looking for 360 degree worldview on financial markets by recommending my videos to your family and friends.
Do take very good care of your trades, your family, your health, your investments, and yourself of course. Have a very, very profitable day ahead. Vijay Bhambwani signing off for now. Thank you for watching my video.
Warm regards,

Vijay L Bhambwani
Editor, Fast Profits Daily
Equitymaster Agora Research Private Limited (Research Analyst)
Recent Articles