How to Trade Market Cycles
Nov 26, 2019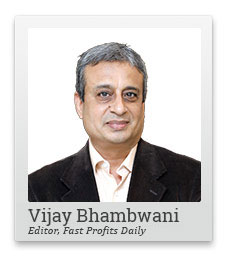 Hi,
This is Vijay Bhambwani here. I'm back again with you to talk about market cycles.
We know markets move in long-term and short-term cycles...but do we know how to take advantage of them?
How can you make fast profits from predictable ups and downs of the market?
In this video...
The four times in a year the Indian market tends to rise.
3 times in a month you get (different) ideas from Dalal Street.
How to make money from a Santa Claus rally.
I enjoyed recoding this video for you and I hope you enjoy watching it.
Also, do watch in to my YouTube video on the ongoing Saudi Aramco IPO saga. It's unfolding like a crime thriller - Aramco IPO Raises Many Questions.
Until tomorrow...
Hi,
This is Vijay Bhambwani here. I'm back again with you to talk about the cyclical aspects of the market.
We all know that markets tend to move in very broad and very lose cycles. For example, do you know that the quarter ended which is March ending, June ending, September ending, and December endings to normally see, if all other things are remaining constant, tend to see the headline indices, which is a Nifty 50 and the BSE Sensex tending to rise. Why is that?
It is because the mutual fund industry, which by now is the biggest hand of the biggest player in the stock markets, needs to compute, disclose, and advertise its NAVs, or the net asset values.
So, quarter endings are normally bullish periods for the markets. You would also know that most of the riskiest and the leveraged recommendations given out on mainstream media are given in the early part of the month. Why is that?
It's because an average working person has just received his or her salary and therefore, is at a point of taking maximum amount of risk.
Towards the middle of the month when majority of the salary has been spent, you normally see investment ideas.
To the fag end of the month, you're talking about fixed income, an absolute long-term, low-risk investments because the traders don't really have too much money left after paying all the utility bills on splitting on themselves.
So, markets have very discerning and very discernible time cycles which is what brings me to today's video. Does such a thing as a Santa Claus rally really occur?
And if it does, what is the reason why it does?
The overseas investors have their financial year and the accounting year as January to December. We in India, follow April to March. The FIIs, who are by no mean account, any small stakeholders in the Indian equity markets. If my memory serves me right, it is approximately 26% of Indian stocks.
The FIIs are really significant market movers in this country and for them, December happens to be the end of the financial and the calendar year.
So what I said about the mutual fund industry boosting NAVs to the end of every quarter, also applies to the FIIs who need to report mark to market profits on their existing open investments and all the profits booked during the year on trades that have been closed.
So typically speaking, I have seen over the last 20 years, since the FIIs have been sort of active in the markets, that December ending, especially the last 2-3 weeks of December, tend to be buoyant or bullish periods in the market.
That is of course, all of the factors remaining constant. No bad news, wars, earthquake, man-made or natural disasters notwithstanding.
Now you know that there is a cyclicality in the market but you will also notice another very curious phenomenon. To a futures and options trader, you will realise that after the 20th of December, the markets might be going up, but the volume stand to dry up, which is because Christmas happens to be the biggest festival by far in the Western world.
Just like we have Diwali, Holi, and Eid, Christmas happens to be the biggest festival. The FII managers, the expatriates, tend to go back to their parent countries to spend time on Christmas with families, and hey, collect the performance bonus checks, which is why FII volumes tend to be low and because FII volumes tend to be below, the local Indian traders also tend to scale back their exposure.
Now we all know that an illiquid market is relatively very easy to influence. So, a little bit of buying or selling will send the prices in an exaggerated manner in either direction and when it is relatively easy on small boats of buying and selling to send prices flying, what better time than end of December to send prices soaring upwards.
Which is why I call this the Santa Claus rally
It's not Santa Claus who's actually doing it. We just call it a Santa Claus rally. If you follow the behavioural aspect of my trading philosophy, there is an underlying reason that a trader must identify in the pattern behind the madness.
In the market, there is no madness. There's always a method behind the madness. So as long as you understand what this madness is all about, you can stay ahead of the market.
Till we meet again, this is Vijay Bhambwani signing of for now and please do click on like on this video, if you're watching it on YouTube. Subscribe to my channel. Feel free to share this video with family and friends and this video is for you. So hey, give us your comments, your feedback, and do let us know if there's any other subject you want me to speak about for your information.
Thank you. Bye. Till we meet again.
Warm regards,

Vijay L Bhambwani
Editor, Fast Profits Daily
Equitymaster Agora Research Private Limited (Research Analyst)
Recent Articles