Two Very Important Updates For You
Nov 26, 2020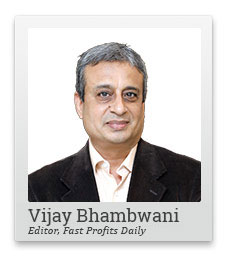 A lot of you have written to me about gold.
It's natural to be worried now that the price has started to fall, but don't worry too much!
In this video, I'll share my view on gold and the investment case in the yellow metal.
I also have an important update for you. Tomorrow, will welcome the newest team member of Equitymaster.
I am delighted this gentleman has joined my team here at the Fast Profits Daily and the Fast Profits Report.
Watch the video and let me know your thoughts.
Hi, this is Vijay Bhambwani and I hope you're keeping your finger on the pulse of the market and trading through the volatility that is ongoing in the markets.
I also hope that my Equitymaster Telegram channel posts, which I update every day, post market hours, late in the evening, are helping you navigate through the market better than what you were doing before reading these posts.
I would urge you if you haven't joined already to join the Equitymaster Telegram channel, which goes by the handle Equitymaster Official and take advantage of the statistical data that I am putting up over there.
Now, this video is all about a burning question that must be, I am sure, plaguing everybody's mind as of now, that gold and silver have come down, whether the rally in gold and silver is over, are the investments in gold and silver under any threat whatsoever.
I have received a lot of requests both on YouTube in the comments section as well as through my social media, direct messages, and emails, etc that people are a little one about what they should do with their gold and silver investments and if they haven't already invested, is this the right time to start getting your toes wet in the water?
So am gonna tackle that all important question in this video and before I proceed to answer, let me tell you something that is actually confidential information. I have already sent out a buy call to my subscribers in the Weekly Cash Alert Service two days ago and out of the first five tranches of staggered investments that we are supposed to make, the first batch of gold and already been bought.
So that basically tells you that I am not bearish on gold as of now, for that matter, neither am I bearish on silver. As long as gold is trading above Rs 42,000 per 10 grams, you heard it right, Rs 42,000 per 10 grams, the rally in gold is not over. In commensurate terms, all other factors remaining constant, the Dixie remaining constant, the USDINR remaining where it is, unless gold breaches US$ 1,520 on the American commodity exchanges, I feel I have nothing to worry about.
Where silver is concerned, I would not be worried about silver unless and until it starts to trade below Rs 47-48,000 per kilo. That's approximately US$ 15 a few cents in the US markets per troy ounce. So I think it is opportunity for the discerning long term investor.
Remember all my targets and all the guidance that I have been laying forth in my videos on gold and silver have talked about 2021 as a better time for gold and silver investments because the rampant printing of currency, by way of stimulus that almost all central banks the world over are resorting to will start kicking off inflation and showing up in commodity asset price inflation only from 2021, late 2021 onwards.
So if you have the staying power, if you are willing to wait, if you have the patience, the aptitude and deep pockets to keep staggering your buys over a period of time in various lots, in different quantities so that you achieve a better average rate of acquisition, I think it's a buy.
Now I would like to share with you a very exciting development at Equitymaster. Now that Apurva Sheth has moved on from Equitymaster, I had assured you a replacement has been found in Equitymaster.
Tomorrow onwards, you're when you watch this gentleman speak on my channel, the Fast Profits Daily channel, and he will share his ideas with you. He has a rich 1.5 decade experience working in the financial markets and he's worked in very reputed firms like UTI, Edelweiss, and has various positions, including head of research at broking firms. He is going to share his expertise with you on the Fast Profits Daily channel and his own playlist of course and we're gonna be working together in the Fast Profits Report when I put in my commodity ideas and he will basically build a stock investment based on commodity idea.
So you're waiting period is over and tomorrow we join this gentleman. I leave the lifting of the curtain for the event tomorrow itself. Your wait, as I said, is over.
On that happy note, I bid goodbye to you, not before reminding you to click like on this video if you're watching this on YouTube. Subscribe to my YouTube channel if you haven't already done so and click on the bell icon so that you receive alerts in real time on further content that is uploaded.
In the comments section, do let me know what you think about this video and what you would want me to record next. Do take very good care of your health, your family, your friends, and investments.
Have a very, very profitable day. Vijay Bhambwani signing off for now. Thank you for watching.
Warm regards,

Vijay L Bhambwani
Editor, Fast Profits Daily
Equitymaster Agora Research Private Limited (Research Analyst)
Recent Articles