Crude Oil or Natural Gas: Which is the Better Trade Now?
Nov 26, 2021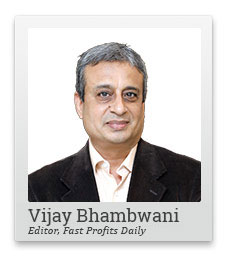 Yesterday, I talked about crude oil and why I don't agree with the US$100 theory.
Today, I'll cover natural gas. It's perhaps the most complicated commodity to trade right now.
I'll break it down for you and do a comparison with crude oil trading.
I'll also let you know when I'm planning to trade this volatile commodity.
Watch the video and let me know your thoughts.
Hello viewers. This is Vijay Bhambwani here and I hope my videos are helping you understand the markets better, understand the subtle nuances that are not immediately apparent to the untrained eye.
Now, in this video, I continue with my views on the energy space. Yesterday, I talked about how crude oil, a very complex commodity is basically become very volatile. But clearly there are chinks in the armour of crude oil.
Watch Full Replay: Rahul Shah's Lazy Millionaire Summit
In this video, I am going to talk about natural gas, a very, very convincingly, one of the most complicated tradable commodities of the calendar year 2021.
Why do I call it the most complicated? Because of the sheer volatility, what we traders who are using statistical systems, call statistical beta or your price volatility. This has been one of the most volatile counters out there and just to give you a sense of how volatile, on an average, the long period average, intraday volatility of natural gas is between 2.5% mobility per day.
But nowadays it is very common to see 8% and even 10% intraday moves once in a while. 4 to 5% has become an acceptable norm now-a-days. On a day that the natural gas does not move 5% in either direction, it's like a very quiet day, believe me.
So this is what is happened to natural gas. Since I believe in a 360 degree worldview, I owe my viewers and Weekly Cash Alert subscribers the when, where why, and how of natural gas and why, temporarily, we are not trading it at this point in time.
You see, if you are a subscriber of Equitymaster's Weekly Cash Alert, you would have got a blueprint, Weekly Cash Blueprint. Now herein I've divided the year into 12 compartments, monthly compartments, and I've given you which commodity to trade in which a part of the year along with the reason why. That's the 360 degree view, along with the reason why. You must also know why you're doing something, because the cause and effect theory says, if you know the cause, you can estimate how much will be the effect and how long the effect will last.
So basically the winter season, which is starting now, November to Jan or maybe extend up to Feb depending on how the winter really pans out, is a peak demand season for natural gas from a heating perspective.
Homes, offices, commercial establishments, airports, etcetera, etcetera, use natural gas for heating. Of course one of the fuels. It's not the only fuel. There are alternatives, but natural gas happens to be used pretty often.
Currently, unfortunately, natural gas has become a football in a tragic comedy, geopolitical mental war game. I can't put it any other way.
Now you see what has happened is the Russians, who are really big boys in crude oil and natural gas export markets natural gas even more so, have been constructing a pipeline called the Nord Stream 2 to Germany, which will take care of natural gas requirements of Germany and parts of Europe.
Now this is a twin pipeline and the collective capacity of both these pipelines will be 110 billion cubic metres of gas p.a. The Germans, after the pipeline was completed in October, refused to grant it regulatory recognition and a green signal to go ahead and start selling gas commercially because the pipeline had not adhered to and complied with some regulatory requirements.
Initially, the Russians held out, but off late, they have now agreed to incorporate a separate company, which will be the owner of the North Stream 2 pipe line and apply for regulatory permissions afresh, which might delay the commencement of gas, but not as much as four months, which is the regulatory time frame requirement for granting permission because the Germans are saying, look, it's a public utility, it is required for the winters. So we might just, might just fast track the process.
Now 'might just' is not something that we traders like. We don't know whether is going to happen as an exclamation mark or it's going to remain like a question mark. So there is uncertainty there. Now let's see why I said gas has become a weapon in the geopolitical war games in Europe.
The Russian president, Putin, has basically tried to dominate Crimea in the past and has invited economic and military sanctions from NATO as well as USA. He now has similar aspirations over Ukraine. Why Ukraine?
You see this pipeline does not go from a just Russia to Germany. It passes through Ukraine and goes through Belarus. It basically also impacts Poland. So all these guys are now players within a geopolitical hodgepodge and a melting pot, where a lot of personal vested interests of these countries are now colliding.
Now that the North Stream 2 pipeline is made, Ukraine fields that it will be bypassed and it will stop receiving royalties, and therefore, it wants to shut down in the taps. Belarus, as a matter of fact, a fortnight ago approximately, actually turned off the spigots it's locality and stalled the gas that was going towards Germany.
The Russians themselves for a while stopped gas sales to Germany and diverted that sale to China. Why? Because the Russians want the Germans to fast track the approval, the regulatory approval to the Nord Stream 2 pipeline and are therefore using gas as a geopolitical weapon.
Sometimes, they have been saying will give you enough gas to take care of all your citizens during the winter because it is a humanitarian commodity. And sometimes they're saying, look, there is not much gas to give you my aware of a surplus, so my just cut down the supply of gas and hey, every time this happens, the price jumps up and down.
Sometimes Belarus is turning of the tap. Sometimes Ukraine is threatening to do so, and in between, there are smaller players, smaller in the sense because they are not visible to the front line and mainstream media like Morocco. Morocco actually shut down the supply of a natural gas to Spain because it wanted to re-negotiate prices.
Now it's always about money. We know that. But is Russia going to use natural gas as a weapon, not only to get higher prices, but also to pressurise Germany and parts of Europe not to meddle in Ukraine while it tries to annex or dominate Ukraine? That's what is happening.
Who is getting punished with all this political and geopolitical football taking place? You and me. You and me. As traders, we enter into a trade and get kicked about in this political football where one country or the other is colliding in its vested interests and to top it up, there is a winter which is just around the corner.
We don't know whether a polar vortex will hit us just like it did in end of December 2020 which only subsided by end of February 2021, making our short sales in natural gas a protracted affair, but definitely very profitable in that period. But we don't know whether that kind of weather will occur this year, because weather, as we all know, cannot be predicted with certainty.
So what's the game plan here? Am I telling you to forget natural gas and not trade it ever? Not at all. That is not a solution. But letting it sit quietly till things returned back to normal and the dust settles seems to be a good option.
A week ago, we traded crude oil rather profitably garnering more than 4% in a couple of, not even a couple of hours, actually in under 60 minutes, under one hour.
So I think in relative comparison, even though crude is by no means less volatile or very, very calm rather, it is volatile but it is relatively a lesser volatile but to that extent where trading is concerned, I think it makes more sense, temporarily, to shift focus to crude and, of course, keep ears to the ground for natural gas. Whenever an opportunity occurs, we will grab down on it like an eagle and collect some profits.
But as you've read in the Weekly Cash Calendar, the winter months are the most volatile periods for natural gas traders. So, like we did on the 15th of November, we traded crude oil rather profitably. We are going to focus there, but we are going to keep hunting for opportunities as usual.
I hope this video has also added to your knowledge, not just given you a timeline about our next trade but has also added to your knowledge about how professional commodity traders look at every signal at the ground level before making a trade.
On this cheerful note, I'll bid goodbye to you, not before reminding you to click like on this video if you liked what you saw. Subscribe to my YouTube channel if you haven't already done so. Click on the bell icon to receive instant alerts about fresh content being put up out here. In the comments section, good, bad or ugly, I always welcome your feedback and do help me reach our to fellow like-minded investors and traders by referring my video to your family and friends.
Thank you for your patience. Till we meet again in my next, this is Vijay Bhambwani signing off for now. Have a very profitable day ahead. Take care. Bye.
Warm regards,

Vijay L Bhambwani
Editor, Fast Profits Daily
Equitymaster Agora Research Private Limited (Research Analyst
Recent Articles