How I Called Indonesia's Bluff to Make Trading Profits
Nov 28, 2019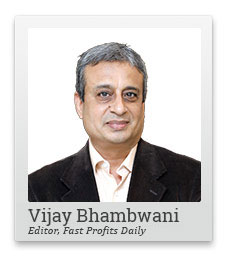 Hi,
Vijay here. Today, I want to talk you through an actual trade from a few months back.
This trade was in Nickel and I'd even written an article on it. You can read it here - Is Nickel the Aluminium of 2019?
I want to show you how political economy of a foreign country can give you an opportunity to make trading profits...and the risks that come along with it.
In today's video...
We build on the contrarian v/s momentum debate from yesterday.
How we took a sharply contrarian position a geo-politically sensitive commodity.
How that trade played out...
...and how you can execute such trades if you choose to do so.
Enjoy!
I've asked Apurva Sheth to record videos for you and share his views on the market. I'm glad he has agreed. Watch out for Apurva's video tomorrow in the Fast Profits Daily.
Hi,
This is Vijay Bhambwani and I'm back with you again to talk about why I recommended Nickel as a short sell and 22nd July, I wrote an article on Equitymaster as to calling Nickel the Aluminium of 2019.
A couple of days ago, I've done a video talking about momentum style of trading v/s contrarian style of trading.
Just a recap. I had told you that contrarian style of trading requires deep pockets, a fair degree of conviction, tenacity, and ice-cold nerves. I'm gonna walk you through the method behind the madness and the rationale behind making the recommendation.
You see, Nickel is used in the stainless-steel industry by melting it with iron ore to make stainless steel. If it all the demand for stainless steel goes up the demand for Nickel too goes up.
But then, looking at the charge of other industrial metals, I did not see the other well traded industrial metals on the Multi Commodity Exchange in India, like copper, aluminium, lead, zinc, et cetera, showing any great degree of strength, which meant that Nickel had to be a lone star or a lone wolf and a market outperformer to be able to actually rally.
The second aspect. We were seeing the two largest economies in Europe, Germany and England, decidedly slowing down for four consecutive months. America were showing signs of a little bit of fatigue, even though you could not call it a slowdown of any serious magnitude.
Asia was showing definite of signs of stress and in this backdrop, Indonesia, which contributes almost one fourth supply of global nickel, announced it would ban the export of nickel from 2022.
That was fairly okay because 2022 is a while away. They later modified it to preponing the ban to January of 2020. Now that really sent Nickel prices soaring.
But the reason why a game of this contrarian call...now this goes with my beat system of trading, the system of trading, which I have told you, relies heavily on the behavioural aspect of trading.
Take a look at what's really happening behind the scenes. The Indonesian economy is struggling. They're grappling with a high degree of overseas debts v/s the entire GDP. Could this country actually afford to forego forex income by stopping exports of Nickel?
My guess was not.
What was all this about? Could this be a bluff? I think so and I definitely thought so at that point in time.
This was a very good move by the Indonesians to drive up Nickel prices and then, sign long-term supply contracts at elevated prices and ensure a higher forex income.
And sure enough, in spite of the fact that the Indonesians threatened to prepone the exports of nickel, on the ban on the exports of nickel to 2020, the prices refused to budge up anymore.
We have seen Nickel prices detrend.
Detrend in the sense, reverse from their recent peaks on have fallen sharply...much, much more sharply than its peer group in the industrial metals pack.
On the way down, the volumes have been fairly liquid, which tells you that there has been participation in the selloff.
Would Nickel continue to slide for extended periods of time?
My guess is no, because it's already fallen significantly where you could actually expect a small technical bounce back but if you were to short nickel, and short it in the month of August, you would have seen results fructify in the month of November.
Now that is three full months and. for these three full months, you would have had to write mark to market checks, hold on to a trade that was asking for more and more money week after week, and if it all the commodity exchanges tweaked the span margin and the extreme loss margin, you might have to pay more on the margin front too.
So when I said contrarian style of trading, demands a certain amount of fortitude, demands a certain amount of mental strength and tenacity, this is it.
Nickel prices actually went up beyond a point where, an average trader would have been able to bear the mark to market loss.
But then contrarian style of trading, remember I also told you, is a fairly long drawn affair where prices take a while to revert back to the mean.
Where do I think Nickel prices are headed?
I think after a slight pullback, which is quite likely after that prolonged decline like the way we've seen here, I would expect Nickel prices to soften again, soften to the point where it starts moving in synchronicity with its base metal peers like aluminium, copper, lead, and zinc.
That trade too shall be recommended to you, as and when the time and price justifies it.
For now, this is Vijay Bhambwani signing off with a reminder. If you're watching this video on YouTube to please click on the like button. Feel free to share this with your family and friends and do let us know your feedback by filling in the comments section.
If there's any other topic you want me to talk about and make a video for you for, do not hesitate to write to me.
And tomorrow, my friend, Apurva Sheth, will be talking to you about his version and his reading of the market.
Apurva is an extremely sensitive and sensible person when it comes to recommending investment and trading ideas. He's a chartered market technician (CMT) charter holder and an excellent trader.
Till then, till we meet again, this is Vijay Bhambwani. Bye for now.
Warm regards,

Vijay L Bhambwani
Editor, Fast Profits Daily
Equitymaster Agora Research Private Limited (Research Analyst)
Recent Articles