This Could Be Our Next Trade
Nov 30, 2020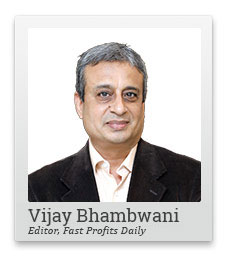 The big international news over the weekend was the assassination of Iran's top nuclear scientist Moshen Fakhrizadeh.
The moment I heard this, I knew there could be a trade on the horizon.
A similar situation happened after the assassination. Crude oil and Natural gas prices spiked but came crashing down soon after.
This could happen again. You should be ready for an opportunity to make some fast profits.
Hi, this is Vijay Bhambwani here and in this video, I want to discuss with you the possibility, I am referring to the word and emphasising on possibility, of why you're LPG gas cylinder might just cost a little more in the near future.
Use see, oil and gas are not just commodities. They also involve speculation. They involve politics. They involve geopolitics, terrorism, and it's also about relationships between various countries and the pulls and pushes that resultant thereof.
Recently, the Iranian top nuclear scientist, Moshen Fakhrizadeh was assassinated in a surprising and daring a technological, techno savvy attack using remote controlled machine guns and self-propelled vehicles etc.
Now what can be the fallout of this assassination? Remember in the beginning of the year, we had seen a drone attack on an Iranian General Suleiman and the spike that came about in crude oil thereafter. Is there a trade? Can your LPG gas cylinder cost more because of this? I take a look at these issues in this video.
You see, Iran in India have had ties that go a long way in the business of oil and gas exploration, and India has been sourcing oil and gas from Iran for decades now. ONGC Videsh, which is a subsidiary of the listed company ONGC, discovered an oil and gas field in Iran called Farzad-B. This was way back in 2008. Naturally, ONGC wanted rights and access to the oil and gas that were basically drilled out of this well.
ONGC and the Iranian government have been negotiating for a dozen years now without a resolution about this subject. The Indian government has also agreed to invest US$ 11 billion for the development of the steel and expected a return of 18% per annum as a reasonable rate of return.
Which means that the Indians were asking for a discount on the oil and gas that was pumped out of Farzad-B. The Iranians, of course, have been refusing.
Now, a couple of months ago, I recorded a video about how Indians should react to the Chinese companies putting their foot into the door in Iran and grabbing oil and gas drilling contracts.
The Chinese, in their own aggressive style, have basically tried to circumvent the US sanctions on Iran and gas business by bidding for piecemeal portions of the drilling and exploration contracts.
Which means one company would bid for, say, the transport of oil and gas 200 metres from the terminal to a close by hub. Another company would build for another 200 metres and no company would have more than one contract and all these companies which were bidding for Iranian oil and gas contracts would be non-government entities, which means the government of China can deny any culpability or responsibility for these companies and therefore it was above board. It would not invite any kind of US action on China on a government to government basis. This means that India loses out on these contracts.
Now if Farzad-B goes to China, which I suspect it will, the Chinese will get more than this. Just one contract. They will basically try and step into the Iranian oil and gas industry even more aggressively than they already have been because the Iranians will basically blame everybody, including Israel, and by the very nature of recent cosying between the Israelis and the Saudis.
Remember the Israeli premier, Benjamin Netanyahu, actually met Prince Mohammed bin Salman for tea in a very secret meeting. Stranger things have happened. Bitter, sworn enemies, the Jews and the Arabs, the Sunni Arabs, are now sitting together and having tea.
Remember, Benjamin Netanyahu in 2018, actually dropped in on an unplanned trip and had tea at Sultan Qaboos's palace. Now, in a day and age where hosting a Jew even for a cup of tea was a punishable offence, the sultan actually broke the ice. The Israeli UAE deal or pact that has been signed recently is another deal of the times.
As I have been advocating for long since last year, in my articles on Equitymaster and in videos in the Fast Profits Daily, I reiterate my view that OPEC as an entity as a cartel that governs oil prices and more often than not, tries to artificially boost up prices by creating shortages, has a very limited shelf life now. I've written various articles in the media, including Equitymaster and have forecast that OPEC will be dead within a decade or if it is alive, it will be too insignificant and two weak and powerless to drive up oil prices.
Now the Iranians will basically blame the Saudis and the Israelis, and it will basically also go back on its commitment to curtail oil output, which has been the pact that has been adhered to by the OPEC plus in Vienna. So it will break the ranks and as I have forecast many a times in my articles, the oil market will now get fractionalised.
Instead of OPEC and non OPEC, there will be OPEC, non OPEC, the Shias, and Sunnis. The Sunnis will be pro America. The Shias will be pro Russia. The Chinese will basically try and buy oil wherever they able to get it cheaper without actually taking sides. They will play both ends of the stick.
What will really happen where gas is concerned is that the Iranian gas is of high grade yields, higher calorie value and the Iranians might just sell lesser and lesser gas to India.
Which is why I said You're LPG cylinder might just become a little more expensive, and I use the word possibility. How much will it actually go up by? Depends on how much gas will be choked off from the Indian supplies, but this is a very, very clever Chinese ploy to get discounted oil and gas from Iran and deny discounted oil and gas to India. This is what I fear might just happen.
So is their trade? My gut feel is yes. I think in the absolute near term, if oil and gas prices in India, especially gas, was to go up, it would present a short selling opportunity for the Weekly Cash Alert subscribers on two grounds.
First, Christmas and New Year are typically times when gas prices go up and also peek around that nine and with this additional trigger from Iran, there is a possibility that there would be an immediate and a short term, short lived spike up in gas prices. By short lived, I mean from a couple of days to a couple of weeks.
This is when discerning traders can sink their teeth into the flash of trade and basically try to exploit this opportunity. I will continue to keep my ears to the ground and monitor the geopolitics of the region as I have been doing for you and you're accustomed to hearing these views from me in these videos.
On this promising note, I bid goodbye to you in this video not before reminding you if you're watching this video on YouTube, please click like on this video if you liked what you saw. In the comments section, do let me know what you think about this video and what you'd want me to record next. Also click on the bell icon so that you get instant alerts for new videos being uploaded here.
Help me reach out to like-minded investors and traders who look out for knowledge based investments and trades by recommending my video to your family and friends.
Do take very good care of your health, your family, your investments, and trades. Have a very profitable trade ahead. Vijay Bhambwani signing off for now. Thank you for watching.
Warm regards,

Vijay L Bhambwani
Editor, Fast Profits Daily
Equitymaster Agora Research Private Limited (Research Analyst)
Recent Articles