The Bulls Are Still in Control
Dec 1, 2020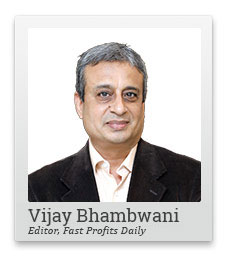 On 20th May, I recorded a video in the Fast Profits Daily about how the commodity market will tell us if in advance about the possibility of a rally in the equity market.
I think my view has played out quite well.
In this video, I'll follow up on that and tell you why the bulls will make more money in the short term.
Let me know what you think in the comments.
Hi, this is Vijay Bhambwani and I hope you're enjoying your trading in the markets and the markets are treating your trades extremely well, which means you're making good money in the markets.
Now in this video, I want to share my secret sauce which in a way I have already done so in my earlier video and yet I want to emphasise upon how to think because in behavioural technical analysis, how you think is more important than what you think and we traders are nothing else but brain warriors. We fight with our minds, with our ideas and we win or lose because of ideas. So how you think is extremely critical.
Know More: Which way are the markets & the mutual fund industry headed?
Now I draw your attention to my video of 20th of May 2020, in this very playlist. If you care to stroll down in this playlist on 20th of May, you will find a video titled How Commodity Prices Determine Equity Prices.
Now in that video, I emphasised upon how industrial metals can basically give hints about how the market perceives, remember, I am using the words how the market perceives, about the future of economic activity and if industrial metals, also called base metals, are rising in prices based on hopes of higher off take or higher demand, the market feels that the industrial activity could actually be picking up.
Now, since that a video on 20th of May, what has really happened?
Let's walk you through with the various industrial metals that are traded on the multi commodity exchange and let's see what has really happened from 20th May to yesterday, which is 30th of November 2020.
So aluminium is up 28%. Copper which is the also known as the tin roof of the economy, or Dr Copper, or the barometer of the economy, is up a whopping 40%. Now these are kind of returns that stocks don't provide normally. Lead is up 22% between May and end of November. Nickel is up 26%. Zinc is up 39%.
Now, the fact that copper, which is used in everything including construction, automobiles, electrics, electronics, has risen 40%, tells you that the market feels that the Corona scare has somewhat been put behind us and the economic activity may just pick up next year, which is 2021.
I'm also willing to concede a whole lot of excess liquidity, unbacked currency printing is also pushing up asset prices higher because this money has to find somewhere to get invested but at the same time and in that video on 20th May I said gold and silver, which are fear commodities, people buy these when there is nowhere else to go and nowhere to park your money or hide your money, gold and silver either need to slow down their rallies or possibly even halt.
So gold between then and now is up 1.4% and silver is up 21% and I had also said Silver will outperform gold because of the fact that silver finds applications in photovoltaic cells used in solar farms to generate electricity from sunlight. So silver is a semi-precious, semi-industrial metal, which is why it's outperforming gold.
Of course gold will have its time under the sun from 2021 thereafter, but as of now, the industrial commodities are basically telling us that stocks are likely to stay firm, of course, barring the mandatory correction here and then, now and then but so far, it seems that the bulls are still retaining control on sentiments.
These are ancillary evidence, ancillary weight of evidence, that tell us that the markets are in no mood to surrender as of now. In my earlier videos, I have also said the December factor, the end of the year FII fund managers keeping prices higher.
Also remember that December is also the third quarter year ending of the Indian financial system, which is from 1st April two 31st March and it is the final quarter, year end of the foreign investment institutions because they follow the calendar year as their accounting year also, and the mutual fund and the hedge fund industry are likely to push prices higher, or at least keep them at higher levels so as to disclose their NAVs.
So I would request you not get excessively aggressive on trying to make money by short selling heavily. You're going against the empirical evidence or historical evidence in the market. Don't short sell if you want to book profits it's an entirely different matter but be very careful out there because the weight of evidence and my 360 degree behavioural approach to trading still tells me that so far, the bulls still remain in the driver's seat.
On this optimistic note, I bid goodbye to you not before reminding you to click like on this video if you're watching this on YouTube. In the comments section, do let me know what you think of this video and what you want me to record next.
Also, subscribe to my YouTube channel if you haven't already done so. Click on the bell icon to receive alerts about fresh content whenever it's uploaded.
Help me reach out to fellow like-minded traders who are interested in the 360 degree worldview of financial markets by recommending my video to your family and friends.
I hope you take very good care of yourself, your family, your trades, and investments. Have a very, very profitable day ahead. Vijay Bhambwani signing off for now. Thank you for watching.
Warm regards,

Vijay L Bhambwani
Editor, Fast Profits Daily
Equitymaster Agora Research Private Limited (Research Analyst)
Recent Articles