How to Trade for a Living
Dec 2, 2019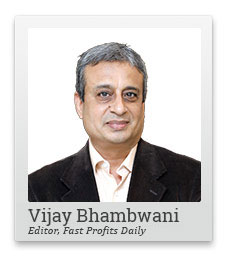 Hi,
This is Vijay and today in the Fast Profits Daily, I would like to talk to you about a topic that's close to my heart - Trading for a Living.
It's what I've been doing for the last 30 years and it has made me what I am today.
Can anyone start trading for a living?
Let's find out!
In today's video...
How much money do you need to make per day to trade for a living?
What happens if you can't make that much?
The wrong reasons to trade that you need to be aware of.
How to set trading goals and achieve them.
Hi,
This is Vijay Bhambwani.
I'm back with you again to talk about a very critical aspect of trading. Let's call it 'trading for a living.'
It's the ultimate dream of every trader to be able to run his house by trading income alone. Believe me, it's easier said than done.
As the old Wall Street saying goes, 'trading profits are the most difficult easy money you will ever make at all'.
Believe me, it's more than true. Assuming that you are a family of four, living in a tier one or tier two city, I would take the liberty of assuming that you would need at least 100,000 or one lakh rupees per month for survival expenses.
Now the markets operate only on five trading days a week, which gives you 20 trading session the month to be able to fulfil the target of Rs 1 lakh.
In a very clinical manner, you have to make Rs 5,000 per day but it's nobody's garden walk. The markets are not here to give you Rs 5,000 on a platter so that you can run your house.
There will be days when you may not be able to make any money at all, or you may not be able to even trade because no signal actually crops up. So on a day like this, when you've neither made nor lost, you're running under a tremendous amount of pressure on the next day to make Rs 10,000.
But then there will be days when, instead, of neither making or losing, you will actually wind up losing 5,000 bucks. What happens on the next day?
You have to then make Rs 15,000...5,000 to cover the previous day's loss, 5,000 for the previous day's quota, and 5,000 for today's quota.
The point of behavioural finance is that when you have to make three times more money, your mind is not subject to three times more stress. It's more like 30 times more stress!
So as Warren Buffett says rule number one, don't lose money and rule number two, refer to rule number one, which means, you have to be extra, extra, extra careful when you are planning to trade for a living.
You can't afford to trade just because you haven't traded for a few days and you haven't done anything - aaj kuch karte hai - This is not a right reason to trade.
The other aspect is the mind can handle small bits of stress at multiple occasions, much more better than being saddled with a huge amount of stress all at one go.
So we resort to goal setting. How do you go about goal setting?
Like I said, if you have 20 trading days in a month and you know to make 100,000 your simplistic goal and remember, this is just a hypothetical example, your simplistic goal is to break down that 100,000 in tow, 20 goals of Rs 5,000 each.
Micro-trend traders are typically those traders who do not keep a trade open for more than 59 minutes and 59 seconds would then split that Rs 5,000 into five goals of Rs 1,000 each per hour.
Now that is cutting it fine.
This is something that takes a huge amount of experience, a lot of patience, and continuous trading for you to be able to achieve and even then, you will go wrong.
So step number two.
If you actually need 100,000 bucks a month, you do not aim to make Rs 5,000 a day. You aim to make seven and a half maybe ten because then you will need to keep a cushion for those days on which you might just lose money or you may not be able to trade because of either the signal did not crop up or for whatever reasons you were held back from trading.
Goal setting is absolutely critical, just as risk management and capital management is.
If you do not contain your risk, if you do not control your risk, trade without a stop loss, no matter how good a trader you are, at some point in time, you will be evicted from the market for want of capital.
Similarly, goals also have to be laid out fairly, fairly thoughtfully. If you keep goals that are too ambitious and your mind is simply not capable of reaching out and meeting those goals, you're basically kite flying. It's wishful thinking and not gold setting.
For example, a timid person with not too much money in the pockets sets out a goal for making Rs 5,000 a day but his capital and his risk appetite allows him to make only Rs 2,000 a day.
This reader will continuously get demoralised by making less money than he actually set out to achieve and over a period of time, he might succumb to the temptation of taking on risk more than that is justified by his capital.
On the other hand, if you set very, very small goals and you happen to slack of after that small goal is achieved, you will not make enough money to be able to run your house, in which case, at some point in time, you will start to basically deplete your capital towards existentially expenses.
Both excessively ambitious goal setting and very timid goal setting, are equally negative to your trading health.
And to be able to strike a fine balance, like I said, it takes continues amount of trading and experience to get there.
Remember, trading is more than competitive sports, but if you were to compare it with competitive sports, it takes 10,000 hours of practice for a rookie to become a championship level athlete.
I don't think trading will take any less time.
You will need to train for at least eight to ten thousand hours. Divide that by six and a half hours for equities, approximately eight hours for currencies, and fifteen hours for commodities, before you can actually say you have reached a level of proficiency where you can set goals directly.
It will all happen. Just give it time. Patience is the key here. This is Vijay Bhambwani signing off for now, promising to meet you again very soon with another video.
Till then, if you're watching this video and YouTube, please do not forget to click on the like button and do not forget to share this with your family and friends.
If you have any feedback, please do write to me in the comments section and any other video on any of the topic that you want me to talk about, feel free to let me know.
We'll try and accommodate you as far as possible.
Thank you.
Warm regards,

Vijay L Bhambwani
Editor, Fast Profits Daily
Equitymaster Agora Research Private Limited (Research Analyst)
Recent Articles