India Must Fight a 3-Pronged War to Revive the Economy
Dec 3, 2019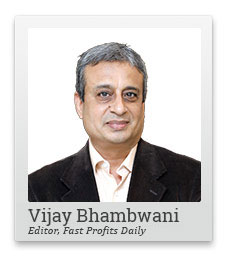 Hi,
This is Vijay coming to you in the Fast Profits Daily.
I would like to talk to you about an important issue concerning us all: the revival of the Indian economy.
I strongly believe the Indian economy can revive and get back to high growth but for than to happen the Modi government would need to fight a war.
Not a military war but an economic one.
And thankfully, they seem to be doing just that!
In today's video...
The 3 fronts we need to fight if we are to revive the economy.
How has the Modi government fought this war so far?
What more should they do?
I'll be back again tomorrow, with another video.
Until then, have a profitable trading day!
Hi,
This Vijay Bhambwani and I'm back to talk about the market with you and how India will have to fight a three-pronged war to revive the market sentiments and the economy.
I have done a video in the past with Equitymaster about how the Indian government will have to take these three steps to boost investor sentiments and the economy at the same time.
In the past video, I talked about how the Indian government will have to reduce taxes. That is full marks to the government. Corporate taxes have been reduced by the honourable finance minister Nirmala Sitharaman.
That will put some more money in the hands of the corporates to produce more efficiently. Cost cutting was a must because India is going through a slowdown.
Now, cost cutting is a very fearful world. In an overpopulated country like ours, cost cutting invariably raises fears of job losses. Cutting corporate tax rates would mean that India does not have to cut as many jobs as was feared and the corporates can have more money in their hands to produce more goods and services at lower costs.
So that raises the cost efficiency of the producers. The other aspect of taxation, which is cutting individual tax rates, we will have to wait for in the budget and see if the finance minister delivers that goody itself.
If that happens, it will be what we call sone pe suhaga. This would have a double booster effect on the stock market. The reason is if the corporates are able to produce more and cheaper goods and services, we need more money in the hands of the individual, so that the individual can spend that money and buy goods and services made by those companies, to give an overall boost to our GDP.
I would say 50% marks to the government for having cut corporate tax rates and if the individual tax rates are cut, that would be a full 100%.
But for that, like I said, we're looking forward with great deal of anticipation in the upcoming budget.
The second was interest rate cut.
Now this war also, India has willingly entered into. The RBI governor has delivered interest rate cuts. I would expect the upcoming Monetary Policy Committee or the MPC meeting, to cut rates even more in their next meeting.
This would mean that the borrowing cost of corporates would come down even lower. That would mean even more cost cutting without job losses. That's again another positive.
It has a flip side also. Falling interest rates unfortunately mean that you're going to get lower interest on your fixed income investments like fixed deposits, bond funds, et cetera, et cetera.
But you can basically offset that by taking some more exposure in equities, I agree higher risk in nature but by playing carefully and listening to our videos and subscribing to Equitymaster, you can more than compensate that higher risk with higher potential rewards.
So there is some give and there is some take here. Lower interest rates, positive for the corporates, and if you play well in the investment game, it need not really hit your investments all that much.
I'm now coming to the third front, which India still needs to fight. So the honourable finance minister's already cut corporate tax rates and has delivered interest rate cuts.
The third aspect and the most important aspect is the currency war. We fought the tax war. We found the interest rate war. Now for the currency war.
Since 2012, global economists of repute have said that the world is in a state of global currency wars, which is race to the bottom or also known as beggar thy neighbour strategy.
Each country tries to devalue its currency so as to get a higher edge and competitiveness in the global export market.
If it all we were to let the rupee slide against the dollar, we could thereby boost our sagging export potential and whatever surplus capacity that is unsold by corporate India, in the domestic markets, can be utilised to export and earn foreign exchange.
Like the previous strategy in interest rates, there is a flip side to currency devaluation. India is a net importer nation and therefore, whatever we import, will become more expensive.
Like I told you in another video, a weaker rupee would mean higher imported inflation because the landed price of crude might just go up.
But overall, I expect crude and natural gas prices to go down so a lot of those fears would get mitigated.
You will suffer some amount of personal discomfort. Hey, if the currency was to devalue, you know your imported phone your smartphone that you're buying, might just go up by Rs 1,000 but it's for a bigger and better cause.
So a few 1,000 here and there on your personal effects that are imported goods, will not really matter much, if it all your job is secure and your investments are doing just fine.
If it all the Indian currency was deliberately allowed to be weakened a little bit, this would complete the three part or the full circle that I say coming full circle.
India would have been participated on the three-pronged war: taxation, interest rates, and currencies.
In the budget, I would wait for the government's outlook on the currency markets and what they intend to do with the currency war.
Till then, let's keep our fingers crossed and wait for the budget. This is Vijay Bhambwani signing off for now.
Have profitable day, till we meet again and before I go, let me remind you, if you're watching this video on YouTube, please do not forget to hit the subscribe button.
In the common section, do let me know what you think about this video and what other topics you would like me to cover for you in my coming videos.
Also, do not forget to share this video with your family and friends.
Till we meet again. Goodbye from me.
Warm regards,

Vijay L Bhambwani
Editor, Fast Profits Daily
Equitymaster Agora Research Private Limited (Research Analyst)
Recent Articles