The Mindset of a Rich Trader
Dec 3, 2020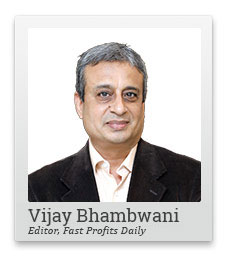 This is a very important video. One of the most important I've recorded.
It's all about having the right mindset to become a rich trader.
I know everyone is not interested in becoming rich by trading the markets. That's fine.
But if you want to know how to get rich with trading, this is the video for you.
So, let's dive right in...
Hi. This is Vijay Bhambwani. I hope you enjoying trading in the markets, and you are also monitoring what I have said in my earlier videos about the bulls being firmly in grip of the markets.
The December effect, when the FIIs are actually along with the domestic Indian mutual funds keen on supporting the prices for the quarter end, which also happens to be the calendar year end for NAV boosting.
So in this video, I want to talk about a very critical aspect about trading. It's your own mindset, a trader's mindset.
Actually, we traders and investors, for that matter, are actually brain warriors. Way win or lose with our ideas. It's not the fastest computer. It's not the fastest internet connection. It's not the brokers trading terminal's refresh rate that makes us money or loses money. It's our ideas. It's our thought, processes, and our mindsets.
FREE Subscription: Join Our YouTube Channel Today
So in this video, I want to talk about mindset of a person who wants to get rich. Do you really have a rich trader's or a rich investor's mindset?
If not, all is not lost. You can basically take the help of professional experts for a fee like Equitymaster does provide advisory services and inputs, research reports, actually for a fee because they are experts. So if it all you're not really up to a traders mindset, all is not lost. You can take professional advice and still make the mega bucks in the markets.
So what is it that makes us traders come back to the trading terminal day after day, day after day? On some days we take pulverising losses. On some days we take mediocre gains and once in a while we catch what we call a whale, a big, huge profit that basically nullifies all the previous losses and pays for whatever we actually have envisioned for. Maybe a car, maybe a foreign holiday, maybe, an exquisite dinner in a very expensive restaurant. What makes it happen?
First of all, if you want to trade for a living and you are living in a metro city an average family of four, I'm giving a hypothetical example, you will hypothetically need approximately Rs 100,000 per month to survive.
I am not talking of an extremely luxurious life. I'm talking of bare bones survival and you have 20 trading days in which to achieve this. Which means on an average, you need Rs 5,000 a day.
Now, we all know that the markets don't reward you with the amount of money that you need necessarily. There will be losses. There will be profits. As now that the profits exceed the losses and on average, you manage over a period of a month's time an average of 5,000 bucks a day, you're fine.
But what happens when things are not fine when instead of making 5,000 bucks today, either you don't trade for you trade, but there is no profit, no loss? The next day you need to make 10,000. What happens on a day you actually wind up losing 5,000? The next day you need to make 15,000.
So it's actually the mind that determines whether you're going to make it or not as trader or an investor and the trader's mindset, believe me, is everything.
So the first thing that you need to do is to stop pressurising yourself. Break down your long term goals into very short and medium term goals. That way, they look less intimidating and I am sharing the secret sauce with you.
Instead of saying that I want Rs 1 lakh a month, I say Rs 5,000 a day. You know what? It actually comes to the same thing. It's like asking a doctor or a family grandmother about what cures the flu. The doctor says you take this medicine. It's gonna cure you in 72 hours and your grandma says, lie down in bed, drink hot soup, and you will be fine in three days. It comes to the same thing.
So what I'm basically saying is break down your long term goals into medium and short term goals and the ultra-short term goals or the intraday goals that basically makes the target even more achievable.
Secondly, how we are in a personal life reflects even into our professional life. So where timid person who gets frightened very easily, who basically can't say boo to a mosquito that's biting him, will basically get intimidated by trading and the mark to market losses on the screen.
So you need basically to make yourself will not more tensile. I'll you need to teach yourself how these numbers on your screen are actually a matter of life and death at the end of the day when your P&L comes but when you're seeing a mark to market loss, it's not the end of the world.
The trader's mindset basically requires you to be a very, very calm, very, very composed and a very collected person, a very sorted kind of person. If you can imbibe this, you've one half the battle.
The second thing is that a traders mindset or a successful millionaire's mindset is that you're completely focused on what you want. You have no time for distractions. You would not have your most favourite movie on television or your over the top apps, like Netflix on Amazon, playing at the time when the market is on.
Believe me, I have zero time for all that. I can always watch all of that later. If I make a lot of money, that itself is the biggest award. The rush that it gives you of having won the battle for the day is the biggest gratification of all. So be very, very focused on what you want out of the market.
Secondly, how much do you want? How much do aspire to get? I meet a lot of traders and I've trained. a lot of traders over my lifetime and when I tell them that you need 100,000 bucks a month, which is 5,000 bucks a day bare minimum to survive, that becomes their life goals.
You know what? The market will give you only as much as you work towards achieving. So do you really have the guts to dream big? Do you really have the guts to ask more and more from the market and work towards achieving it?
If yes, you will make it big. If your target itself is 100,000, 150,000 bucks a month, believe me no amount of training, no amount of trading, no amount of mentorship, and no amount of luck will bring you that.
The minute you achieved that target you will want to slack off, you may even walk away from the trading terminal. You need to be a fighter who will fight for every inch of the territory, every minute of trading day.
The trader mindset is hungry for knowledge. He or she is trying to absorb as much knowledge as possible in the public domain, going and talking to fellow traders, talking more importantly, to successful fellow traders, people who actually made it rather than people who are paper tigers.
So I have a lot of people who are coming in approaching me and trying to sell my company I promoted a limited company, which is into absolute proprietary trading and nothing else, we have a lot of people who were saying, look developed a software which is 100% hit rate and we got the secret formula, which returns over 90%, 100% return on profits per month, initially, I used to get very excited but later on, I found that most of this was gobbledygook. It made no sense at all.
So try and talk to people who you know and verifiably so are self-made traders. Learn from them. You will learn a lot more than all the books put together because only a guy who's done it can teach you how to do it.
Last important point. You have to be really very, very perseverant. Just like a cricketer or a footballer or a tennis star, we traders have periods of poor performance. It could be ill health. It could be mental stress. In the last couple of months, my dad has been very unwell. He's been in and out of hospital and believe me, whenever there have been challenges to his health, I've noticed my trading performance really go down in the pits.
It's all to do about the stress and when you're not focused 100% on trading itself, your performance is likely to show up on your P&L in your trading log. So make sure that 100% committed. This market does not think 99% is good enough. That 1% mistake you make is something the market realises, which is your weak spot, and it will hit you precisely there.
So you're either all in or you're not in. Imbibe these activities into your trader mindset and try to get an edge in the market. Your edge is what will make you the money.
For example, over the last of three decades or more, I realised that markets move in cycles. There are periods where pockets of activity is seen across various asset classes. I call it my cash calendar. I've noticed that there are various times in the year, the month, the week or even the day and the hour of the day when I should be trading and X security.
I stick to the plan. I do not deviate unless a very, very compelling trade that is even better than the original blueprint comes and stares me in the face. Get your edge. Identify what you're good at. Stick to it and keep milking that idea of money all the time. Which is why I say your edge is what you've identified from your observations from sheer personal experience. Get this edge and you're in. You're sorted.
On this optimistic note, I say goodbye to you in this video till the meat again in my next. If you're watching this video on YouTube, please don't forget to click like and subscribe to my YouTube channel. Click on the bell icon so you get alerts for future videos that I upload here. In the comments section, do let me know what you think of this video and what you want me to record next.
Help me reach out to fellow like-minded traders who are looking out for a 360 degree worldview and knowledge based investments and trades by referring my video to your family and friends. I hope you take very good care of yourself, your family, your friends, your trades, and investments.
Have a very, very profitable day. Vijay Bhambwani signing off for now. Thank you for watching me. Take care.
Warm regards,

Vijay L Bhambwani
Editor, Fast Profits Daily
Equitymaster Agora Research Private Limited (Research Analyst)
Recent Articles