Watch This Before You Buy NBFC Stocks
Dec 3, 2021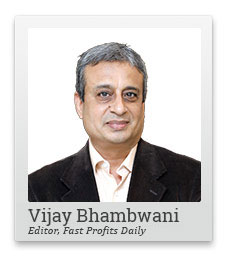 NBFC stocks are quite popular in the market. Traders love trading them. They can be very profitable for a sharp trader who knows what he is doing in the market.
But what about investing in these stocks for a longer time horizon?
Well that's where things get complicated.
In this video, I'll tell you what I think about investing in NBFC stocks and how you should approach them in the current market situation.
Watch the video and let me know what you think.
Hello, friends. This is Vijay Bhambwani here and I hope my videos are helping you decipher the message of the markets better, they are helping you become better traders and investors, and understand the subtle nuances of the markets even better than you did before watching my videos.
Friends, a couple of months ago, I recorded videos on certain industries, certain sectors of the market. I remember making a video on the hotel stocks. I remember talking about the sugar industry and its cyclicality, what made the sugar stocks move and tick in the markets. I talked about the alcohol industry and how you can time the alcohol industry stocks.
EV Stocks: Which is Tanushree's Top Pick?
In this video, I want to talk to you about NBFCs, non-banking financial companies and for a change instead of letting you do the work, I am going to tell you the direction which I, in my opinion, feel that these stocks might take.
You see the mantra to making money for any business, not just trading by any commercial or business activity, is that you buy raw material as cheap responsible, and you sell your finished pronounced as expensive as possible. That spread is your profit margin.
So higher the profit margin, the better money you will make and the markets will push your share prices even higher because they think that you're going to reward them with higher dividends, a higher margin of safety, and therefore they bid up the stock prices of this sector.
Now, as a rational 360 degree a worldview trader of the financial markets, it is very important that you understand the raw material and the cost of raw materials of the NBFCs. Now, this is one sector where money is both the raw material and the finished product for these companies.
How is money a raw material? Because NBFCs borrow money in by way of corporate deposits, fixed deposits, time deposits from retail investors at lower rates of interest and then lend this money at higher rates of interest and thereby the spread that they make, constitutes their profits.
Take, for example, HDFC Limited. I deliberately mentioning HDFC. I'm going to come to you in a short while in in this video itself. Take, for example, HDFC Limited. It borrows money on fixed deposits and time deposits from investors and lends money to you for buying a house or any other property, for that matter. But hypothetically, let's say you want to borrow money from HDFC Limited to buy a house. They lend it to you. When you deposit money with them, they give you a smaller rate of interest and when you borrow money from them, they charge you a higher rate of interest. That spread is its profit margin.
On 11th or 12th of November, I think it was 12th of November 2021, I did a text interview with Equitymaster and it is still there on Equitymaster's website. Do make it a point to read that interview as well. It is a text interview. I said that going forward in 2022, I expect the cost of funds to go up. Now what are funds and what is the cost of funds?
Funds is the very loose term for the amount of money that is circulating in the market, and the cost of funds is nothing but interest a borrower has to pay to borrow that money. Why am I saying that cost of funds are going to go up?
Now I am going to say something that will probably not go down well with everybody who's watching the video. In my humble opinion, people, at least not everybody, understands money as well as they should, and this is where the problem lies. We, as students and then career professionals, etcetera, are trained to think in a certain manner, but certain manner happens to be looking at the picture partially.
How partial is it? Try crossing the road with one hand on your eye and instead of a three dimensional view, try to get a unidimensional view and try to cross the road. I assure you, you're going to be very, very insecure. You're going to stumble. You've been a fumble. You're going to feel upset, because you can't see traffic from both sides of the road coming.
So far, the finance industry has been trained to look at interest rates from the point of view of the borrower. It has been drilled into our heads that lower interest rates are good for the economy because they stimulate growth, they stimulate spending, EMIs go down, people actually buy more and spend more because it is cheaper to fund your buying in the leveraged space.
By leveraged ate space, meaning if you have Rs 30 lakh and you want to buy a flat of Rs 1 crore, you go to HDFC Limited or any other housing finance company for that matter, borrow Rs 70 lakh and thereby, you buy a flat worth Rs 1 crore, you leveraged yourself to the extent of Rs 70 lakh.
So it is an expectation that with the easy availability of money at lower interest rates, spending will go up and the economy will get stimulated. From a point of view of a borrower, it is right. But this is like looking at the markets with one eye closed. Now let's look at the aspect that you do not normally think about. Let us also talk about the lender or the guy who is depositing the money with NBFCs, so that the NBFCs lend you that money.
Does anybody think about the point of view of the lender or the saver or the depositor as to whether he is really happy with the kind of interest rate that he is getting today say about 5-5.5% or 6% in a bank, depending on whether you're a youngster or a senior citizen and 6-6.5% maybe even 7% in an NBFC when inflation is rising and at the street level, a little bit higher than what we are told?
I don't think so. Now what happens when the depositor is not really very happy? Hey, he is going to stop writing cheques. Where are you went against the money from. Your material is just getting choked. Remember, money is the raw material for an NBFC. Your raw material is beginning to trickle down instead of the big flow that you were enjoying earlier.
What you do? You start to offer a higher price for money, which is higher interest, which is precisely what HDFC Limited the housing finance company and Bajaj Finance finance have done with effect from 1 December 2021.
The raw material costs or the cost of funds for NBFCs have just started to go up, and initially, of course, they may be able to get away with passing on that increased cost to the buyer, which means the guy who takes a loan to buy the house. But if the EMI goes up substantially, guess what happens in the marketplace? Demand destruction occurs.
If EMIs rise a little too much, people will take fewer number of loans which is something people are ignoring. So if you're looking at it from the borrower's point of view, you also understand that there is a lender or a saver, and the market tries to strike an equilibrium between the buyer and the seller, the saver and the borrower, the lender and the borrower.
So I believe the process of rising interest rates has started. Two corporates have already started increasing interest rates.
It is a matter of time because of competitive nature of the markets, the other NBFCs, in order to compete, in order to garner funds from the depositors, start offering higher interest rates as well, which means rising raw material cost will eat into certain amount of profit of the NBFCs and at higher and higher, progressively higher levels, that of course will come at a much later date, there will be demand destruction if interest rates rise too much. That of course, will happen once the rates cross 8.5-9% or even higher.
Right now, you're within a kissing distance of 6.8-7%, broadly, ballpark. You guys have seen many of my videos were I am a big fan of the bond markets and the bond yields, because I believe that the bond and the fixed income market is the source of all money supply to other asset classes.
Unfortunately, in India, people think equities are the only game in town and therefore ignore the source of all money supply for all other aspects of the markets, commodities, currencies, equities, etc, which is the fixed income market, including the bond market, and the fixed income market is crying out for your attention.
Probably the days of cheap and easy money may just be slowing down. I am not saying is coming to an end. It's early days yet. Let's not pull the plug. Do I mean that you should sell your NBFC stocks tomorrow morning? No, an emphatic No. But if you're thinking of buying and NBFC stocks on dips, do keep in mind that this development has occurred. This is definitely a red flag.
I'm not telling you to panic. I'm not telling you to sell your stocks, but do keep this in mind, and it all you're seeing selling occurring at higher levels in stocks, which are NBFC stocks, now you know the reason why. They're raw material cost has just gone up. If they start to raise interest rates too aggressively and too frequently to compete with each other in the marketplace, I will record an updated video. That is my assurance to you and I will warn you about the red flags going higher and higher.
On this cautionary note, I bid goodbye to you in this video not before reminding you to click like on this video, if you liked what you saw. Subscribe to my YouTube channel if you haven't already done so. Click on the bell icon to receive instant alerts about fresh videos being put up out here.
In the comments section, good, bad or ugly, I'd love to hear from my viewers. Please keep your comments coming. Also, help me reach out to like-minded investors and traders by referring me or my video to your family and friends. Thank you for your patience, for watching my video.
Till we meet again in my next, this is Vijay Bhambwani signing off for now. I wish you have a very profitable day ahead. Thank you. Bye.
Warm regards,

Vijay L Bhambwani
Editor, Fast Profits Daily
Equitymaster Agora Research Private Limited (Research Analyst
Recent Articles