INR V/s USD in 2020: How Will Your Trades Be Affected?
Dec 5, 2019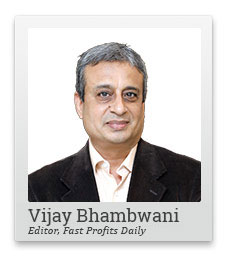 Hi, this is Vijay.
Today, in the Fast Profits Daily, let's delve into a very important topic you will hear a lot about in 2020 - The USDINR.
2020 is an election year in the US. The incumbent President, Donald J. Trump, is up for re-election in November. The US presidential cycle has already begun in the markets.
I've written about it before - read it here.
But in today's video, I want to talk about how it will affect India and you.
How will the US Presidential Cycle play out?
How will it affect the Rupee?
And most importantly...how will it affect your trading?
This is a very important topic for traders to keep an eye on. I hope you find informative.
Hi, this is Vijay Bhambwani and I'm back again with you to talk about how the US dollar versus the Indian rupee is likely to impact the Indian economy, your investment portfolio and your income on fixed investments.
In my earlier video, I talked to you about how the US presidential election cycle typically sees some predetermined steps which are a standard operating procedure by now, typically 12 to 15 months before the US elections are slated to take off and this time around, the US elections are slated for 3 November 2020.
Tentatively, what we have seen in the past, 12 to 15 months before the US presidential elections, the US dollar begins to strengthen and in the last fortnight or so, you have seen the US Dollar index, also known as the Dixie, begin to show an extreme amount of strength.
Now, this is one way how the US manages its huge external debt. As the largest debtor nation in the world, the stronger is the US Dollar, the less the US has to pay by way of interest and repayment by keeping the dollar strong.
On one hand, they manage their debt, on the other hand, they aim to win the trade war against China by strengthening the US dollar and therefore curbing undue exports which are dumped on the US by China.
Sure enough, the Chinese might counter this move by devaluing the Chinese yuan, which they are obviously trying to do.
The other thing that the US will try to do before the elections, is pump prime the economy by pumping money into the system.
They will ensure that employment figures are looking rosier. Corporate profitability will be pushed up by ensuring lower WPI or wholesale price inflation, i.e. raw material costs of corporates.
They will ensure that crude oil goes lower before the elections so that inflation can be better managed and the more they manage these ancillary aims and objects, the better in turn it is for the dollar and makes the dollar even more stronger.
What does it mean for us as Indians?
I would say a lot!
As a net importing nation, the rupee, if it is sliding against the dollar, will make all our imports a little more expensive.
Two-thirds approximately of all our imports are fossil fuels, which is natural gas on crude oil. Chances are all other factors remaining constant, the prices at the pump might rise if the oil price in the US and the international market is constant because the Indian rupee might devalue against the US dollar, which will be artificially pump primed.
But like I said, the silver lining here is before the election, the US tries to deliberately subdue crude oil prices so as to control their inflation.
So imported inflation, which is what economists call inflation caused due to a lower Indian rupee, is not really too much of a threat.
But what you will definitely feel the heat on is the cost off your smartphones, tablets, mobile phones, laptop computers, cameras, camera batteries, important sneakers, jeans, et cetera, et cetera.
That is a small discomfort to bear but the bigger impact will be felt on companies share prices, which are import dependent.
You can follow the equitymaster blueprint and my blueprint by focusing on export oriented industries so as to hedge yourself against any kind of weakening of the rupee versus the dollar.
On the other hand, you can also hedge yourself from rising inflation by investing a little bit of your money in physical delivery in bullion.
And if it all your fixed income is actually going down on securities like fixed deposits, bonds, debt mutual funds, et cetera, you can mitigate those losses by making smarter investments in equity portfolios on equity linked mutual funds.
That exactly is not a big problem but that rupee devaluing against the dollar will basically kick of a little bit of Indian inflation within the country's own procuring and producing companies. That is a little bit of a worry.
How much will the US dollar go up against the rupee is what will determine how much inflation we will feel. Let us not forget that India has already braced and faced a USDINR of 74 and a half plus in October last year.
So my guess is, if the dollar versus the rupee is to go up to 74 and a half, the market will take it in its stride and move forward.
In the unforeseen event of the USDINR crossing 75, then we will take a relook. I'm sure I will be able to bring out another video on this subject as and when needed.
My friend Apurva will talk to you tomorrow and take this conversation, among other trading ideas, forward.
This is Vijay Bhambwani signing off for you right now but before I leave, I'd like to remind you, if you're watching this video on YouTube, please click on the like button. Subscribe to my channel and do not forget to forward this to your friends and family.
I'm also awaiting your feet back in the comments section about what you think of this video and what other topics you would like me to cover for you in my forthcoming videos.
Have a profitable day.
Warm regards,

Vijay L Bhambwani
Editor, Fast Profits Daily
Equitymaster Agora Research Private Limited (Research Analyst)
Recent Articles