How to Make Trading Profits in 2021
Dec 9, 2020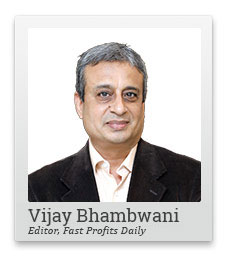 2020 is drawing to a close. It has been a tumultuous year.
Many traders and investors will be glad the year is coming to an end. They're looking forward to a year in which trading profits will be easier to come by.
Will 2021 be that year?
Find out in this video...
Hi, this is Vijay Bhambwani. I'm back with you to discuss in this video about the markets and this video is all about the outlook for the year 2021.
Friends, this is that time of the year when we basically start chalking out what we're going to do in the coming year and therefore, we draw a blueprint.
I am very well where the fact that the best laid plans of men and mice often go helter-skelter because man proposes and God disposes and here, in this case, the market Gods are extremely, extremely whimsical, and fickle minded. They can move from one side to the other with no warning whatsoever.
So I am going to put my thoughts forward to you as to what I expect in 2021 and, as a matter of fact, what I would do myself in the year 2021.
FREE REPLAY: Discover What Richa Revealed in Her Smallcaps Summit
Remember, I talk from the perspective of a person who is a doer of deeds rather than just an ideator or a planer. So here goes.
We're going to take a 360 degree worldview on all asset classes and see where the money really lies. Number one, fixed income market. I would include bonds. I would include the bank fixed deposits and debt mutual funds.
The kind of money that the central banks are raising, and by central banks, by default, I mean the governments. The kind of money the governments are raising and are expected to raise in 2021, I would not be surprised if interest rates are kept low, because the biggest borrower is the government in any part of the world.
The government's now are the biggest borrowers, and therefore, they will keep interest rates low so that they have to pay out lesser and lesser amount by way of interest. So fixed income investors, I don't really have any good news for you in spite of the fact that it's been almost a year since I did this forward guidance with you about what to do next year.
So in December of 2019, I was the bearer of bad news for you, and unfortunately, I don't promise anything good for fixed income investors. All you can do is save more, cut back, back on expenses, and deploy more money on fixed income investments, so that the fall in interest rates can, to a small degree, compensate for the total amount of interest that they went to receive. All in all, a bad year forward for fixed income investors.
For currency traders, I think currencies are going to be largely managed well in 2021. The way the governments are going forward, they are basically targeting inflation by keeping the domestic currency peg stable.
If they were to allow the domestic currency to weaken against the global basket of currencies, imports become more expensive and therefore, the country starts to import inflation, especially if it's a net importer like India, and we import majority of our fossil fuels, which is natural gas and crude oil and these are multiplier commodities.
If you raise the prices of petrol and diesel, your fruits, vegetable milk, eggs, everything, everything becomes more expensive. So currency traders are likely to see very small amounts of movement and I would not be surprised if the intraday movement or the ranges, as we call them, become even more tighter. Now this is about trading currencies.
Now we come to commodities. Commodities will continue to go along as I have been talking about, and let's not forget, I already have drawn a sort of a blueprint, which I call the Cash Calendar wherein I've divided the year into 12 compartments, each one corresponding with a month.
I don't foresee any change from the routine where trading in commodities in terms of cycles is concerned. I don't expect commodity assets to break from that cycle in a very significant manner.
Yes, the year 2021 is going to be different to the extent that there is a lot of liquidity driving up asset prices and therefore declines invariably will get bought into and unless there is a complete reversal in sentiments, I don't expect a very big vicious bear market.
Coming to equities. Now, this is going to be a very unique asset class because people will get more and more specialised. People will target those sectors which they expect to do extremely well in spite of the fact that there are going to challenge is going forward.
Make no mistakes my friends. Even though the vaccines have been announced and some countries have already started administering those vaccines, it's going to be no less than six months before sufficient number of people have been vaccinated to curb the sort of virulent spread of this pandemic.
So for another 6 to 8 months, you would still have to be way careful where you deploy your money. I would suggest a very simple strategy. KISS. Keep it simple, stupid. Stay hungry. Stay foolish. There are lot of catchphrases that would describe the philosophy.
Stick to consumer staples. Those items which people cannot do without. For example, food, clothing, footwear. Basically, you could also call these items FMCG or, for that matter, include even some good pharma stocks.
Stick to the basics. Stick to very, very solid counters. Stick to where the managements have been tried and tested. They're investor friendly and they basically have been market outperformers. That means the returns have been more than the Nifty or the Sensex.
Now I come to traders, and this is the crux of the video. Traders will have a challenging time in the year 2021.
Does it mean you're going to make any less money? By no means, I am saying that you're going to take home less money. What I am saying is that the efforts that you will have to put into both in terms of intellectually inputs as well as trading inputs, so you not to think smarter, think faster and think sharper.
Remember, we traders are brain warriors. We fight our battles, we win and lose in the market, not with the speed of the internet connection, not with the speed of our computers, but with our ideas. So your ideas in 2021 needs to be much, much better than the guy out there against whom you are trading on your terminal, who is your counter party.
For that purpose, I have drawn a very simple plan. We skip all trades whether return on investment is going to be less than 0.25%. Which means if I am going to take a trade, having given a deposit of rupees 10 lakhs to my broker, any trade that gives me anything less than Rs 2,500 profits, I don't want to entertain.
Secondly, if there is any trade that's going to result in return on turnover, by turnover, I mean the value of buy and sell, if there is any trade that's going to give me a return of less than 0.025% on the turnover, which means if I buy and sell shares worth Rs 10 lakh and I'm not going to make Rs 2,500, that trade will be eliminated.
If I am going to take a trade which matches both these criteria but it does not measure up to a trade efficiency ratio of 3, which means for every Re 1 that I pay as brokerage, GST, STT, exchange turnover tax, SEBI tax, and stamp duties, for every one rupee that I pay these charges, if I don't take home Rs 3 in profit after these taxes, I will not enter the trade.
Which means that my trading blueprint for year 2021, is going to get increasingly systems driven, is gonna get increasingly algo driven, is going to be even more statistical in nature.
Do I expect a good year for 2021? I think it's going to be a good year for the savvy traders. Remember, whole lot of people who are trading due to compulsion because there is nothing else to do and they don't know anything else, will lose money because the specialists will win and remember, this market is a zero sum game.
Somebody's loss is somebody's gain. So a greater number of people losing money means the fewer number of people taking a huge pot load of money, taking it out of the losers pocket and putting it into your own pocket via the trading terminal.
The year 2021 belongs to the specialist, belongs to the smart guys, belongs to the savvy guys. So here's to you, all smart guys watching this video. The year 2021 holds a lot of promise provided you do the right thing at the right time and in the right quantity.
On this happy note, I'll bid goodbye to you in this video not before assuring you that I'll be back soon in my next. If you're watching this video on YouTube, don't forget to subscribe to my YouTube channel. Click like on this video if you agree with what I just said.
Also click on the bell icon to receive alerts about any new videos that are being put up. In the comments section, do let me know what you think about this video and what you would want me to record in my next video.
Help me reach out to fellow like-minded traders who are looking out for a 360 degree worldview and knowledge based investments and trades by referring my video to your family and friends.
Friends have a very, very profitable day ahead. Vijay Bhambwani signing off now.
Thank you for watching.
Warm regards,

Vijay L Bhambwani
Editor, Fast Profits Daily
Equitymaster Agora Research Private Limited (Research Analyst)
Recent Articles