Use My Secret to Increase Your Trading Profits Today
Dec 10, 2019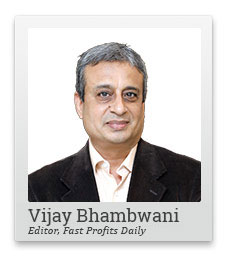 Hi,
This is Vijay Bhambwani and today, I will share with you my secret to making more money in the market than you already are.
Whatever the amount of profits you are currently making...I want to tell you a secret which will increase it.
I have used this for more than 30 years and I have complete confidence that it will work for you as well.
So, let's not waste any time...
Watch the video and let me know your thoughts!
Hi,
This is Vijay Bhambwani and today I am going to talk to you about a very critical aspect of the market as to how you can basically groom your mind to make even more profits than you already are doing.
I keep reminding people who trade for a living that we traders are actually brain warriors. We are not needed to run faster than the other guy. We're not needed to swim faster and longer than the other guy or lift heavier loads.
We basically our brain warriors. We fight and win battles in the financial markets with our ideas.
It's not about the fastest computer. It's not about the fastest refresh rate on our trading terminal or the Internet connection. It's about the ideas and ideas come from our minds.
So, our minds must be like a well-tuned machine that's working at optimal levels at all times and believe me, it's a lot more difficult than you think it is.
Human minds are not mechanical instruments. They also have emotions built into it. So, your left-hand side brain processes the logical functions, mathematical functions of two plus two is equal to four and the right-hand side brain is emotional, which handles pain, fear, greed, and all other irrational functions from a mathematical point of view.
Of course, at different points of time. The two functions do tend to overlap, so venue on your trading terminal, you see a mark to market loss, no matter how mathematical you are some amount of panic, a little bit of sweat behind the ears, and a little bit of nervousness does come in. That's the right-hand side of your brain influencing the left-hand side of your brain.
And over a period of time, there is something called thought fatigue. Just like you have writer's block, an author who is trying to write a book tends to feel fatigue after writing a book for, say, three for five hours and needs to take a break, the human mind also feels fatigue and it's a lot more tiresome than you actually think it is.
When you are under stress, your mind alone can burn one and a half calories every second. When your heartbeat is pumping faster, when your blood is flowing much more faster in your veins, all this, taxes your body. So, you can actually tire yourself out with stress.
Today, I want to put you through the paces of how you can prolong your shelf-life as a trader for many, many ears.
I've been doing it for more than 33 years that I have been in the market. I entered this market in 1986 and people ask me how I can manage to continue to trade effectively in spite of more than three decades.
The answer is very simple. Stress management and trade and time management.
You see, we all as traders are human beings and as human beings, we tend to get carried away by the last trade.
If it is a profitable trade, you feel like an emperor. You know it all. I know everything that there is to about know above the market. I have attracted secret code and the very next trade, chances are, my ego will play a bigger role than my brain and instead of two lots, I might just wind up taking a risk of five lots.
That is a cardinal error. Why did it occur?
Because one did not allow the mind to cool off after winning in a good, big position, and come down to rational levels before initiating the next.
Guess what?
In the next trade, that you take of five lots, which, if it is based on wrong presumptions, if it goes wrong, not only do you lose all that you made in the first trade on two lots, but you wind up going out of pocket.
So, lesson number one... after every big gain, take some time off.
Legend has it that Marcus Aurelius of Greece, hired a slave whose only job was to ride in the chariot with him whenever he went out in public because the people would cheer.
The slave's job was to whisper in his ears, 'Remember, you're only human. You are not God. You're only human.'
This was to bring Marcus Aurelius down to earth so that he did not give any statement that was out of the ordinary.
We human beings, we traders especially, need to remind ourselves that no matter how good we are traders, the market is supreme.
If you think you know at all, if you think you've cracked the code, hey, the very next trade, the market might just humble you.
So, after every big trade, it is essential that you cool off.
And what better way to cool off, than to spend the fruits of your labour!
Depending on how much you want to segregate for yourself and depending on the quantum of the trading profit, I would say between 2 to 10% of the winnings, to spend it on something that you like.
It could be buying an ice cream or that round neck T-shirt that you wanted, a pair of running shoes that you wanted, or if the trade as big enough and the profits are big enough, that new motorcycle that you always had your eyes on, a foreign holiday, maybe.
Why surrender money to the market and break your morale when you can spend it on yourself and earn a feel-good factor for your brain, so that it functions better in your next trade?
Now this is after a gain. A similar situation arises after a loss-making trade. We are down to the ground. We have beaten but not yet completely broken.
Sometimes, and it happens with me very often, I want to take revenge. The market has taken my money. I'm gonna earn it right back from it.
Now this is a gambler's fallacy. You want to get even with the market. You want to take a revenge. Doesn't really work because the market is supreme.
So here again you might wind up taking out-sized bets. You might wind up taking more risk than you actually should and deplete your capital.
To my mind, a trader when he or she loses money, can replenish the money but if your morale has broken after a loss-making trade, that takes its own sweet time to heal.
Remember, the right-hand side of your brain, which is emotional, does need a little bit of rest and recuperation to come back to normal. Give yourself time after a loss-making trade. Go back to the drawing board. Introspective and think about where you went wrong, what really went wrong so that you do not repeat that same mistake again.
So, after every winning trade and after every loosing trade, you must take a break.
As an investment adviser for many many years, I faced a lot of pressure from people who were basically dependent on me for advice, as to why I give infrequent recommendations.
The answer is here. I am sharing my innermost secret with you. This is my secret sauce. I don't want people to trade too often. After every profit, take a break. After every loss, take a break.
What you should have is high probability trades that keep earning you money consistently.
There's no point in earning Rs 2 lakh in 1 month only to lose it back in the next. You wasted two months of your life and you're back to square one.
So maybe in trading, less is more. Make haste slowly. Remember, we are brain warriors. Do not upset your mind after every loss-making trade by forcing yourself to take a revenge with the market. Nobody can take revenge from the market.
And here again, like I said, the more you work efficiently and let your left-hand side brain dominate the right inside brain, you can continue to trade for longer periods of time and have a winning streak of 20, 30, 40, and maybe even 50 years.
So that, ladies and gentlemen, is the secret to making money in the markets over longer periods of time.
I hope the markets treat you well. With this, I bid adieu but not before reminding you, if you're watching this video on YouTube, please click on the subscribe button and the like buttons.
In the comments section provide me of feedback as to how you like my video and what else would you like me to cover in my next video. Also, do share this video with your family and friends.
Thank you.
Have a profitable trading day!
Warm regards,

Vijay L Bhambwani
Editor, Fast Profits Daily
Equitymaster Agora Research Private Limited (Research Analyst)
Recent Articles