My Inflation Trade Could be a Big Winner
Dec 11, 2021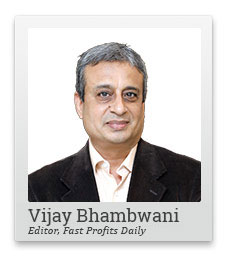 In 2022, the world will have to cope with higher inflation, especially food inflation.
I believe, due to this, governments around the world will have to overcome many challenges. This will leave its mark on financial markets as well.
How can you navigate this difficult situation? Even better, how can you profit from it?
I'll answer that question in this video.
Let me know your thoughts in the comments below. I love to hear from you.
Hello friends. This is Vijay Bhambwani, and I hope my videos are helping you understand the markets better and garner better trades and investments for yourself.
In this video, I am going to touch upon a topic which is top of the mind recall now across investment banks, across traders, investors, central bankers, and the governments, the entire world over. I am talking about inflation in 2022 and Inflation of the worst type in particular, that is food price inflation.
The video is not meant to spook you, to scare you, but to provide you with an investment opportunity that can actually benefit from the curse of rising food inflation.
Get Full Details: Richa is Very Bullish on This Smallcap Stock
Of all the inflations that are known to us, food inflation is the worst because of the humanitarian crisis it causes, and the worst part is that demand for food being inflexible, hey, we die without food, right? So you have to, whether you like it or not, pay progressively higher prices when food prices go up and they are going to go up all around the world, I'm going to come to why in a bit.
So irrespective of the prices of food, mankind is forced to buy it at progressively a higher and higher prices, which means his consumption of other goods and services tends to fall, and that has negative implications for financial markets, the world over.
So I am gonna first tell you why I expect food inflation is going to rise and secondly, how you can actually use the rising food price inflation to benefit you in your investments.
You see, the covid crisis has triggered lock downs from last year, which we are well aware of. Labour has been displaced, disrupted, and shifted across geographies, which is why supply chains, in addition to labour, even the supply chains have buckled under pressure, which means transport costs both of raw material and finished goods, have shot up tremendously.
Secondly, global warming and environmental disruptions. For example, the forest fires in America, especially California, and six other large states in America, which are witnessing a constant headaches of forest fires and has, you know, a lot of food from California is available even in Indian shop shelves. Californian almonds, pistachios, pitted prunes, and apricots etc, the whole works. If you were to see the prices of these products, you know what I'm talking about.
Droughts and water shortages are adding to the food crisis and if you been observing that the world around you, oil and gas prices have been up in 2020. Ever since the lock downs were imposed, the oil prices hit a panic low of negative territory, and gas prices after August 2021 have shot to the moon.
Now you can't really produce fertiliser unless you have cheap and easily abundantly available gas. Now that gas prices have shot up to over two and a half times of what they should be at this time of the year at their peak in October, where we saw Rs 500 plus per million metric British thermal units MMBtu.
Of course they climbed down a little bit from there but the supply of gas has been prioritised towards energy and heating purposes, and the agricultural industry, the farming industry has been denied the supply of gas indirectly because fertiliser companies are not able to get enough gas, which means there is a shortage of fertiliser and a shortage of fertiliser means a shortage of food.
So this is why inflation is likely to go up and the worst kind of inflation, which is food inflation is also going to jump up. In addition to all these problems, you have countries which either have just about enough to export food or have abundant supply of food but do not want to export food because they want to save their local population from the crunch of rising inflation.
Argentina has banged the export of beef. Russia is talking about imposing higher export taxes on wheat, and you're going to see Brazil raise the price of foods that it exports. All in all, not a very good picture.
So how do we profit from this miserable scenario? The Austrian School of Economics calls inflation, the misery index. Rising inflation is in no way likely to make mankind happier. It is going to make us miserable. So the misery index is likely to go up and the Food and Agricultural Organisation, a subsidiary of the United Nations Organisation says, depending on which part of the world you are looking at, food prices can actually jump by hold your breath, 30% in 2022, across specific food items.
Now, if you were to observe the world around you, I come from a family which is a full of business owners. We're in textiles. We're in electronics. We're in laminates, packaging materials, and I can't help but be awestruck by the price rise in garments.
Coming from a textile family, I know what it is. Electronics, laminations, packaging materials etc, I know that raw material prices have gone up, but there is also an element of profiteering. So it's not just the raw material cost which has gone up, which is resulting in the clothes that you buy, or the electronic items that you buy, that are rising in price. There is also higher profits for the guys who are selling it.
So how can you make money from rising food inflation? Hey, target those companies, which are into processed foods, packaged foods, and ready to eat foods.
Unfortunately, due to compliance issues, I cannot mention individual stock names but I'm gonna give you broader hints. If you go to a shop shelf, if you see companies that are making confectionery non-perishable packaged foods, ready to eat foods, cook and eat, heat and eat kind of foods, those are the companies that are going to do very well in the calendar year 2022.
I'm sure you can Google search the names of these companies, especially the ones that are listed, and target the stocks. On this optimistic note, with this note that there is not just gloom and doom where inflation is concerned but also a ray of light to a discerning investor who opens his mind and seeks an opportunity where others seek adversity, on this cheerful note, I will bid goodbye to you, not before reminding you to click like on this video.
Subscribe to my YouTube channel if you haven't already down. So click on the bell icon to receive instant alerts about fresh videos being put up out here.
In the comments section, good, bad or ugly, I'd love to hear my viewers' feedback and also help me reach out to fellow like-minded investors and traders by referring my videos to your family and friends. I thank you for your patience.
Till we meet again in my next video, this is Vijay Bhambwani signing off for now. I wish you have a very profitable day, my friends. Take care. Bye.
Warm regards,

Vijay L Bhambwani
Editor, Fast Profits Daily
Equitymaster Agora Research Private Limited (Research Analyst
Recent Articles