How We Made 14.64% Trading Profit in Just 2 Days
Dec 12, 2019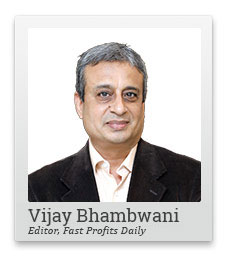 Hi, this is Vijay with a trading video for you in the Fast Profits Daily.
I wanted to share with you, details of my recent trade which delivered 14.64% trading profit in just 2 days!
These are the kind of returns that are possible if you use my blueprint for Fast Profits.
Enjoy the video!
Tomorrow, my good friend and technicals guru, Apurva Sheth, will share his views on the short-term direction of the Indian stock market.
I'll be back on Monday morning with another trading video for you.
Hi, this is Vijay Bhambwani and today I am going to walk you through as to why I recommended my last trade which was a short on crude oil.
I believe in sharing with my subscribers, not just a trading idea, but also the rationale behind the recommendation, the method behind the madness.
I have been, in my videos on Equitymaster, advocating that the jump in crude oil prices is, from my point of view, temporary in nature and unlikely to last too long after the Saudi Aramco IPO is done and dusted. As we speak, tentatively, the listing of Aramco shares on the Tadawul stock exchange in Saudi Arabia, is slated for 11th of December 2019.
Now boosting oil prices would be a sure short manner in which the Aramco IPO's prospects can be tremendously improved, which the Saudis are doing. Do remember that it is costly to boost up the prices of any asset because you need to constantly buy something to be able to raise the prices and this is a process that cannot be done perpetually or endlessly.
So my guess is that the Saudis will not want to have any kind of an incentive to keep pushing oil prices higher and higher perpetually, which again is an impossible task because of demand destruction at higher levels.
So number one, my rationale was that this rise would be temporary in nature.
Number two, I deployed technical analysis to basically see where there would be resistance coming in at higher levels where selling short would be a relatively lower risk proposition as compared to going long.
So on that particular day in November, I found the prices of crude going towards resistance levels based on a lot of studies that we deploy. The amount of work that goes behind the rationale behind the recommendation is huge.
We have 108 parameters we look at before we recommend trade on Equitymaster. Out of these, it is not necessary to have 100% approval rate of all these parameters but we do believe that at least three-fourths of these factors should basically check out before a high probability trade can be made.
And this particular trade, I am happy to tell you, had a rate as high as 90% approval of these parameters. So as far as I was concerned, this was basically a low risk, short sell on crude oil.
Thirdly, what I was banking on was that rallies, which would be temporary in nature, would get sold into at higher levels. I frankly did not expect the selloff to come within the day or two that it did. I was pitching my tent for maybe 7 to 10 trading sessions and I advised my clients accordingly.
But good news came far more faster than I expected, and nobody is complaining, right?
We actually wound up taking over 14% returns in two trading sessions. One trading session in which we initiated the trade and the next one in which we squared up trade.
This is a blueprint which I intend to follow on an ongoing basis. We basically fish out the most promising and high probability trades that we can from the gamut of commodities and put them across to you.
Remember what I said in another video that after every profitable and a loss-making trade, I would recommend a trading holiday, an involuntarily forced trading holiday. After the gains, do spend some money on yourself and your family and get a feel-good factor and after a loss, I would like to go back to the drawing board and see what went wrong, so that the mistake is not repeated again.
And tomorrow, Apurva will take this conversation forward and bring his own set of knowledge to enrich your trading and investment experience.
For today, this is Vijay Bhambwani signing off for now, not before reminding you to click on the like button on this video. Subscribe to my YouTube channel if you're watching this on YouTube. Please share this video with your family and friends and don't forget to let me know what you think about this video in the comments section and also what other topics you would like me to cover in my forthcoming videos.
Take very good care of your investments.
Good bye.
Warm regards,

Vijay L Bhambwani
Editor, Fast Profits Daily
Equitymaster Agora Research Private Limited (Research Analyst)
Recent Articles