Market Crash? Not Yet
Dec 15, 2020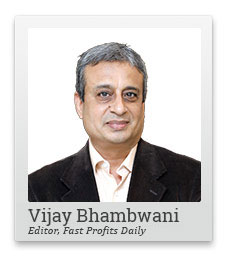 I hope you're enjoying your trades in this rising market, dear viewers. There's a lot of money to be made.
Today's video is about addressing an important concern that I have received from a lot of viewers of the Fast Profits Daily.
Is there a serious correction on the horizon for the equity markets?
This is a fully justified worry you might have. After all, we've seen the rally suffer from a loss of momentum recently.
But does this mean a correction is just around the corner?
I'll tell you the answer in the video. Let me know your thoughts in the comments section below.
Hi, this is Vijay Bhambwani, and I hope you're enjoying your trades in the market and able to take home good amount of trading profits after having watched my videos in the Fast Profits Daily playlist.
Today's video is about addressing an important concern that I have received comments about, inquiries about from a lot of viewers of my Fast Profits Daily video series.
Is there a serious correction on the horizon in the equity markets as of now?
You're seeing a lot of index heavyweights and of leading frontline counters being subject to corrective consolidation or even marginal declines in the recent couple of trading sessions and naturally, you are concerned whether this up move is about to face any kind of serious threat or maybe even reversal.
Mega Webinar on Jan 29th: Will 2021 be a boom or bust?
You see what has happened in the recent days is, people have become complacent about the fact that they have come to assume if you buy early in the morning and square up your long positions before the session ends, or at the most the very next day, you're going to make money by going long all the time.
Of course, nothing lasts forever. No trend is perpetual of perennial in nature and therefore corrections whether price wise, when the price declines or time wise, when the price consolidates and goes sideways for a couple of days of maybe even a couple of weeks before resuming the up trust again.
So are we in the middle of a correction? Are we likely to face a deep decline in December? How do we gauge as to what is happening?
I draw your attention to a video that I recorded a couple of months ago on the public sector units, the stocks, the government companies, and I said my in house statistical trading model had suggested that these public sector shares were in for good times and see what's happened.
Take, for example, a simple case of ONGC. This is one stock which is refused to go anywhere and yet from recent lows of 60 odd rupees, it is now in triple digits.
Similarly, take a look at what's happened to Indian Oil Corporation, NTPC, State Bank of India, etc. I could go on. These PSU stocks are still holding their own.
I also told you a story about how Napoleon chose his generals to take with him on his crusades. He deliberately chose those generals who were interested in empowering and kind of enriching themselves from these crusades by plundering a few villages while Napoleon actually conquered the entire country.
He thought that a person with vested interest made the best ally and was the most dependable.
Now, who has the biggest vested interest in the market coming up?
In my humble opinion, I think it's the government.
Let's not forget that many major public sector units or PSU stocks are due for divestment and biggest mega issue of all, the Life Insurance Corporation of India's IPO, the initial public offering, is slated in the next couple of months. That itself is a holding company for a lot of PSU stocks.
So as long as the PSU stocks are still up, I don't think there is a crash in the offing. It's only after the PSUs give up that I would say that the market is under any serious threat barring the routine corrections either time wise or price wise.
Timewise corrections are not even counted because a price doesn't decline much. Pricewise corrections, there might be serious declines, but unless they surrender 20% or more of their gains, which they have made from the bottoms in March, I don't think the uptrend in these stocks is over.
So what would be a good parameter to see whether the up trust is over on not?
Aru you going to take each and every PSU which is listed on the exchanges or is there a better way out there?
Now I follow what I call the behavioural technical analysis route. This is far more advanced than your plain vanilla technical analysis and it believes in taking 360 degree approach in the market.
Obviously, we believe that everything that can be, should be quantified and calculated mathematically.
So here again, the PSUs have their very own index called the NSE Nifty PSE Index. The Public Sector Enterprises Index. This is not to be confused with the CPSE index. That's a separate kettle of fish altogether. I'm talking about the PSE index. As on Monday evening on 14th of December 2020, the NSE Nifty PSE index has closed at 2880 levels.
I think you can count on a serious decline or even a very major correction in the market, if and only if the NSE PSE index falls below the 2620 odd level. So I am talking of ballpark, roughly 10% decline in the NSE PSE index before you can start to basically get worried or kind of think of a bear phase in the market and that, too, we're not really sure as to the time element of how much long the declining phase will last.
But as long as the Nifty PSE index days above the 2620-30 odd levels, I don't think what you are seeing is anything more than a routine healthy correction.
Remember, the end of December is a very typical time when volumes dry out. The biggest traders in the markets, the biggest participants in the market by the sheer weight of turnover, the FIIs are preparing to go home for Christmas, and therefore, volatility actually escalates because the turnover falls and a little bit of buying and selling sends the stock prices up or down in an exaggerated manner. So this volatility is something I've already warned about in my last week's video. I think you're well prepared about it.
Compared to the other traders out there, if you monitor the NSE PSE index, you have a better edge over the others because you now have a measurable, quantifiable, and mathematical benchmark with which you can basically measure the market and see for yourself as to whether there is any serious threat to the public sector enterprises.
It is only after the government stocks fall very severely and the index cracks under the levels of 2620 that we will take a relook and I assure you, in that case there will be a separate video.
On this optimistic note, I'll say goodbye to you, not before requesting you to click like on this video if you're watching it on YouTube. In the comments section, do let me know what you think of this video and what you would want me to record in my next.
Subscribe to my YouTube channel if you already haven't done so and click on the bell icon to receive alerts about fresh videos when they are uploaded.
Also help me reach out to like-minded fellow traders who are interested in a 360 degree worldview of financial markets and a knowledge based investment and trading system by recommending my video to your family and friends.
I wish you a very, very profitable day ahead. Vijay Bhambwani signing off for now. Take good care of yourself, your health, your family and friends, your trades, and investments. Bye for now.
Thank you.
Warm regards,

Vijay L Bhambwani
Editor, Fast Profits Daily
Equitymaster Agora Research Private Limited (Research Analyst)
Recent Articles