GST on Gold: How You Can Expect the Price to Move
Dec 16, 2019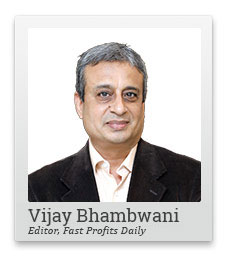 Hi,
This is Vijay coming to you in the Fast Profits Daily.
Today, I would like to talk about something that would interest most Indians: Gold. Specifically, the proposal to hike the GST on gold from 3% to 5%.
In today's video...
How will the price of gold react to a GST hike?
Will gold smuggling increase?
Is there a trading opportunity here?
I hope you like today's video. Please share your comments below.
I'll be back tomorrow with another video.
Until then, have a profitable trading day!
Hi,
This is Vijay Bhambwani and I am back with you to talk about something that would interest most Indians: Gold.
A couple of days ago, I switched on my TV set and saw a proposal by the GST review panel to increase the GST on gold from the existing 3% to 5%.
Whether this will go through or not should probably be out by 18th of December when the next GST review panel meeting takes place. Let us now examine what really happens to you, what impacts you, if this GST review panel hikes the GST on gold and if it does not hike.
If at all, assuming that the panel increases the GST on gold from 3 to 5%, there will be a very short-term uptick of the price of gold on the MCX and the margin that is enjoyed by gold as a premium over the COMEX gold will continue at an increased rate because of the differential.
On the other hand, if it all the GST panel keeps the GST constant at 3%, nothing will change on the price of gold on the MCX trading floor.
What really will happen if it all the GST is hiked on gold is that the arbitrage between the local Indian price of gold, which will be 5% higher than the international price of gold, will open up opportunities for smuggling.
How will an average retail investor or a bystander know that smuggling has gone up?
You simply need to call up your friendly neighbourhood jeweller in Zaveri Bazaar and ask him the price of gold in the physical delivery market and benchmark it against the MCX price.
If it all the physical delivery market price is less than 5% higher than the MCX price, which it should be because there's 5% GST in case the GST does go through, it means a lot of smuggled gold has now entered the country.
Now this differential between the physical delivery market, known in Gujarati in local parlance at Zaveri Bazaar, called the hajer bazar rate. Hajer means spot delivery rate. Ideally speaking, in an ideal world, the hajer bazar price, or the spot market price, should be 5% higher than the MCX price.
But if the price differential is less than 5% in the hajer bazar after GST is hiked, it should tell you that a lot of gold has entered into the country from the non-custom source channels.
And this is like the basis which is the difference between the spot price of a share and the future price of a share. In a normal world, the futures price invariably tends to be higher than the spot market rates in the equity markets.
If at all the future prices lower, this has called backwardation or ulta badla. It essentially tells you that there is a higher degree of selling pressure in the futures as compared to the cash market price. All other factors remaining constant, in the futures market it leads to, at a later date, a selloff.
But in the gold market, it need not result in a cascading selloff but definitely the pressure on the prices to remain.
To that extent, I think raising the GST from 3 to 5% on gold might just work in the short term but in the longer period of time, it may actually not help you too much.
Is there a trade out here?
Yes. If you're a very, very nimble footed trader, as soon as you hear that the on gold has increased from 3 to 5%, you might just take a very high-risk punt on the MCX of getting in and getting out quickly.
Go long as soon as the news comes out and within a minute or two, maximum three minutes, exit because there will be a short squeeze or covering of shorts in the absolute near term.
But over a period of time, the prices will derive equilibrium and even out due to the arbitrage.
So from my point of view, it's not really going to make an earth shattering difference for a futures trader. It might just provide you for a short-term spike, which you can use to put food on the table for your family but beyond that, sustainably, it doesn't really change anything for you.
So this is Vijay Bhambwani signing off for today but before I leave, I'd like to remind you to click on the like button and subscribe to my YouTube channel if you're watching this video on YouTube.
Do not forget to recommend this video to your friends and family and in the comments section, please don't let me know what you think of this video and what other topics you would like me to cover in my next video.
Thank you.
Warm regards,

Vijay L Bhambwani
Editor, Fast Profits Daily
Equitymaster Agora Research Private Limited (Research Analyst)
Recent Articles