Can the Market Fall in January?
Dec 16, 2020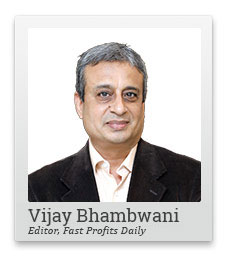 In this video, I am going to talk about a topic that is basically at the top of the minds of every trader out there.
Can we expect a correction in January 2021?
In a previous video, I said December is likely to be a bullish month.
And that has turned out to be true, at least so far.
But what about next month? Can the market fall at the start of the new year?
Find out in this video...
Hi, this is Vijay Bhambwani. I hope you're enjoying trading the markets and the markets are giving you good profits in your trades. I also hope my videos are helping you becoming better traders and you're able to derive value from what I have to say in the Fast Profits Daily videos.
Now, in this video, I am going to talk about a topic that is basically top of the mind for every trader out there. Can we expect a correction in January 2021?
I have often shared my thoughts with you in my videos and I've said that the month of December is important because the end of December is the FII quarter and financial year end because they follow the calendar year as their financial year.
Whereas for the Indian mutual funds, this is the third quarter since we follow April-March as our financial year but nevertheless, the mutual fund industry, at the end of every quarter, wants higher net asset values or NAVs in order to draw in more assets under management.
JUST IN: Limited-Time Access to Full Transcript of Our Urgent Broadcast on India's Revival
So probably December is likely to be a bullish month, and I'm using the world probable here because markets are creatures that are known to surprise the smartest of investors. So everybody has a right to go wrong here.
But if I were to bet my money, I would say that the probability is that the closing of December will be probably higher than the closing of November, which means that if a correction has to come a meaningful correction, it will come only next year.
Why am I saying that and is there any historical precedent or do we have any kind of empirical evidence to support this hypothesis.
Now knowing me, I would want to take a 360 degree worldview based on facts. So I am going to share my logic of why, along with what to expect.
You see, the NAV boosting done by the end of December, FIIs before they basically go home, the fund manager, before he goes home to his parent country, in customary media interviews, talk about how they are going to go back home and try and convince their parent companies to raise allocations to India because India is such a great investment.
No doubt about it. No conflict and no contest.
But what really happens is getting all this bullish feedback from the fund managers, the local investors, traders, operators, call them what you will by any name, whichever comes to your mind, start warehousing.
What is warehousing?
Warehousing means you start buying in advance or in anticipation of expectations of higher demand coming in at a later date.
So in December, the local traders, the investors, the brokers, and the operators start to accumulate good quality Indian shares in expectation of FIIs coming in January, and then the local guys would dump these shares at higher prices on to the FIIs.
Now this is the expectation. Guess what? The FIIs smart guys too. They know this is going to happen. This front running, this warehousing, accumulation of shares in order to sell them at a later date at a higher price is something that Indian operators will do.
If you've read Sun Tzu and the Art of War, you will basically read that every battle is won or lost in the mind of the warrior before it is actually fought on the battlefield. We're all brain warriors. As traders, we fight, we win and lose with our ideas and the way our minds basically over the minds of our competitors, contemporaries, and opponents.
What if the FIIs refuse to buy on first of January itself?
What if they were to hold back their buy decisions for 10, 15 or 20 days? The bulls start to feel the pressure of holding on to their positions. Remember money has a cost.
Number two when you buy, and after a period of time, everybody stops buying because the FIIs have already come back from their year-end holiday but are refusing to buy when stock prices slide slowly, mark to market payouts have to be made. It costs money to push share price higher and you can't do it forever without waiting for a correction.
So a correction has to come and if the FIIs don't buy from you, the stock prices slide a bit, which is what the FIIs want. They want to buy cheap. They don't want to buy from us at inflated prices. So they wait. They wait for people to get tired and possibly lead prices come down lower.
If you go back to any charting service website investing.com chartview.com, there are a whole lot of excellent charting websites which allow you to access charts for free. Take daily, weekly, monthly, charts whatever finds fancy with you and go back in time by say 12, 15 years, whatever time period suits you and see what happened in the month of January, especially after the month of December has been super bullish.
This is one thing you owe yourself to find out on your own. So if there is a probability of correction, remember we deal in probabilities, not certainties, right? So in the stock market, in financial markets, we basically deal in probabilities. So the probability is that you will find a meaningful correction, not in December, where you could get a routine time of price-wise correction, but not a major correction.
A major correction will come next year and the probability is that it may or may not happen in January but the probability of it happening in January is higher and the probability of happening in December.
So remain peaceful but watchful about your portfolio in December but if it all you need to worry, worry from January onwards rather than now. Enjoy a lovely cool December with peace.
On this optimistic note, I'll bid goodbye to you in this video till we meet again in my next, but not before reminding you to click like on this video if you liked what you saw and agreed with it.
Subscribe to my YouTube channel if you haven't already done so and click on the bell icon to receive instant alerts of any fresh videos being uploaded. In the comments section, do let me know what you think of this video and what you would want me to record in my next.
Also help me reach out to fellow like-minded traders by referring my videos to your family and friends. Please take very good care of your health, your family, your investments, and trades. This is Vijay Bhambwani signing on for now. Have a very, very profitable day ahead.
Thanks for watching.
Warm regards,

Vijay L Bhambwani
Editor, Fast Profits Daily
Equitymaster Agora Research Private Limited (Research Analyst)
Recent Articles