Post Corona Trading
Dec 17, 2020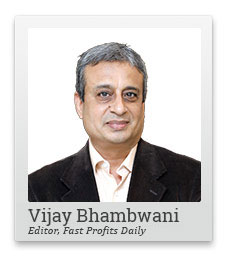 This video is about a very important topic for traders.
The world of trading is changing as you read this...and the change will be permanent.
The old way of trading with the help of simple technical analysis will be obsolete soon.
It will be replaced by a new, faster, and more tech savvy way of making fast profits in the markets.
You should be ready for this change.
In this video, I'll tell you all about it.
Hi, this is Vijay Bhambwani and I hope the markets are treating you well, you're enjoying your trades in the market, and I hope you're enjoying the videos that I am recording for you. This channel is for you and I hope we can add value and make you a better, profitable trader than when you were before you started watching these videos.
Now in this video, I want to touch upon a very critical aspect of trading. Trading in a post Corona world.
You all have no doubt received many WhatsApp forwards, emails and, read articles online and offline about how life will change post corona, how work from home will become the new normal, how people will essentially try to travel safely without too much of rubbing against each other, and how dining out will become a different experience, how x, y, z areas of life will become a different experience.
But I've even heard about how investments should be targeted and modified so as to cope up in a post corona world.
Mega Webinar on Jan 29th: Will 2021 be a boom or bust?
For example, there are some analysts who prefer buying automobile stocks or maybe even two wheeler stocks saying people will a rather depend on their own means of conveyance, than risk infection in public transport.
All these are well and good but there's little if any thought about trading needs to be modified in a post corona world. You see, corona has changed the tone, the tenure, and the texture of the markets. I have recorded a video a couple of months ago about how Robin Hood traders are changing the way the markets are basically witnessing participation.
How elite and pro traders are actually getting paid to have followers mimic their trades and how these platforms are even forgoing brokerage, just making money on the bid and offer spreads that they are offering as market makers etc. Please go down the playlist and scroll for that video and see what I mean.
Now you see, what happens in the market is that the people who moves the needles and gauge is on the market, that means people who have sufficient money to invest in the market and their investments are large enough to move the prices in the markets. These are typically 40 and 50 if not 60 plus people.
This age group has exhausted all it's a frenzied buying, greed based buying, compulsive shopping, being shopaholics, and trying to derive joy out of material possessions, and being relatively older, they are more focused on savings and investments and of course, they have accumulated money over the decades.
Now this age group 40, 50, and 60 plus may not be as savvy as an average Robin Hood trader who's come in the market today. Which means that the way the market trades in the future will also change irreversibly.
To be able to continue to hold on to our wealth and even grow it or multiply it, more importantly, people of our age group need to modify the way we trade. Now this is very important and possibly it will appeal to you only if you're a very serious trader. If you feel this content is not something that interests you, by all means switch this video off. I am addressing extremely serious traders like myself.
Now, the first thing that you will have to do is acquire skills that the younger traders have number one. They know how to get information and the drop of a hat at thrice the speed of our age group. They basically are fast enough with their mobile phones and getting information, and they know where to look for it. Get that skill.
Secondly, a mobile phone is basically providing you most, I am saying most not all, features that a laptop or desktop is giving you as far as trading terminals go. Get used to the idea of trading on the cell phone or at least acclimatised yourself, familiarise yourself with trading on a cell phone. It's a big positive.
If you see what an average 20 or 25 year old is able to do, you will see that he or she send them an excel sheet by way of some macros, and they can open it on their cell phones, make changes to it, read what you're basically trying to send them, grasp it, modify it, check for errors, and send it back to you.
The older guys take a while. They want to open it on their large screen desktops and makes sense and sensibility out of all the jargon and the numbers in the excel sheet, take a while before understanding what it's all about and then trade on that. You need to get more and more familiar with new age tech.
Thirdly, old vanilla technical analysis, I have always said, is losing efficiency as fast as a person loses strength after the age of 50. Medical science tells us that above the age of 50 an average human being loses muscle strength at the rate of 10% per decade. Old school, vanilla technical analysis is losing efficiency and accuracy at a similar rate.
I think behavioural technical analysis or more importantly, Neuro Behavioural Technical analysis is the way to go forward. Cut out all the jargon and all the charlatans and pretenders of behavioural technical analysts are selling by way of snake oil online and get serious about understanding the subject. Buy many books and learn about this subject.
Another thing that you must learn about his screen trading. Now here is a computer trading screen in front of you, and there are various features to the screen, including online charts but more than the online charts, if you can read your snap quote window, highlight a stock, click on F5 in most trading terminals, and you have a rectangular box that opens up, which gives you the top five bidders and top five offers, sellers and understand how the market is trying to communicate with you in terms of screen reading and tape reading.
These will be skills that serious traders need to understand, irrespective of any age group. Whether you're 20 plus on 70 plus, screen reading and tape reading is something that you must know if you are to survive in a post covid world. There will be a whole lot more computer savvy traders who are coming into the market, they're programming their own statistical models.
I, by the way, depend very heavily on my own in grown, in house statistical model we've christened the Barracuda. Learn how to make the most basic models, if not learning something more exquisite.
But you must, you must try and basically automat and try and mechanise your systems as far as possible, because then you will be cutting out emotions and you will be thinking at par or slightly below par with the algo traders, the vulture traders, and the dark pools. These guys are absolutely mechanised trader. Learn how to raise the bar if you want to compete in a post corona world.
What I'm basically saying in this video is that you will have to reinvent yourself. What you have done so far will not be sufficient anymore. It will not fail you through. It might earn you mediocre profits, if at all but it's not going to give you the returns that it was giving you say, in the last 20 or 30 years. It's a new market out there. Things have changed irreversibly.
Think about work from home. Working from home is fine, but there is a problem. As far as I am concerned, these are questions that I have, which youngsters are not able to grasp right now. If it all people are working from home, how do you know how many people have lost their jobs? Only the accounts and finance department knows and the boss knows. That's changed. Only if you had the pre corona world of 2019 onwards when you went to office and you saw so many empty desks, did you know that there has been cost cutting and layoffs. In a post corona world, you will never know.
Similarly, in the markets, as more and more traders go online and mechanise and become systems traders, you will just not know what hit your price after you bought a stock. It's time to wake up and smell the coffee. Let's get more specialised, more knowledgeable, and keep watching my videos. I'm here to help and I'll do whatever I can to add value.
On this promising note, I'll goodbye to you in this video, not before assuring you that there are more videos coming on this subject in the future. If you're watching this video on YouTube, please click like on the video and subscribe to my channel if you haven't already done so. Click on the bell icon so that you receive alerts about new content being put up here. In the comments section, do let me know what you think about this video and what you want me to record next.
Also help me reach out to fellow knowledgeable traders who are looking out for 360 degree worldview and knowledge based investments and trading by referring my video to your family and friends.
Do take very good care of yourself, your health, your trades and investments, friends, and families. Have a very, very profitable day ahead. Vijay Bhambwani signing off for now.
Thank you for watching.
Warm regards,

Vijay L Bhambwani
Editor, Fast Profits Daily
Equitymaster Agora Research Private Limited (Research Analyst)
Recent Articles