Use the January Effect to Make Trading Profits
Dec 19, 2019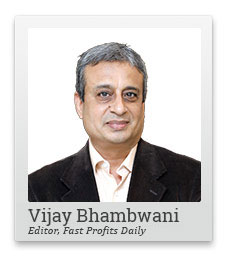 Hi, this is Vijay Bhambwani in the Fast Profits Daily.
Today, I'm gonna talk to you about the January effect. This is a very interesting aspect about the cyclicality of the market and can be profitable too.
What is this effect all about?
Well, let's dive right in!
In today's video...
Well begun is half done: What is the January effect?
Why I believe Jan 2020 will be a little different.
Warehousing and front running ahead of FII buying.
The results season and the festive season.
The exceptions to the January effect.
I hope you enjoyed this video and found it informative.
Have a great trading day!
Hi,
This is Vijay Bhambwani and today, I'm gonna talk to you about a very interesting aspect, which is the cyclicality of the market and typically, the January effect, as it is known in financial parlance.
Two decades ago, I saw a very interesting movie called The January Man by Kevin Kline and Interestingly, this was a murder mystery where Kevin Kline is a cop and looking at the patterns of the crimes committed, he mathematically arrives at certain conclusions.
So going by the same analogy, we look at what you can expect in January 2020 or, for that matter, in almost all Januarys thereafter.
Now, first of all, what separates January 2020 from other Januarys is that this is the year of the US Presidential cycle, the election cycle.
I have mentioned this in my other videos as to how the US Administration goes by a step by step plan as to release data about the economy which impacts the US Dollar, corporate profitability, bond yields etc. So January, in my opinion in 2020, is a little different to the extent that it might just be a little more positive than the other Januarys.
As children, when we appeared for our exams, are teachers told us to attempt those questions to which we were confident about knowing the answers, which is using the philosophy of well begun, is half done.
So what begins well typically gives us a feel good factor. The stock markets know that, which is why in a in a year where the beginning, which is January, starts off on a bullish note, chances are, follow up buying will emanate and therefore lead to a bullish year itself.
Let us not forget that January also happens to be the first year of the financial year of the FIIs. Their accounting year is from January to December. So they're fresh from their holiday in December, Christmas. They come and announce their allocations to emerging markets, including India.
Just before they're about to announce their allocations, which typically start from the 10th or 15th of January, there is what we call warehousing in stock market parlance by local players.
Now these are individual and HNI traders who buy ahead of the FIIs because they expect the FIIs to go out and buy those shares.
Typically, they're frontline companies. They're index heavyweights, which FIIs like and let's not forget the FIIs today are the dominant force in the Indian markets. They own approximately one fourth of the equity and typically, most of these are large cap index heavyweights and frontline stocks.
So warehousing and front running on account of the FIIs by domestic traders, typically pushes the prices higher. All other factors remaining constant, in the absence of any bad news, like a war or an earthquake or any other man or God made problem.
The other aspect that needs to be taken into account in January is that the quarter ending of December, results tend to come out from the second week of January, starting typically with the IT companies, who are quick to announce their results.
So ahead of the results, there seems to be a period of second guessing and some amount of bullish buying as well.
February happens to be a budget month and in January similar to the FII warehousing and front running, people also tend to second guess the budget announcement and typically tend to go long on sectors which they think are going to be favoured by the finance minister's speech on budget day. So there again, you will witness some amount of buying in January ahead of the budget.
We all know that in India, festivities typically trigger of in the second half off the financial year. So once Ganpati Bappa comes to our homes, typically end August or early September, it is followed by Navratri, Dussehra, Diwali, Eid, Christmas, New Year, goes all the way up to Makar Sankranti, Holi, Lohri, etc. So the festive season is a time when corporate India witnesses higher sales and profits.
So the first quarter after the festive season starts is October, November, December. Those results start to trickle out in the public domain in January and these results are typically better than the previous quarter in question and the markets discount that fact.
Also remember that January still is a festive month. You still have Makar Sankranti, Shiv Raatri, and Holi. Typically, in the festive period people tend to feel good and loosen up their purse strings and spend a little more money.
So the January effect typically sees some amount of cheer and that cheer naturally trickles down to the equity and other markets, which makes January again a lot more positive as compared to other months.
Are there exceptions to the January rule?
Yes, there are. Like I mentioned, wars man made or natural calamities like earthquakes, floods, etc, anything can go wrong. There is no such thing as one size fits all, or a laser fast or laser precise trading system.
Let us not forget, in January 2016, we saw one of the most vicious declines in the Indian stock markets. So that can happen also.
But barring all other factors or all other factors remaining constant, typically, January tends to be a good month.
So I am hoping that January 2020 will be a good month for all of us, as the year 2020 in entirety will be also.
Before I sign off on this cheerful note, let me remind you, to like my YouTube video. Click on the subscribe button to my YouTube channel.
Do not forget to share this video with your family and friends and in the comments section, please let me know what you think of this video and what are the topics you would like me to cover in my forthcoming videos.
Please take very good care of your investments. This is Vijay Bhambwani signing off till we meet again in my next video.
Thank you.
Warm regards,

Vijay L Bhambwani
Editor, Fast Profits Daily
Equitymaster Agora Research Private Limited (Research Analyst)
Recent Articles