My 2 Recent Recommendations for Fast Trading Profits
Dec 20, 2019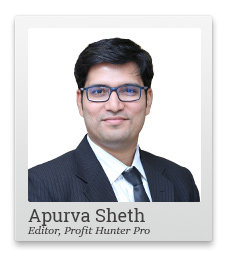 Hi, I'm Apurva Sheth.
Welcome to the Fast Profits Daily.
Today, I would like to show you how you can use Vijay's (brain warrior) techniques to make fast profits.
Let's look at two of my recent trading recommendations where I used the Greed and Fear cycle. I'll show you how you can use this technique in your trading.
Let's get to it...
Hi, I'm Apurva Sheth.
I welcome you to this latest edition of Fast Profits Daily.
Traders are brain warriors. Our brain is the primary weapon we use to trade in the markets. Now Vijay has been sharing his techniques on various ways to sharpen the mind to trade in the markets. Today, I want to show you have we are actually used our minds to trade in the market.
Now what exactly do you mean when we say that leaders of brain warriors and our mind is our weapon?
Well, basically it's nothing, but you must have we heard the line by famous investor of Warren Buffett, 'Be greedy when everyone else is fearful and we fearful when everyone else is greedy,'
Trading is nothing but controlling our emotions and using our mind to identify trading opportunities. So the famous quote by Warren Buffett rightly applies to trading as well. We have to be greedy, when everyone else is fearful and be fearful when everyone else is greedy.
But how do we actually put this into practise?
Now, here's an example. The BSE the auto index was in the news for all the wrong reasons a few months ago.
Now I have identified this Greed and Fear cycle, which repeats every 32 months in the BSE auto index. So you can see in this chart that right at the bottom in September, the cycle turned from fear to greed.
And that's when I even recorded a video and sent it out to my readers and have even written articles on the same.
So you can click in the link below in the transcript below to get a detailed view of this greed and fear cycle. So basically, when the sector moved into the greed phase, it was an indication that now all the negative news have been factored in and it's time to hunt for trading opportunities on the long side.
So my first trading recommendation in the BSE auto index was in the stock of Eicher Motors. Now Eicher Motors had moved up sharply immediately on the day when the Finance Minister Nirmala Sitharaman announced a tax cut.
But immediately after this, the stock cooled off. It consolidated and it resulted in to a 50% correction of this entire up move. So this was a great opportunity to enter into the stock.
So I recommended it to my subscribers at a level of 18,239 and my target on the stock was 19,500.
Now the stock immediately moved up and hit our target levels on the ninth day. In fact, it opened adult level of 19,500 which is our target.
And for those subscribers who had held on to the stock till the end of the day, it even gave an opportunity to double the returns! It hit a high of 20,700 on the very same day.
Now here's another example: Maruti Suzuki Ltd.
Now Maruti Suzuki Ltd had bottomed out way before the auto index. In fact, it was in the month of October it was forming a flag pattern. Now what is a flag pattern?
It is nothing but a sharp up move, followed by a consolidation. So the stock consolidated and managed to break out of this pattern as well and that was an indication that the stock is ready to move higher.
I recommended the stock to my subscribers and we managed a gain of 7% in 11 days in this stock as well.
So here are two examples where we took a contrary stand and generated huge profits in a short span of time.
And that's how you can also generate first profits. So that's all from me for today.
Now I hope that you liked this video and in case you did then don't forget to share and subscribe this with your family and friends. They will benefit from this too.
Now, in case if you are going through this video on YouTube, then I recommend that you subscribe to our newsletter Fast Profits Daily so that you don't miss out on any of the stuff that we post regularly and you would get instant updates as well whenever we post our updates.
So that's all from me for today. Thanks a lot, and have a nice day.
Thank you.
I'll will be back with another video next week. Also, do watch out for Vijay's video tomorrow.
Until then, have a profitable trading day and a great weekend ahead.
Warm regards,



Apurva Sheth
Analyst, Fast Profits Report
Equitymaster Agora Research Private Limited (Research Analyst)
Recent Articles