A New Way to Make Fast Profits
Dec 21, 2020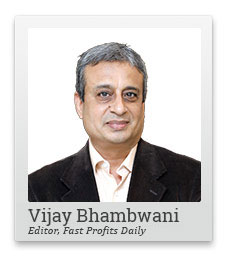 I'm always on the look out for new trading opportunities.
And I believe, I've found one for you, dear viewer.
It's called the NSE Financial Services Sector Index. It will be launched in January and I believe, it holds good potential for you to make fast profits.
We should be able to add this trading instrument into our trading toolkit.
In this video, I'll tell you all about it.
Hi, this is Vijay Bhambwani here, and I am here to share some good news with you and also lay out a roadmap as to how to make money out of this.
You see, recently SEBI permitted the exchanges to allow weekly and monthly contracts on a new index called the NSE Financial Services Index. As you are aware, financial sector services constitute approximately 35% of the weightage in the NSE 500 index and financial sector services stocks are first to react to any kind of economic news or announcements because the financial markets are the early movers which react to financial news. So it made sense to have an index that caters purely financial sector services.
Now, the tone and tenor of this index will mimic more towards the bank nifty in other than the Nifty 50 because it's a financial sector service index naturally, and it will comprise banking stocks.
But is doesn't stop at banking.
There are NBFCs and financial companies that are in this index, and this index to that extent is slightly more broad-based, as compared to the bank nifty.
India's Revival: A Once-in-a-Generation Wealth Making Opportunity
First of all, the bank nifty is only of banking stocks and that to 12 of them, two of them being so in significantly weighted, the weightage is so small that they almost not counted.
The financial sector services index will have 20 stocks, which will make up the index and, like I said, it will mimic the bank nifty more than the nifty 50 and therefore it will give you a big bang for your buck.
This index will be launched on 11th of January 2021. That's not too far from now, and it will have weekly as well as monthly contracts. It will have three contracts of varying expiries of monthly tenure. So exactly like the nifty and the bank nifty, you will have the current month, the mid-month, and the far month futures and weekly contracts in addition to those. So it's giving you a wider diversification as far as index trading is concerned.
And believe me, when I tell you this, the indices constitute four-fifths of the F&O turnover on the NSE if not more, if not more.
So we're likely to have one more credible instrument available to us very shortly, and for those of you who are inclined towards knowing the specifications I've compiled some data which will help you understand this index in a very brief video format that I am presenting here.
Now range and the impact cost. By range I mean how much it will gyrate intraday, how much it will go from up to down. In percentage terms, the intraday movement is likely to be more towards the bank 50 rather than the Nifty 50 which is approximately 1.75% to 1.8% intraday.
The impact cost. Now the impact cost is nothing but when you open the snap quote window by highlighting any stock and clicking on F5, you get the top five buyers and the top five sellers.
Now, if you wanted to buy and sell in very large quantities, you would have to give basically a take buy or hit sell. So the difference between the first price and the second price is called the impact cost. Naturally, the lower the impact cost, the more efficient the instrument.
So the impact cost of this financial sector services index will be more towards the bank nifty which is a little higher when the nifty 50 and therefore it will be a little more expensive to trade.
The constituents? I'm not listing all of them but I'm just giving you the top heavily weighted constituents out there. You will instantly realise that this reminds you of the Nifty Bank Index.
HDFC Bank is the top constituent, exactly like the Nifty and the bank nifty with a weightage of 27.13% in this new index.
HDFC Limited will be 17.51%. ICICI Bank 14.14%. Kotak Bank will be 12.10%. Axis Bank 6.46%. Bajaj Finance 5.64%. SBI will be 4.06%.
Now these are top seven weighted counters in the new index. There are 13 more, but their weightage keeps progressively falling, so I have omitted the lower weighted stocks.
If you were to basically keep in touch or watch these seven stocks, you will know which way this index is headed on an intraday basis and I have already told you that this index has a greater correlation with the bank nifty rather than the nifty 50 so it will, on an intraday basis, have a range of 1.7 to 1.8%.
Now, for those of my viewers of my videos who are statistically inclined and who read my posts on Equitymaster's Telegram channel every evening, which I put up Monday to Friday. I would strongly suggest, if you haven't yet joined Equitymaster's Telegram channel to please subscribe to it. It goes by the handle Equitymaster Official on Telegram, and you will basically see a lot of statistical output from me every evening.
So for, those of who, my viewers who are statistically inclined, let me give you a little bit more data on what to expect from this index.
Compared to the Nifty the beta, the statistical beta, which means the intraday volatility of this index is likely to be 1.23 as for as compared to the Nifty 50 which means if the nifty were to move by 1% this index will move 1.23%.
Now the look back period taken as one year. So on a one year basis, the beta is 1.23 if you take a slightly longer time 5 years, then the beta is 1.20. So it's safe to assume that the beta will range between 1.2 to 1.25. Obviously, this index is a little more volatile than the nifty. To be precise 20 to 25% more volatile because one is to one is equal.
Now, the correlation coefficient. Now correlation coefficient is something that statistical traders and system based traders who designed their own statistical models and I just told you about Equitymaster's Telegram channel. I put up the content out there in the evenings, which is based on statistical models. So we also taken to account this aspect.
So the correlation of this index with the Nifty 50 which means if one index is going in one direction, how many times does the ither index go in the same direction.
So where the Nifty Financial Sector Services index is concerned, it has a one year basis correlation with the nifty of 0.94 which means that the nifty has gone up or down 100 times, this index has gone in the same direction of the nifty 94 times. This is on a one year basis. On a five year basis, it is 0.92.
Remember, this is a hypothetical study because they have back tested this data without the index being actually launched. The launch date remains on 11th of January. These constituents were taken and formed an index and then this data was back tested in a hypothetical scenario but the real world results are unlikely to be significantly different from this hypothetical back test.
Now the correlation vis-a-vis the bank nifty, is a little higher. It is 0.98 on a one year basis, which means if the bank nifty has gone up on 100 occasions, the Nifty Financial sector Services index will have gone with the bank nifty on 98 occasions.
This means it's a lot easier to trade this index if you just see where the bank nifty is going. If the Bank Nifty is looking like it's going to jump significantly, it makes sense to go long on this index at the open. Guess why? Because the constituents, the heavily weighted constituents, are the same. So trade in the direction of the bank nifty and you are likely to make good profits in the NSE Financial Sector Services Index.
As far as the hypothetical returns are concerned, if you were to buy this index five years ago, now remember, this is the back test only, if you were to buy this index five years ago, you've made 14.99% annualised rate of return, which is significantly higher return than your bank FD.
I would say the potential in this index exists in an ideal scenario where no other unknown data points come and interfere with the market trends like wars, earthquakes or other financial or man-made disasters, then you can get up to three times more return by buying and holding this index as compared to your bank fixed deposit.
So friends, should everything go right and this index get acceptance from the trading community, which is you and me, we are looking at another addition to our trading basket and I am looking forward eagerly to make more money out of the markets by trading this index.
On this happy note, I'll bid goodbye to you in this video not before reminding you to click like on this video if you're watching this on YouTube. Do also subscribe to my YouTube channel if you haven't already done so. Click on the bell icon so you get instant alerts for new videos which we upload here. In the comments section, do let me know what you think of this video and what you would want me to record next.
Also help me reach out to fellow like-minded traders who want a 360 degree worldview on financial markets and knowledge based investments and trading by referring my video to your family and friends.
I hope you take very good care of yourself, your health, your family, your investments, and trades. Have a very, very profitable day ahead. Vijay Bhambwani signing off for now. Thank you for watching my video. See you again in my next.
Warm regards,

Vijay L Bhambwani
Editor, Fast Profits Daily
Equitymaster Agora Research Private Limited (Research Analyst)
Recent Articles