A New All-Time High for Silver
Dec 22, 2020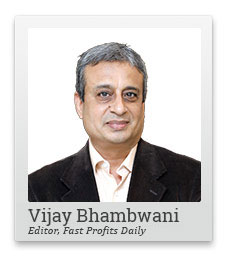 As your editor, I'm always on the lookout for exciting new trading opportunities.
And I'm happy to report that one of our top trades of the year is looking positive again.
You may have noticed the recent rally in silver prices. It's certainly not happening by accident.
Prime Minister Modi has made a big announcement recently regarding a massive solar farm in Gujarat.
And this has been the cause of the recent spike in silver prices.
Why is that the case and how high can silver rise?
Find out in the video.
Hi, this is Vijay Bhambwani here, and I hope you're enjoying your trades in the market and you're able to sidestep all the volatility in the markets and also make money in the bargain.
Now, in this video, I am going to tell you how to get rich from the ideas and the future plans of the honourable Prime Minister, Narendra Modi.
I love trading PSU stocks, the public sector units, the stocks that are promoted, the companies that are promoted by the government of India.
You see, if there is anybody who can implement ideas without a glitch, it's big brother. The government. I love government company stocks for the simple reason that there is a vested interest of the government to ensure that these projects go without a glitch and who's more powerful than the government in any country.
Mega Webinar on Jan 29th: Will 2021 be a boom or bust?
So in the past, I've recorded videos about how PSU stocks are the barometer of the markets, and as long as the Nifty PSE index is rallying higher, the markets will continue to rise and when the markets start to decline, you will basically catch the NSE on the Nifty PSE Index, the public sector enterprise index falling faster than the Nifty 50 or the Bank Nifty.
Now coming back to the moneymaking idea. Last week, the honourable prime minister made a surprise announcement that India was going to make a mega renewable energy project in Gujarat, in Kutch in Gujarat.
Now how big is this project?
For the first time, we are seeing, the mega size of this project. It's going to be made over 70,000 hectares. In geographical terms, it's as big as Singapore and Bahrain. Wow, that's big. That's the kind of planning that we know that Chinese resort to.
In terms of manpower, it will generate employment to over one lakh people. In terms of output, it will generate 30 gigawatts of power. Now that's global sized. In terms of carbon emissions, it will basically result in five crore tonnes of carbon dioxide being reduced from the atmosphere. That's an equivalent of nine crore trees being planted. Now that is what you call eco-friendly. This is as green a project as can be.
So is going to be a combination of solar and wind power. The wind turbines will be towards the periphery of the facility, which will also provide border security because obviously it will be ring fenced, electrical barbed wires, etc and Gujarat is on the border with Pakistan. So it has border security. It has green, environmentally friendly, renewable energy being made from wind and sun which is in abundance in this part of the country.
Now, how does this idea make you super rich? Yes, I am talking about super rich. Remember a few weeks ago I had recorded a video saying Napoleon chose generals to come with him for crusades to conquer other nations who had vested interest in enriching themselves from these crusades.
Vested interest is the best way to make money in the market. Latch onto the idea of a very strong person or a party or an organisation who can fulfil that blueprint and then ride on their coat tails. Now, how do you make money from this idea?
We know that the government of India is as strong or as big a brother who you can have. So how do you make money out of Big Brother, Narendra Modi's plan of a putting this in place, this environmentally friendly 70,000 hectare renewable energy plan in place?
Now Google search how photovoltaic cells are made. Photovoltaic cells are those shiny cells, which are put up across the surface of solar farms and once you Google search the components that go into photovoltaic cells, you will not be surprised to see that you cannot make photovoltaic cells without silver. That's right. Silver is going to be used in millions of tonnes at this solar farm.
We Asians, the Chinese, Japanese Indians, and other nations, of course, are swing consumers, consumers remember, our consumption of bullion, both gold and silver can actually swing prices.
Now, in addition to an ordinary citizen who's buying gold and silver, you have the government of India importing thousands of tonnes of silver to make these photovoltaic cells by itself. Are you surprised that Silver actually, has been rising? I am not.
So even if silver does not go to US$ 50 a troy ounce in the American markets, we have a very good chance of witnessing a new life-time high in India.
Remember, the price that had gone to 73,000 plus in April-May 2011, was at a time when the United States dollar was far lower than where it is today. The dollar has gone up against the rupee. It is between 73.5 to 74. Back then, it was below 60. So, on dollar basis on currency exchange basis itself the possibility of silver making a new life-time high even if the US markets do not make a new life-time high, are extremely strong.
You will find my video, when I had called silver the new gold. In the appreciation context, I think percentage returns in silver might just, exceed gold and I have also recorded videos how to buy silver safely without being cheated by crooked jewellers.
So this is for the benefit of my overseas viewers of my videos, my friends, is it possible that silver go to the US$ 40 a troy ounce mark in dollar terms? Yes, I think so.
But the guys investing money in rupees in kilos on the multi commodity exchange in India are likely to have better returns than my American friends for the currency factor alone.
On this happy news, I'll bid goodbye to you in this video, and I assure you there are more updates on this subject coming your way.
If you like what you saw, don't forget to click like on this video and subscribe to my YouTube channel if you haven't already done so. Click on the bell icon to receive instant alerts for fresh videos that I upload here. In the comments section, do let me know what you think about this video and what you want me to record in my next.
Also help me reach out to fellow like-minded traders who look at a 360 degree worldview of financial markets and like knowledge-based investments and trades by referring my video to your family and friends.
Do take very good care of yourself, your family of friends, your health, your trades, and investments. Have a very, very profitable day. Vijay Bhambwani signing off for now. Thank you for watching.
Warm regards,

Vijay L Bhambwani
Editor, Fast Profits Daily
Equitymaster Agora Research Private Limited (Research Analyst)
Recent Articles