My Market Outlook for 2020
Dec 24, 2019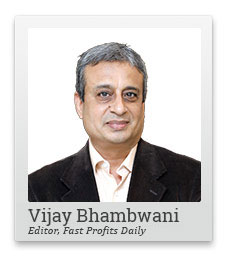 Hi, I'm Vijay Bhambwani and this is the Fast Profits Daily.
As 2019 comes to an end, I would like to share my outlook for 2020.
Which assets look good and which ones don't?
Will trading become easier or more difficult?
What about inflation and interest rates?
All this and more in today's video...
I'll see you tomorrow with another video.
Have a profitable trading day!
Hi, I'm Vijay Bhambwani and I am going to talk to you today about the outlook for the coming year 2020.
No year end is complete without some amount of forward guidance or conjecturing as to what the next year is apparently going to look like.
And here I share my parts with you and try to second guess what the outlook for the year 2020 looks like.
First of all, I think globalisation is being replaced by localisation. If you look around you, the conservatives are winning in England and voting for Brexit.
If you look around Czechoslovakia, you have Andrej Babis who is again talking about clamping down on the borders and not wanting any more immigrants; as a matter of fact, throwing out immigrants.
Take a look at Iraq and you see Muqtada al Sadar winning elections in 2018. Here again, a fairly tough guy who's not really open, too much of negotiation.
You will see hardliners like this everywhere around, which basically means that movement of goods and services, man power, capital, etc across the borders is going to attract higher tariffs, which automatically means that global trade is likely to either come down or stay stagnant, which typically also means that prices will go up because cost effectiveness and economies of large scale production or outsourcing from lower production cost economies, will become even more difficult, which raises the spectre or the nightmare of higher inflation.
Higher inflation automatically will translate to lower household savings, which means that there will be less and less capital formation because there will be fewer amount of savings coming into the banking system.
The other fallout is that if the banks are going to be tried of liquidity, they are going to offer you lower interest rates. I expect the year 2020 to be particularly tough for those investors who are living off on fixed income investments. The lower is your interest on your fixed income securities, the tougher it is going to be to make both ends meet on faced income, which typically means that debt funds will be will be stressed out for generating alpha and people will be forced into taking higher amount of risk, more than what they can actually handle, to generate alpha or absolute profits.
Now this excessive risk taking will basically push up volatility in the markets. So you're going to see erratic movements across asset classes, which is not something that an average lay investor is geared to handle. So uncertainty in the markets is likely to go up in the year 2020.
As I have mentioned in many videos in the past and in articles on equitymaster.com, the year 2020 is the year of the US presidential election.
If you want a narrow it down, it's on 3rd November 2020 and I have talked about the US presidential election cycle, which has its own predetermined steps that the administration in the US takes.
So those steps will be followed as a standard operating procedure and you're likely to see those basically effective steps being taken again and therefore the year 2020 becomes again a year when markets are likely to be led by the throat in the direction that the US Federal Open Market Committee wants to take it.
This typically means that the challenge for all asset class traders is likely to go up weather your training, equities, your trading commodities, currencies, or fixed income.
I think I would repeat that for fixed income investors is going to be a tough year. Let's not forget that you have more than one and half dozen countries whose sovereign bonds are now giving you negative.
Negative yields simply means, that you actually pay interest to the government to take care of your money instead of receiving interest.
Now that's a shocker to somebody like me, who in the 1990s, has enjoyed 14% and 15% interest on fixed deposits from public sector banks.
So you are likely to see negative interest rates becoming the norm and as countries like Denmark and Sweden are struggling to reverse or negative yields into positive but are failing, I think fixed income investors are going to have a tough time.
Before I sign off, now I assure you, I will be bringing you one more video with little more specific items as to what you can expect in the year 2020.
But before I sign off for this one, I would like to remind you, if you're watching this video on YouTube, do not forget to click on like button on this video. Subscribe to this channel and don't forget to share this video with your family and friends and in the comments section, do let me know what you think of this video and what you would like me to cover next in my forthcoming videos.
Please don't take very good care of your investments. Till I see you again, goodbye.
Warm regards,

Vijay L Bhambwani
Editor, Fast Profits Daily
Equitymaster Agora Research Private Limited (Research Analyst)
Recent Articles