How to Trade as a Generalist in the Market
Dec 26, 2019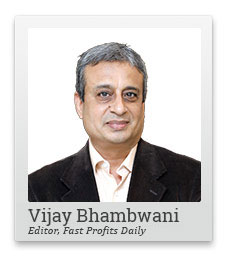 Hi,
I'm Vijay Bhambwani and this is the Fast Profits Daily.
Today, I want to talk to you about a critical aspect about trading. I strongly believe you should possess this knowledge.
As a trader, you should be a generalist and not try to specialise in any one asset class - equities, bonds, commodities, or currencies.
Why so I say this?
Let's find out...
My good friend, Apurva Sheth, will talk to you tomorrow in the Fast Profits Daily.
Have a profitable trading day!
Hi,
This is Vijay Bhambwani and today I'm going to talk about a critical aspect of the market and this is something that I also have mentioned in my article on equitymaster.com titled - Markets Are Promiscuous and So Should Be Your Trading Style.
The dictionary meaning of promiscuity is where one person mates with multiple partners. We are not talking about a physical relationship here, but a financial one.
Many a times, during my training seminars and giving guest lectures, students ask me whether they should specialise into any one asset class.
Whether it is getting a job and learning for the financial markets, or it is actually deploying your money in financial markets, I think specialisation is a faulty and a misplaced myth. It's not a reality.
Even if you do not want to invest money in all asset classes, you must know about the nitty gritties of all asset classes because money is agnostic.
It does not believe in sticking to one asset class but moves like water from the most promising asset class to the next promising asset class and the promise being profit.
So you cannot segregate money into commodities, bonds, equities or currencies. Wherever money sees opportunity, it will flow from the least opportune investment asset into the most opportune investment asset.
Which is to say that you must be aware of all asset classes before you take positions, even in one. Let me simplify this for you.
What if you wanted to buy the shares of this company that makes these shirts and this shirt is made from cotton.
Would you look at only the financials of this company and the stock price chart of this company?
Or would you also get into the basics of this investment and see the price of cotton that goes into making the shirt?
To that extent, let's take a look at a company called Arvind Mills. Can you actually take a call on the share price without taking a call on the outlook of cotton prices because Asrvind is the largest denim manufacturer in the world?
Can you actually look at a tyre company shares without taking a call on natural rubber? Can you actually take a call on a company that sells gas or for that matter, petrol and diesel, without taking a call on prices of natural gas and crude oil, respectively?
In my humble opinion: No.
Because money is fungible and what happens in one asset class definitely impacts the other.
To that extent, a well-rounded savvy, and a holistic investor is agnostic, looks at every variable and every imponderable that impacts the price.
Hey, if it is your money, you must look at everything before you make an investment. So, to that extent, what you must cultivate is what I call a 360-degree worldview.
Everything is your business. You cannot say I am going to specialise only in equities and therefore commodities and currencies are not my business. That's faulty thinking because everything that impacts the price is your business, and therefore, your problem.
Cultivate a well-rounded approach for a superlative performance in your balance sheet, where profits are concerned. That is the only way to achieve superior success in the investment and trading world.
And this is something that I firmly believe in and if you raid my articles, watch my videos, you will basically arrive at a conclusion that I believe in knowledge based investing and knowledge can only translate into higher profits.
There is an old saying in Sanskrit -
Murkha pujyate parivara, swadesh pujyate raja. Parantu vidwan sarvatra pujyate.
Very simply It means that even a fool is worshipped in his family because he might be the breadwinner of the family.
In a kingdom, the king is worshipped for the fear of being put to death if you do not pay obeisance to the king.
But a scholar or a vidwan is worshipped in all four directions, especially in the market.
The market can only reward you and worship you by way of one and one result alone: Profits.
So higher knowledge leads to higher profits. The more knowledgeable and the more well-read an investor/trader is, the higher is the probability of collecting money from the markets.
Which is why I re-iterate my view that instead of trying to be a specialist, you must try to be a generalist.
You cannot isolate any one asset class and try to specialise in only that particular asset class like equities, currencies or commodities.
Here's wishing you a lot more knowledge and a lot more profits from your investment and trading endeavours.
Before I sign off for now, let me remind you, my friend, Apurva will take this forward in tomorrow's video and do not forget to click like on this video, subscribe to my YouTube channel, and do not forget to share this video with your family and friends.
In the comments section, please do let me know what you think of this video and what other topics you would like me to cover in my forthcoming videos.
I take leave now and I wish you all the best. Please do take very good care of your investments.
Thank you.
Warm regards,

Vijay L Bhambwani
Editor, Fast Profits Daily
Equitymaster Agora Research Private Limited (Research Analyst)
Recent Articles