3 Reasons Why You Should Be Cautious on the Nifty in January
Dec 27, 2019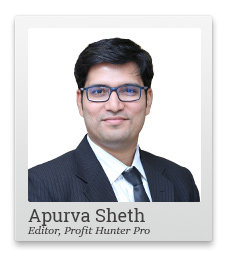 Hi, I'm Apurva Sheth and this is the Fast Profits Daily.
The price trends in the Indian markets remain positive for traders. However, are there clouds emerging on the horizon?
Is this the right time for traders to be gung-ho and go long on the Nifty?
Or is it time to turn cautious?
In today's video, I'll answer that question and more!
Hi, I'm Apurva Sheth and I welcome you to this latest edition of Fast Profits Daily.
Now two weeks ago, I recorded a video on Nifty I told you that the Nifty is about to bounce back.
It was trading in a range of 11,800-12,100. Now it respected this range on the downside. It didn't break this range and it's been hitting new highs since then. So what's next in store for the Nifty as we enter a new year?
Well, the mood is very euphoric nut today, I want to play Devil's Advocate and tell you three reasons why you should be cautious in the month of January.
So reason number one. The SBI Cards IPO is scheduled for release any time in January.
Now I have recorded a video earlier wherein have showed you of the examples of various IPOs which have sucked out liquidity from the markets. Be it the case of Coal India which came right at the market top of 2010 or be it the stock of Reliance Power, which came right at the top of January 2008. We have seen several examples wear in markets have topped out are very close to major IPOs.
Now, the main reason for this is that such major IPOs suck out liquidity from the markets. So SBI Cards IPO which he would likely be a Rs 9,600 crore IPO, would definitely suck out some liquidity from the markets. So this is one reason that could lead to a small or large correction in the markets.
Second reason. January is second weakest month in the year.
Now over the last 24 years, January has been the second weakest month after October. So you see, the month of January is generally not very strong for bulls. The average returns over the last 24 years, in the month of January, is in the range of 0.3% to 0.4%. So one should be cautious again.
And the third reason. Markets have generally topped out in the first quarter of any year.
So going back right from 1992, markets had topped out in the first quarter. 31st March 92 was the month wear in market topped out.
In 2000, it was February. In 2008, it was again the month of January. In 2011 as well, markets topped out in the first quarter. Again in 2015, markets topped out in March. So you see, the first quarter of any year is also not a very positive for the markets.
Now, when you combine all these three things together, you know that the pitch is not very conducive for the bulls.
Now, add to this, there is the union budget, which is coming up in the on the first of February. Now, as you know that the expectations are normally always high from the union budget and this time around, since the economy is going through a slowdown, the expectations are already at a high level. Markets participants are expecting tax cuts on the income tax front as well. So even if that happens, that is largely discounted.
So I feel that the budget may not be able to give as many reasons for the markets to celebrate. So the room for disappointment is large and that's why you should stay cautious. Don't let this euphoria get to your head and maintain a balanced approach. That's what I want to share with you today.
Now, in case if you like this video, please share it and subscribe to it and also tell your friends to sign up to our channel on YouTube as well as sign up on the Fast Profits Daily newsletter. That's how you will get all the latest updates from us instantly.
So that's all from me for today. Thanks a lot and have a nice day.
I hope you found the video informative. I'll be back again next week with more on the markets.
Also, Vijay will be back tomorrow in the Fast Profits Daily.
Have a profitable trading day and a great weekend ahead.
Warm regards,



Apurva Sheth
Analyst, Fast Profits Report
Equitymaster Agora Research Private Limited (Research Analyst)
Recent Articles