My Simple Secret to Profitably Trade Currencies
Dec 28, 2019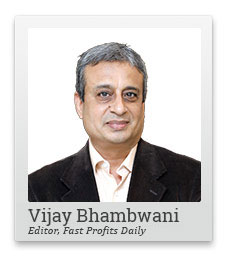 Hi,
I'm Vijay Bhambwani and this is the Fast Profits Daily.
Today I want to share with you my secret sauce on how to make profits from trading currencies.
The system you will learn in this video, is very simple, will work in both bull and bear markets, and across various time frames.
So, let's get right to it!
Hi, this is Vijay Bhambwani and, in this video, I'm gonna share with you a very intimate secret.
You can call it my secret sauce on how to trade currencies and make profits out of it.
A good trading system is something, as Richard Dennis, the founding father of the Turtle Trading School said, should work in a bull and bear market, should be simple enough to write on the back of a used postal envelope, and should work across multiple time frames - hourly chart, minute chart, daily, weekly and monthly charts - and I assure you, this system that I'm about to share with you, will satisfy all these criteria.
You see, when I used to write guest columns in DNA money, on the commodity and currency markets, I had to answer a lot of reader's queries and a few queries led me to think a little deeper and push myself into how to think.
And in any case, behavioural finance tells us that how you think is far more important than what you think.
For example, a text book will tell you what to think. It is static knowledge but the real world, especially financial markets, are constantly evolving. So how you think will teach you how to react to a changing circumstance and every time the price changes on your terminal screen, the goal post has been moved a little.
In those days, we had a slight problem with the inflation data that was being let out and in order to come out with our own inflation index, we at the DNA money newspaper, decided to track inflation from a slightly different angle.
So what I did was I started monitoring 16 vegetables, six fruits, milk, eggs, meats, and pulses. I would go to the market with my wife, like a coolie, carrying bags behind her and fetching those vegetables. At every point in time when my wife would buy some vegetables, I would take out my pocket diary, note down the prices of those fruits and vegetables.
You have to be cautious that you collect these prices from a constant data source. You can't collect prices on week one from Kandivali and week two from Churchgate. That would lead to distortion. You have to be very constant in where you get your data from. So the source has to be constant.
You need to collect this data at least once a week. So what I found was something very, very simple, yet extremely strange.
At any given point in time, if out of these 16 vegetables, six fruits, milk, eggs, pulses, etc, if 80% to 90% of these commodities were going up in price for three, if not four weeks in a row, I could go long on the USDINR and have more than 77% probability of making money on those long positions.
Students of economics and finance will concur with me when I say that the purchasing power of the currency determines the currency peg as one of the few factors that determines the currency. What I was basically betting on was that the Indian rupee would be able to buy less and less over a 3 to 4-week period before going short on the currency and going long, therefore, on the United States dollar.
The reverse will also be true. If out of these 16 vegetables, six fruits, milk, eggs, meats, and pulses, 80% to 90% of these items were falling in value for 3 to 4 consecutive weeks, I would then go short on the USDINR which is betting that the dollar will fall and the rupee will rise because every rupee was able to buy more and more of these food items.
This is something which I called the behavioural approach to trading or boots on the ground but eyes in the sky. A good trader will simplify his system to a point where a secondary school child should be able to understand the system and implement it and hey, I don't think you can get any more simpler than this.
This is the secret sauce to my trading success in the currency markets.
Before I sign off for you today, I remind you, click on the like button. Do not forget to subscribe to my YouTube channel.
Share this video with family and friends and in the comments section, please do let me know what you think of this video and what other topics you would want me to cover in my next video.
Thank you and take very good care of your investments.
I hope you enjoyed today's video.
I'll be back again on Monday, in the Fast Profits Daily.
Have a great weekend!
Warm regards,

Vijay L Bhambwani
Editor, Fast Profits Daily
Equitymaster Agora Research Private Limited (Research Analyst)
Recent Articles