My Top 5 Gold ETFs
Dec 28, 2020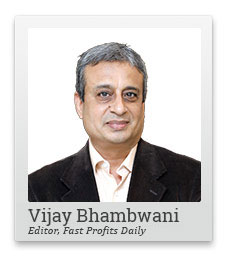 First, I would like to think you for your enthusiastic support for my videos, especially the ones on gold.
I frequently receive questions in the comments section of these videos about gold ETFs. I recently made a video comparing physical gold and gold ETFs.
Today, I will take a step further and list out my top 5 gold ETFs in India.
I've done my own research to prepare this list. These 5 ETFs are not recommendations. Rather they are what I believe to be, the best five gold ETFs in the market today.
Let me know your thoughts about this video in the comments.
Now let's dive in...
Hi, this is Vijay Bhambwani here and, in this video, I am going to address a query that I have been receiving from the viewers of my videos multiple times. Which is the best gold ETF available in the markets?
So I welcome you in this Fast Profits Daily video and I hope my videos are helping you getting better and better at understanding the various nuances of the market and earning higher profits. That is the modest operandi and the aim of this channel to make you better traders and earn you higher returns.
So are all gold ETFs the same?
Many investors or new investors rather, make the mistake of assuming so. What's there to be different from one gold ETF to the other? Every ETF is supposed to have a backing of physical gold and they are all holding 99.99% pure gold, and therefore the prices need to be almost identical for all gold ETFs. The NAVs have to be identical and therefore the returns should be maybe one or two basis points here and there from the other.
Get Details: These 3 Stocks are the Dark Horses of the Stock Market
How mistaken can an investor be! In my video about gold ETFs as to how and why importantly, ETFs are not traded at uniform prices, remember what I said. The fund manager is allowed the liberty of not investing 100% of the corpus in physical gold.
Depending on the mutual fund charter, which is the equivalent of the memorandum and articles of association of a limited company, different fund houses could decide to keep different levels in cash balances.
Now this cash balance may also be used by the fund manager to hedge by taking contrarian bets in the commodity markets. So obviously gold ETFs being physical gold backed, there is a purchase in the physical segment, and the fund manager can only hedge by going short on the commodity exchanges.
Now the market realises that the fund manager cannot go right all the time, and there would be some trades that would be loss making and as a matter of fact, as and when quarterly and half yearly an annual results trickle in, the fund manager discloses the trading losses with the capital appreciation on the physical segment, the NAV does tend to adjust itself, of course, as soon as the news is out.
It needn't be every quarter. It could be even earlier as and when the fund houses makes the knowledge public. Which is why you will see an ETF like a Canada Bank Robeco Gold ETF being a consistent underperformer.
Which is why it is last on my list of the 12 gold ETFs that I have been looking at. The one year, three year, and five year performance or the return rather of Canada Bank Robeco Gold ETF has been the lowest.
Now this is why not all gold ETFs are the same. Please do not make this mistake of assuming that all ETFs will give you almost identical returns. If the fund manager really botches up the hedges, then the ETF NAV can actually nosedive.
So even though the underlying as it is gold, your returns might be significantly poorer than your cousin or your contemporary or your next door neighbour who's invested in a better managed ETF.
So I am going to provide you a list of five ETFs which I feel are worthy of your investments and in my personal list, they happen to be tops. Now let me just also explain to you what criteria I have used for short listing these ETFs.
Number one I have taken the management quality. Number two. I have taken the one, three, and five year returns as available as on 31st March 2020 from Value Research and I have taken, this is very important, the liquidity in the markets in the secondary markets, the stock exchanges. I have taken the National Stock Exchange as my parameter.
You see, there is no point in trying to invest in a gold ETF, which is poorly traded. So there are some gold ETFs where the trading is 100, 125, 150 gm per day. Now am sure if many investors who are watching this video were to try and buy that gold ETF, they would not be able to get their orders filled. Even if you are able to get your orders filled, it would be a nightmare to try and exit from an ETF where the transactions on a day to day basis do not exceed 150 to 200 gm in a 6.5 hour trading session.
So have taken as many parameters as far as possible to make these gold ETFs investor friendly. If I have left out any of your invested gold ETF, I do not mean to discourage you or tell you to switch out of that ETF into one of these five. Remember, this is just my personal viewpoint and my own criteria that I've used. So here goes.
The number one on my list is the Axis Gold ETF. It handles only Rs 108.84 crores as assets under management but even though compared to its peers, it's relatively smaller, the returns over a one, three and five year period, have been 27.84, 11.29, and 7.73% respectively. Now the liquidity here is 35,000 gm. Remember, gold ETFs are traded in lots of one gm, so 35,000 grammes would mean 35 kg. Now that's a good deal of liquidity. You can enter and exit with very small impact cost and bid and offer spreads. So as far as I'm concerned, in spite of a small corpus, I would rank access Axis Gold ETF at number one.
Number two in my list. A very close second is HDFC Gold ETF. It has Rs 615.09 crore as assets under management and trades approximately 8,000 units, which is 8 kg per day. Now the volumes traded volumes are the only reason why ranked HDFC Gold ETF at a very close, but definitely number two. So I would have taken HDFC as number one had traded turnover being somewhat higher. Now the one, three, and five year returns respectively have been 26.53, 11.29, and 8.22% and this is a very close second to what the other benchmarks have been.
Number three is Kotak Gold ETF. If this is a mid-range ETF as far as assets under management is concerned. It handles Rs 355.8 crore and it is again fairly liquid at 35,000 units, which is 35 kg traded per day. Over the last one, three, and five year period, it has returned 27.35%, 11.16%, and 8.18% respectively. So do give this gold ETF look at.
Number four is a PSU gold ETF. The SBI gold ETF. It's a bank that many Indians, most Indians I would say, would blindly trust with their money. Now this is on the upper end of the range of as far as assets under management are concerned. It handles Rs 626.71 crore and it has returned 27.43%, 11.08%, and 8.16% in one, three, and five year period, respectively. The daily traded volumes on this ETF is a decent 4,000 units, which is four kg, denominated in multiples of one gm each and therefore entry and exit should not really be a problem for most investors out there.
A very close number five is the ICICI Prudential Gold ETF. It handles relatively smaller amounts of assets under management at Rs 101.47 crore and has returned 27.23%, 10.87%, and 8.02% over a period of one, three, and five years, respectively. The liquidity is extremely high, which is an enticer for this ETF. It trades approximately 475,000 units. That's 475 kg per day. So I don't think you should have any problem whatsoever, no matter how big, how HNI an investor you are in gold from entering and exiting from this ETF. So extremely liquid, the bid and offer spreads are going to be very, very tight, very, very small, and the impact cost is also likely to be small, which is what has the endeared this ETF to me and got it in this list.
Although there are other ETFs as well, these are the five ETFs that I have short listed in my list as my top picks. Like I said, this is not to the detriment or a criticism of the other ETFs. Of course, the Canada Bank Robeco is an ETF, which I outright eliminated from my list due to the poor returns over a one, three, and five year period.
So friends do right back to me in the comments section as to what you think about this video and what you would want me to record in my next. If you're watching this video on YouTube, do click like if you agree with this video and subscribe to my YouTube channel if you haven't already done so. Click on the bell icon so that you receive instant alerts for fresh videos as and when they are put up.
Also help me reach out to fellow like-minded traders who like research based investments and trades by referring my video to your family and friends. Do take very good care of yourself, your health, your family, your trades, and investments. Have a very, very profitable day ahead.
Vijay Bhambwani signing off from this video. Thank you for watching.
Warm regards,

Vijay L Bhambwani
Editor, Fast Profits Daily
Equitymaster Agora Research Private Limited (Research Analyst)
Recent Articles