My Best Investing Recommendations for 2020
Dec 30, 2019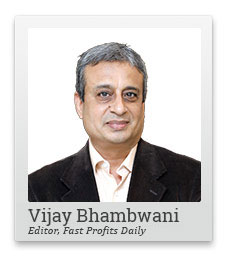 Hi, this is Vijay and I'm back again on the Fast Profits Daily.
I would like to build upon the video I did a few days back - My Market Outlook for 2020.
In this video, I want to share specific examples of assets you could consider investing in over the course of 2020.
In today's video, I've covered...
Currency wars
Inflation
Interest rates
Safe equity investing bets for 2020
Gold and Silver
Hi, this is Vijay Bhambwani.
I'm gonna talk to you about the outlook for the year 2020. You may treat this video as part two off the outlook for 2020. In my previous video, I will recap and add to a few points.
You're likely to see currency wars as countries fight for competitiveness in the international export market. You're likely to see localisation as compared to globalisation as countries raise tariff barriers and try to protect their own turf and guarantee jobs to their own citizens, rather than outsource jobs.
You're likely to see food prices going higher because the Food and Agricultural Organisation, which is a subsidiary of the United Nations organisation, telling us that and environment problems, global warming, and you have allied problems like the Amazon fire, the Australian bush fire, the rising temperature, and melting ice, leading to more and more flooding, impacting the food output, which means that inflation is likely to go up.
If you were to ask me, what I would call the theme, my investment blueprint for the year 2020, I would sum it up as go long on misery and go short on human happiness, which means the misery index or the inflation index, is going to go up, make you sweat behind the years, and your happiness will be shorter or smaller, unless you act rationally and intelligently.
There's a saying, if you're not a part of the solution, you are the problem.
We at Equitymaster are here to give you solutions. So in spite of going long on misery on going short on human happiness, which sounds like a tough deal for the year 2020, I can show you a way out. There is definitely a solution to the year ahead.
In spite of the fact that governments the world over, are moving towards NIRP, which is negative interest rate policy, or ZIRP zero interest rate policy, which leads to falling interest income, which therefore means that our senior citizens and super senior citizens who are living off on fixed income investment may find it tougher and tougher, you are being forced to take higher amount of risk but even within the higher amount of risk, you can take less amount of risk as compared to the other instruments.
So you can basically invest in the consumption story.
In spite of what happens, FMCG, non-discretionary consumption items like personal care, toiletries, and pharmaceuticals are likely to do relatively well.
So for every rupee in earnings of these companies, the market is likely to reward the shareholders by being higher and higher rupees for every rupee of earning, which means the PE multiple of these companies is likely to go up.
In financial market parlance, you can say evaluations of these companies are going to become richer. So don't try to find this safe cave to hide.
The other is multiple asset class allocation itself. If you have seen my other videos, I have been advocating purchasing a little bit off gold and silver as a hedge against inflation and as a store of value.
Let's not forget the year 2020 is a year of currency wars. So as the purchasing power of the currencies get debased and fiat currencies are able to buy less and less, the value of hard assets, especially gold and silver, is likely to go up.
So depending on your risk profile, your age, and your financial requirement, I would suggest you allocate anything between 10% to 25% of your total capital to investing in physical, gold and silver, or in the case of gold, you also have the option of ETFs. These will not only protect your capital but over a period of the next five years, you will also generate alpha or absolute returns.
So in spite of how challenging, difficult and depressing the outlook might appear from what you read in the media about wars in Syria and flooding, global warming, Amazon fires, et cetera, et cetera, remember, a smart thinker will always find a way out.
So before I sign off, I will remind you, if you're watching this video on YouTube, do not forget to click on the like button.
Also subscribe to my YouTube channel. Don't forget to share this video with your family and friends. In the comments section, do let me know what you think of this video and what you would like me to cover in my forthcoming videos.
This is Vijay Bhambwani signing off for now. Do take very good care of your investments.
Thank you.
I hope you found this video informative and useful. I'll see you again tomorrow in the Fast Profits Daily.
Have a profitable trading day!
Warm regards,

Vijay L Bhambwani
Editor, Fast Profits Daily
Equitymaster Agora Research Private Limited (Research Analyst)
Recent Articles