Our Last Trade of 2020
Dec 30, 2020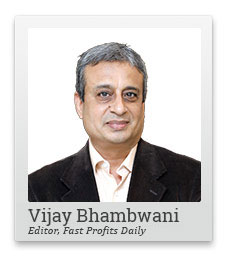 I've often pointed out in my videos about the annual cyclicality in the price of natural gas.
Every year in December, we get an opportunity to trade this commodity.
Most often than not traders who take advantage of this opportunity, make a good profit.
In this video, we will see why this trade is going to play out yet again this year.
If you're a sharp trader you can make some fast profits.
Let's get into it...
Hi, this is Vijay Bhambwani. I hope you're enjoying your trades in the market and my videos are helping you become traders and earn better profits in the markets.
Now, at this video, I want to update you something that has occurred on the geopolitical arena which will impact natural gas prices in the coming few days, maybe even a coming few weeks and months.
Russia and Europe are attempting to partner in a huge project that will deliver low cost natural gas from Russia to Europe and this project is called Nord Stream. Part one of the project is over. What is under construction is Nord Stream 2
Mega Webinar on Jan 29th: Will 2021 be a boom or bust?
Now this is an undersea pipeline which will transport gas from Russia to Europe, specifically Germany, and it will be shared by a few other nations as well. Expectedly, it's likely to hit the exports of the US to Europe, and that has rubbed the US the wrong way. President Donald Trump last year had even threatened to impose sanctions on Nord Stream 2 and on countries including US ally Germany if the Nord Stream pipeline was allowed to continue.
Guess What? The pipeline in Germany has completed its construction phase. The pipe laying ship Fortuna has left the German area in the Baltic Sea and has announced completion of the pipe laying work in that sector. 90% of this Euro 9.5 billion project is complete. What is left is approximately 100 kilometres more of pipe laying and that too in the Danish international waters, Danish area of the international waters and within Denmark's territorial waters as well. This is a very minor amount of work left and the European conglomerates that are partners of Gazprom and Rosneft in Nord Stream 2 pipeline is reading like a who is who of the hydrocarbon space.
The German sector has corporate like Unipod, BASF and Anglo Dutch, a giant Royal Dutch shell, Austria's OMB and NG and these are internationally known cos in the hydrocarbon space. They are partners with Russia to build this pipeline. Like I mentioned, the cost is Rs 9.5 billion and I don't think the US sanctions are in any way likely to hinder this pipeline from completion in the coming few months or maybe a quarter or two.
What are the implications for natural gas after this pipeline is complete? Russia, which has one of the highest reserves of natural gas in the world, will be able to sell low cost gas to Europe and earn foreign exchange revenues.
Remember, Russia is undergoing a bone crushing slowdown of its own and there are sanctions on Russia, for what has happened in Crimea, and Ukraine as well. So foreign exchange is in demand and Russia is a major non OPEC, a producer and exporter of natural gas and crude oil. Russia will cause oversupply or rather, abundant supply of natural gas through the Nord Stream 2 pipeline in the coming months and thereby causing the natural gas prices to go down.
Hey, that's not something that Donald Trump wants, which is why he is opposing the pipeline, but the consumers and the seller seems to have made up their minds. That's why they've sunk almost Euro 10 billion in this project and I don't think this project is going to go out of commission any time soon.
So natural gas traders have a trade out there and if you are a Weekly Cash Alert subscriber, you are in the play. You already received an alert about what's to be done through the weeks. I have been uprising you of what's happening in the natural gas and crude oil markets, and you are in the know of what's going to happen in the coming few months. So brace up for an exciting trade ahead. We have a geopolitical event which is working in our favour.
Also, remember, since the last one year or so, I have been recording videos about how natural gas prices have a cyclical pattern.
By the time the Vernal Equinox sets in, which is in March, the Vernal Equinox is the marking of the change of seasons from winter to summer, natural gas prices do tend to peter out. So I am gonna be providing handholding to the WCA subscribers and guiding you through the trade, which I hope is going to be extremely profitable. Let's be careful out there and let's prepare for a highly profitable trade ahead.
On this promising note, Vijay Bhambwani signing off from this video, note before reminding you to click like on this video, it you're watching it on YouTube. In the comments section, do let me know what you think of this video and what you want me to record in my next. Subscribe to my YouTube channel if you haven't already done so. Click on the bell icon to receive instant alerts about fresh videos whenever they uploaded.
Also help me reach out to like-minded investors and traders who believe in knowledge based investments and trades by recommending my video to your family and friends. Do take very good care of your health, your family, your trades, and investments. Vijay Bhambwani here. Wish you very profitable days ahead. Thank you for watching.
Warm regards,

Vijay L Bhambwani
Editor, Fast Profits Daily
Equitymaster Agora Research Private Limited (Research Analyst)
Recent Articles