The Big Gamble
15 FEBRUARY 2018
India is cursed with bad governance and bad governments.
Since the 1970's while neighboring countries in the ASEAN region - India invited 10 of them for the Republic Day celebration - were busy growing their economies and enrichening a large chunk of their people, most regional and national politicians in India were busy trying to keep people poor and ignorant and focused their election campaigns on issues centered around religion, caste, and class.
It is a remarkable commentary that, in a country where religion plays such a key role in every political decision, the communist state of Kerala leads on many social indicators!
The BJP won a large mandate in the May 2014 elections and routed the utterly incompetent and corrupt Congress-led coalition, the UPA-2 government (Modi-bhakts please enjoy this moment).
What is significant to note, though, is that the BJP did not win as historical a victory as it was claimed to be. The Modi-led BJP won "only" 31% of the national votes, as against 34% by the Vajpayee-led BJP in 1999. The reason why the Modi-BJP won an outsized number of 282 seats as against 182 seats that Vajpayee-BJP won despite getting a larger vote share than the Modi-BJP is that the regional parties won more percentage votes in 2014 (50%) than they did in 1999 (45%). These "wasted" votes of the extra 5% to regional parties gave the Modi-BJP a larger number of seats. So, the Modi margin of victory was a default win!
To stay in power comfortably and for a long period of time to undo the actual and alleged sins of the conning Congress governments, the BJP knows that it needs to win 40% of the votes - not the 31% that it has received in the 2014 elections.
Once you accept the fact that elections are round the corner and that this budget is geared to reach a 40% target, everything makes sense.
Unbalanced numbers.
Keeping politics aside, the budget is based on a crucial platform of hope as opposed to a foundation of development effort. Constrained by decades of Congress-originated policies, the BJP has little choice at this stage to make any fundamental shift in allocations of where the money the government can spend will go. With over 61% of its annual spend committed to interest payments on debt, salaries, pensions, subsidies and defence there is little that the government can do. However, what is noteworthy is that - despite the increasing threats of confrontation with Pakistan and China, defence spending has been reduced and subsidies have increased. It shows the focus of the next 12 months. Interest payments have reduced only because the interest rates have reduced. With interest rates on the rise, this may be a developing fault line.
Budget: Have to spend?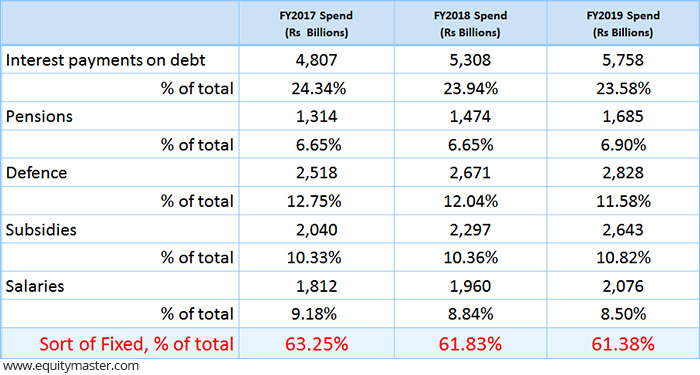 The "development" side of the expenditure has been limited largely because the government has not fully accounted for the necessary and ambitious universal health care coverage: Rs 500,000 per family for 100,000,000 families. . It is a good move. But the Rs 2,000 crore allocated for it (Rs 200 per family) is, by many estimates, 10% of what it should be.
A Budget speech with little money behind it?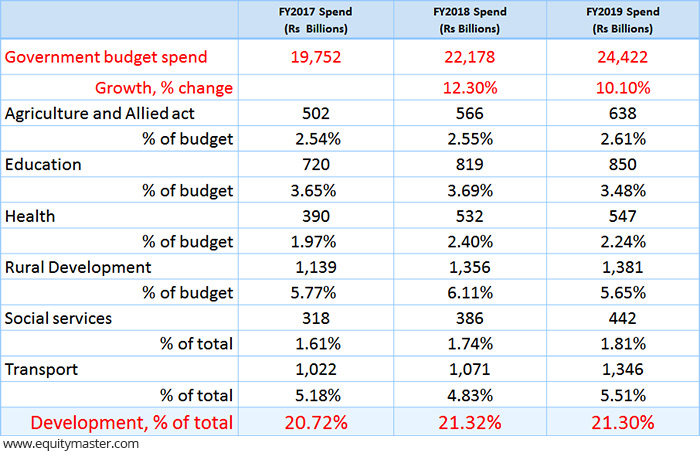 However, just as India steps into election mode where this government - like previous governments - focuses on winning elections, the global mood has changed. With interest rates increasing in USA, there will be a reassessment of risks taken and rewards needed to offset the risks taken. Under a zero-interest rate policy in the developed world, India (and other emerging markets) could attract large flows at low expected rates of return. As interest rates rise in USA, investors may demand a higher rate of return from Indian bonds. This will result in a tectonic shift in bond and stock market valuations.
Current A/c deficit under threat?
Brent Crude Oil: >100% increase from its lows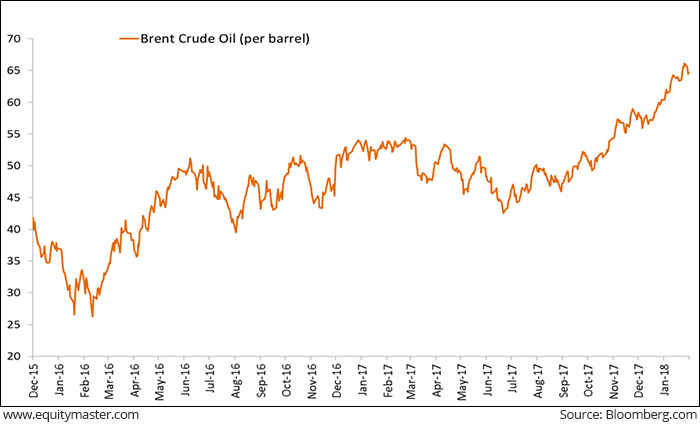 Higher oil prices have reduced the cushion that India has on the import costs and on the subsidy front. Paying less for imported oil reduced the drain on foreign exchange and kept the Indian Rupee strong against a weak US Dollar. Additionally, lower oil prices meant that the cost of subsidizing the usage of energy for poorer Indians was kept under control. Lower energy costs also reduced inflation and allowed interest rates to increase. Those multiple benefits are now unravelling.
Demonetization Resulted In An Immediate Whack To GDP - GST Has Slowed The Natural Recovery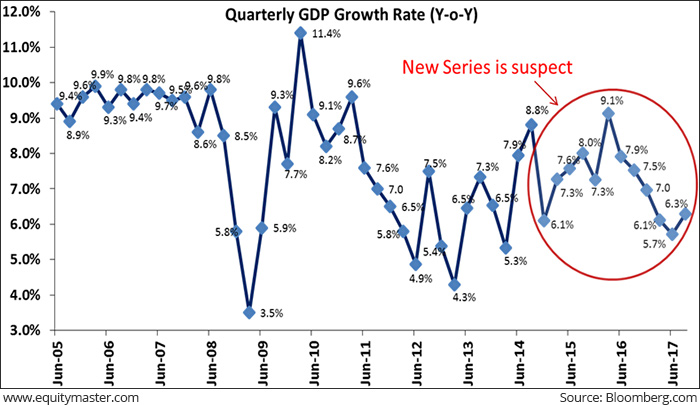 Just as the macro is turning grim, the natural recovery within the Indian economy will pick up steam. Having been whacked on the chin by demonetization and bruised by GST, a battered economy is picking itself up from knock-out as suppressed consumer demand seeps through.
Indians Still Consuming: The Hungry Consumers!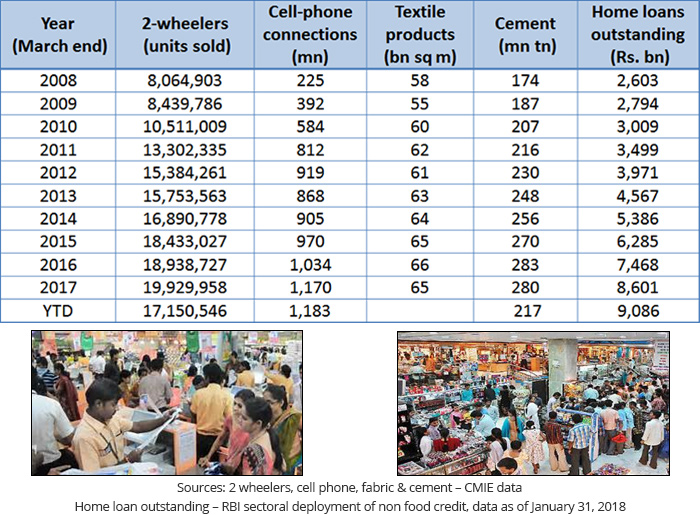 In May 2014, the BJP inherited an economy that was:
Tainted by corruption and scandals,
Had a collapsed rate of capital investment,
Had subdued consumer demand, and
Under threat due to rising oil prices and the Bernanke fear of raising interest rates.
As 2019 nears, the BJP has steered itself into a position where it has no widespread corruption scandals (a great positive, indeed!) to show but it has little else to show. Demonetisation was a dud idea that cost the country dearly and resulted in the government using its scarce resources to bail out the poor. The BJP bungled the opportunity of a supportive global macro environment to take India to a higher trajectory of growth.
Government Spend On Poor Surges Due To Demonetization 5.6% of annual budget; 0.9% of GDP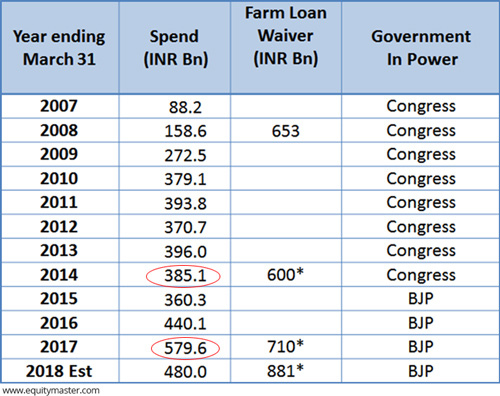 History not only rhymes but it also repeats itself in painful, karmic cycles.
Despite faster download speeds and more people racing along the internet highway, India is back where it was in 2013: a rudderless boat waiting to be lashed by the storms that may unfold on foreign shores.
The budget is a gamble that there will be no storm.
Suggested allocation in Quantum Mutual Funds (after keeping safe money aside)
Quantum Long Term Equity Fund and Quantum Equity Fund of Funds
Quantum Gold Fund
(NSE symbol: QGOLDHALF)
Quantum Liquid Fund
Why you
should own
it:
An investment for the future and an opportunity to profit from the long term economic growth in India
A hedge against a global financial crisis and an "insurance" for your portfolio
Cash in hand for any emergency uses but should get better returns than a savings account in a bank
Suggested allocation
80% in total in both; Maybe 20% in QLTEF and 60% in QEFOF
20%
Keep aside money to meet your expenses for 6 months to 2 years
Disclaimer: Past performance may or may not be sustained in the future. Mutual Fund investments are subject to market risks, fluctuation in NAV's and uncertainty of dividend distributions. Please read offer documents of the relevant schemes carefully before making any investments. Click here for the detailed risk factors and statutory information"
Disclaimer:
The Honest Truth is authored by Ajit Dayal. Ajit is Founder of Quantum Advisors Pvt. Ltd and Quantum Asset Management Company Pvt. Ltd. The views mentioned above are of the author only. Data and charts, if used, in the article have been sourced from available information and has not been authenticated by any statutory authority. The author, Equitymaster, Quantum AMC and Quantum Advisors do not claim it to be accurate nor accept any responsibility for the same. Please read the detailed
Terms of Use
of the web site.