Why Buffet - and you - should study Quantum Liquid Fund
14 MAY 2020
Legendary investor Warren Buffet made a startling revelation at his much-awaited Annual General Meeting: the investment profile of his liquid fund closely matches that of Quantum Liquid Fund!
If Buffet was an Indian citizen, living in India (rubbing his hands in glee waiting for Lockdown 4 having loved every minute of Lockdown 1, 2 and 3) and if Buffet had USD 124 billion of cash reserves waiting in safe, liquid assets - waiting for an opportunity to use that money to buy a house, pay for his children's education or wait for a correction in the stock markets to deploy his cash pile to buy out all listed shares in the automobile sector, the power sector, the cement sector, the hotel sector - and still have some cash to spare - there is a high probability that Buffet would have invested in Quantum Liquid Fund. Waiting patiently; waiting for the right time; not taking any risks.
Table 1: No Mutual Fund House managed to mislead Buffet on Safety, Liquidity and Return
| As of March 31, 2020 | Berkshire Hathaway | Quantum Liquid Fund |
| --- | --- | --- |
| Sovereign Govt Paper | 85% | 67% |
| Quasi-govt paper / PSU | 0.0% | 23% |
| Cash & equivalents | 15% | 10% |
| Total | 100% | |
| Country where invested | USA | India |
| Reason given: | Safety, Liquidity | Safety, Liquidity |
Source: QMF fact sheets, Berkshire Hathaway annual report
As the "founder" of Quantum Mutual and knowing the solid, steady, sensible Pankaj Pathak - the Fund Manager of Quantum Liquid Fund - I would have urged Pankaj to issue a press release that would read: We would welcome an investment by the legendary investors Warren Buffet and Charlie Munger. Quantum Mutual Fund has the identical philosophy of safety and liquidity that is so dear to one of the world's most brilliant investors. If they ever were to invest in India, we would welcome such a relationship.
Why Invest In a Liquid Fund?
The AGM of May 2020 of Berkshire Hathaway was different as it was held virtually - for the first time without the shareholders of Berkshire Hathaway in attendance. The 89-year-old opened the meeting in Omaha, starting with remarks to calm anxious investors, urging them to stay committed to "American magic" despite this year's bear market and the poor performance of his "fund", Berkshire Hathaway (Another similarity! but this time to Quantum's Long Term Equity Value Fund which has had a bout of poor performance).
Buffet said that Americans have persevered and prospered through such crises as the Civil War in the 1860s, the influenza pandemic a century ago and the Great Depression. American "magic" prevailed before and would do again, he said.
"Nothing can stop America when you get right down to it," Buffett said. "I will bet on America the rest of my life."
But the slide that caught my attention was: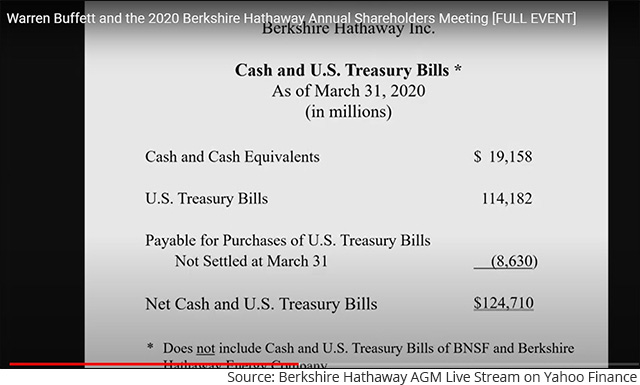 Whoa! - I thought - that looks like the portfolio of Quantum Liquid Fund where I have parked some of my money to meet my monthly expenses!
Warren Buffet was certainly serious when he meant that he is betting big on American magic, Berkshire Hathaway holds $124 billion in cash and government treasury bills! Reminds us of our own philosophy! It's not the size of the AuM (we confess, ours is a small one) but the pattern of the investments made.
Are Buffet and Quantum Liquid Fund in synch?
The fact that Buffet is holding onto low-return and safe US Treasury Bills and holding cash - is identical to the actions of Quantum Mutual Fund's very own Fund Manager for Fixed Income, Pankaj Pathak who recently gave a measured display of his methodology in the eye-opening "Debt Funds or Death Funds" interaction with Equitymaster.
Pankaj believes that - on behalf of his investors in the Quantum Liquid Fund - he must deploy the capital in safe, secure assets. He knows that his investors see a Liquid Fund as a place to park their assets until they are ready to deploy it for their objective - not as a mechanism to buy lottery tickets to boost expected returns!
Investors may be ready to buy a house in a few months, or about to remit money to pay for their children's education in Australia, UK or USA - or, like Buffet and Munger, ready to deploy it into stock markets "at the right time and levels".
Pankaj and the Quantum Fixed Income team are ardent followers of what Quantum calls the SLR principle when it comes to managing our extra funds.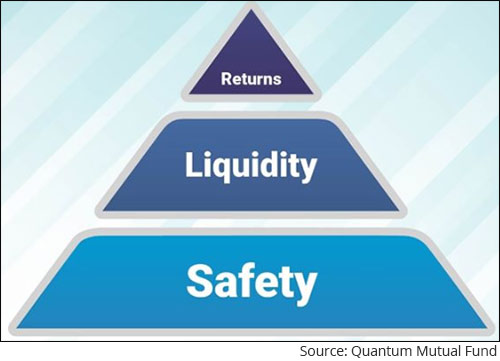 Safety: This principle puts the Safety of investors' money at the base of the pyramid, which means that this is the bare minimum requirement that needs to be fulfilled by all instruments purchased by the Fixed Income team. Hence for the Quantum Liquid Fund, Pankaj and the team buy ONLY AAA rated government securities - the safest form of investment.
Buffet seems to be doing the same and is investing heavily in government securities, as is evidenced by the slide in his presentation!
Liquidity: this is then followed by Liquidity - whichever instrument the Fixed Income team invests in should be in a position to be easily liquidated. Therefore, if investors need money, Pankaj can easily liquidate the instrument and re-pay investors - therefore never, ever having the need to seek bailouts from the RBI or anyone else!
Returns: The final piece of the puzzle, only and only if the Safety and Liquidity criteria are met then Returns are a by-product of the process. As I have said before, if you want Returns then invest in Equities - we built solutions for that too in Quantum Mutual Fund!
Quantum Liquid Fund had a 2-star rating!
But if there is one absolutely important reason to consider and evaluate the Quantum Liquid Fund as a potential place to park your safe money it is this: I was browsing a few website and I saw that Quantum Liquid Fund had a 2-star rating!
And that was the most satisfying rating I have ever seen.
I was ecstatic!
Because the 2-star rating means is that Pankaj's fund has a low return.
This means that Pankaj has not taken any wild bets - no lottery tickets!
No trying to hit a six on every ball and hoping that the cheer-leaders will root for him.
My money is safe.
It is there when I want it.
No shenanigans of trying to earn a few basis points by taking that little extra risk.
No borrowing money at 5% to lend at 6% and hope that there will be an extra return - and an extra star in the rating...
No - Pankaj is boring, solid, and safe.
He is exactly what a Liquid fund portfolio manager should behave like.
Ask Buffet. He knows he has kept his USD 124 billion in boring, solid, safe assets.
You can be boring and safe, too - just like Buffet.
Suggested allocation in Quantum Mutual Funds (after keeping safe money aside)
Quantum Long Term Equity Fund, Quantum Equity Fund of Funds, Quantum ESG India Fund
Quantum Gold Savings Fund
Quantum Liquid Fund
Why you
should own
it:
An investment for the future and an opportunity to profit from the long term economic growth in India
A hedge against a global financial crisis and an "insurance" for your portfolio
Cash in hand for any emergency uses but should get better returns than a savings account in a bank
Suggested allocation
80% in total in both; Maybe 15% in QLTEF, 10% in Q ESG and 75% in QEFOF
20%
Keep aside money to meet your expenses for 12 months to 3 years
Disclaimer: Past performance may or may not be sustained in the future. Mutual Fund investments are subject to market risks, fluctuation in NAV's and uncertainty of dividend distributions. Please read offer documents of the relevant schemes carefully before making any investments. Click here for the detailed risk factors and statutory information"
Disclaimer:
The Honest Truth is authored by Ajit Dayal. Ajit is Founder of Quantum Advisors Pvt. Ltd. which is the Sponsor of Quantum Asset Management Company Pvt. Ltd – the Investment Manager of the Quantum Mutual Funds. Ajit is also the Founder of Quantum Information Services which owns Equitymaster and PersonalFN. The views mentioned herein are that of the author only and not of Quantum Advisors, Quantum AMC or Equitymaster. The information provided herein is compiled on the basis of publicly available information, internally developed data and other sources believed to be reliable by the author. The information is meant for general reading purpose only and is not meant to serve as a professional guide / investment advice for the readers. Readers are advised to seek independent professional advice and arrive at an informed investment decision before making any investment. Whilst no specific action has been suggested or offered based upon the information provided herein, due care has been taken to endeavour that the facts are correct, accurate and reasonable as on date. None of the Author, Quantum Advisors, Quantum AMC, Equitymaster, their Affiliates or Representative shall be liable for any direct, indirect, special, incidental, consequential, punitive or exemplary losses or damages including lost profits arising in any way on account of any action taken basis the data / information / views provided in The Honest Truth.