Beware the 5th year of the Modi Regime
22 MAY 2018
Four years of the Modi regime have been exceptionally kind to investors in most asset classes.
As we all know residential real estate has been a losing proposition and the more profitable commercial real estate business has now been dominated by large international funds.
A look at the performance of the various asset classes available to retail investors, as reflected by the products from the Quantum Mutual Funds (which I was associated with), is reason to be joyful and thankful to the Modi mania that has overtaken Indian stock markets for the past 4 years. All asset classes behaved as they should have between May 22, 2014 and the last trading day last week of May 18, 2018 (a 4-year period), namely, the riskier asset classes gave more returns than the less risky assets.
Table 1: Asset classes behaved as they should have since May 21, 2014, the day before Modi came to power
| Product | Annualised return | Description |
| --- | --- | --- |
| Quantum Equity Fund of Funds | 15.29% | Invests in mutual funds of other fund houses; exposure to about 250 stocks |
| Quantum Long Term Equity Value Fund | 12.28 | Invests in 25 to 40 stocks using the "value" approach to investing |
| Quantum Multi Asset Fund | 8.62% | A truly "balanced" fund that invests in a range of asset classes |
| CRISL Composite Bond Index Fund | 8.75% | Bond funds |
| Quantum Liquid Fund | 7.10% | Invests in securities issued by companies which mature in less than 90 days |
| Quantum Gold Fund | 1.07% | Underlying asset is gold |
Source - Bloomberg,
Note - the Quantum Dynamic Bond Fund was not in existence in May 2014 so a CRISL Index has been used.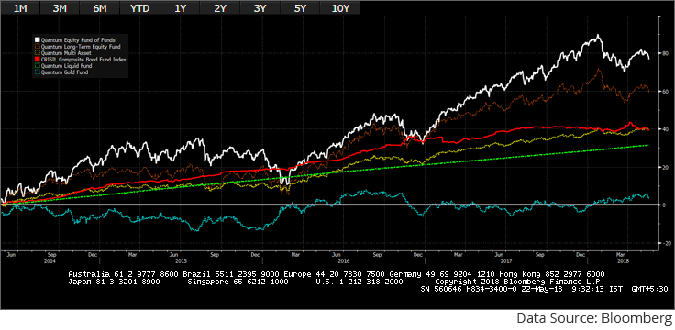 The Quantum Long Term Equity Value Fund which uses the "value" approach to investing followed a careful, calibrated, and cautious approach to investing in stock markets. It looks for companies which are undervalued and where earnings are likely to be robust. It's caution has not found favour in an environment where people have been bidding up share prices even though there has been no growth in earnings to support these higher share prices. The Quantum Equity Fund of Funds has a max of growth, mid cap and small cap funds in its portfolio and that path to investment nirvana has paid off handsomely these past 4 years.
--- Advertisement ---


This Wouldn't Have Been Possible Without You…

We are celebrating more than 15 years of Tanushree Banerjee's StockSelect…

And we wouldn't have been able to reach this milestone without the support of valued readers like you.

Which is why, as a thank you…

We are giving you the opportunity to get 12 months of access, virtually free.

However, this celebratory offer is available ONLY for the next 4 days.

So, we would recommend that you do not delay and…

Click here for full details…
------------------------------
The moral of this is not that QLTEF is a bad fund or that QeFoF is better: it really means that investors must adopt different paths to reach their investment goals. Buying stocks is good but better to be in a mix of stocks that covers the range of value, growth, mid cap, and small cap. Investing in these 2 funds gives you that mix.
The Quantum Multi Asset fund was created to give you better returns than any FD could, with some extra element of risk to make those higher returns. If you have money in 3 year or 5 year FDs, it may be worthwhile analyzing this fund further. The 3-years holding period of the Fund will trigger a long term capital gains tax rate. QMAF cannot be compared with the balanced funds that were hawked aggressively over the past few years. These balanced funds are unbalanced and had over 65% exposure to equity at any given point in time. QMAF has been at 50% or less and it did not take a 65%% exposure to equity only to be treated as an equity fund for tax reasons. That disadvantage has been eliminated under the new tax regime.
Besides gold - an insurance - all other asset classes did well for investors.
Troubling signs.
But that was then.
Today, the stock markets look wobbly and bond funds face an uncertain future.
Balanced funds, if you are still naive enough to hold them, have been anything but balanced.
A closer look at the behaviour of the Quantum Equity Fund of Funds (a portfolio of mutual funds managed by other fund houses which, effectively, gives an investor exposure to around 250 companies in the stock market) shows the poor returns that these funds gave from the time when China had a macro hiccup (May 2015) till February 2016.
Again, when the idiotic policy of demonetization was announced in November 2016 the equity markets wobbled. A blitzkrieg on social media fooled everyone into believing that demonetization was the best invention since dhokla. In its greed for good stories and sweet endings, the stock markets - propelled by local and international flows - have moved up very sharply since then with many midcap stocks leading the charge.
The fact that pretty much all the black money found its way back into the banking system (proving that demonetization was a failure) coupled with stress in rural India was ignored by the market. Fund managers were looking forward to better earnings from companies for the period ending March 31st, 2018. Lower interest rates on bank deposits, the continued sluggishness in real estate, and a possible recycling of declared black money into stock markets had forced local investors to seek investments in mutual funds - after all stock markets were still rising despite the lack of good news!
Since the recent spike in stock markets in January 2018 and a new peak established, stock markets have had to face the reality of a triple-hit of:
Poor policy at home when the BJP, in a desperate bid to raise money for is suspect fiscal situation, decided to tax capital gains on equity funds - the only option that investors have had to make money; this has hurt sentiment;
The Reserve Bank of India, trying to regain credibility surrendered during the demonetization disaster, is correctly seeking to calibrate interest rates to inflation; since inflation is again rising from a low base interest rates will also need to rise, and
The overall fiscal and political situation: the BJP seems to have lost control of the country's finances with rescue spending from the demonetization exceeding the potential revenues from the introduction of GST. Politically, if Karnataka is an indication, the mukt-Congress plan has stalled since the Congress won 38% of votes, more than the 36% that the BJP got in Karnataka, though the BJP did get many more seats. The BJP has proven, once again, that Arun Shourie was correct: "The BJP is = Congress + Cow". Its willingness to subvert the government machinery and use whatever it takes to win power generates the same foul smell of the dirty tricks adopted by the Congress over the decades. On top of this stink you need to worry about what you eat and what you say: at least the Congress left you alone on that front!
Global Climate Change?
And while there is a possibility that India may be heading for a regime in 2019 where a band of coalition parties wags their tail to elect a Prime Minister, the feared global warming has not arrived. Instead, India may soon feel the effects of a world economic environment that has turned chilly and unsupportive of countries like India that:
Import oil: India imports 2/3rd of our oil needed. Since the time the BJP came to power, India has saved maybe USD 120 billion on the oil import bill;
Need foreign exchange to grow or fund their consumption habits: India needs portfolio flows to keep stock prices up and interest rates down; India needs FDI from multinationals to fund its economic growth; India needs US Dollars to pay for the oil and other imports since we don't export enough to earn the required US Dollars to pay for all our oil and other imports.;
Have fiscal imbalances where the government spends more than it earns. The cost of holding and winning elections, the cost of rescuing rural India from demonetization have all added to higher than expected costs and, though the economy is crawling out of the self-induced slowdown, it is not roaring and adding to tax revenues of the government at the pace it needs to offset the higher spending. Plus higher oil prices will ensure that the government has less tax collection from oil than they did in the period of falling global oil prices. It is estimated that by not allowing local petrol and diesel prices to decline in line with the fall in international prices of oil, the government collected extra oil taxes of Rs 1,50,000 crore; approximately 0.4% of the annual budget each year was being bridged by this hidden tax on oil consumers in India.
Don't have clear political stability or clear economic policies to ride out a storm in case oil prices continue to rise and interest rates in the US continue to rise.
So, while equities remain a good risk-return trade-off in the long run, there is a risk that the BJP may end its first term in 2019 on a whimper.
Your portfolio, though, could take a bang - on the downside!
For the next one year, stock markets may not deliver the returns investors have been used to.
Balanced funds will continue to disappoint given that they were sold on incorrect principles.
Bond funds may be whipsawed by higher interest rates which deplete their NAVs.
Liquid Funds and Gold (a weak India Rupee will help) may be a safer place to wait it out.
If in 2014-2017 you were rewarded for taking excessive risk, in 2018 you may be rewarded for not taking excessive risk.
Invest sensibly. Invest cautiously. But invest you must.
PS: Tanushree Banerjee's premium safe stock recommendation service, StockSelect, which has a success rate of 74% over the last 15 years, is now available with a special offer. If you act now, you can get 12 additional months of StockSelect virtually free! This offer is available for the next 4 days only. It ends at midnight, 25th May. So, don't miss out. Click here to get StockSelect right away.
Suggested allocation in Quantum Mutual Funds (after keeping safe money aside)
Quantum Long Term Equity Fund and Quantum Equity Fund of Funds
Quantum Gold Fund
(NSE symbol: QGOLDHALF)
Quantum Liquid Fund
Why you
should own
it:
An investment for the future and an opportunity to profit from the long term economic growth in India
A hedge against a global financial crisis and an "insurance" for your portfolio
Cash in hand for any emergency uses but should get better returns than a savings account in a bank
Suggested allocation
80% in total in both; Maybe 20% in QLTEF and 60% in QEFOF
20%
Keep aside money to meet your expenses for 6 months to 2 years
Disclaimer: Past performance may or may not be sustained in the future. Mutual Fund investments are subject to market risks, fluctuation in NAV's and uncertainty of dividend distributions. Please read offer documents of the relevant schemes carefully before making any investments. Click here for the detailed risk factors and statutory information"
Disclaimer:
The Honest Truth is authored by Ajit Dayal. Ajit is Founder of Quantum Advisors Pvt. Ltd and Quantum Asset Management Company Pvt. Ltd. The views mentioned above are of the author only. Data and charts, if used, in the article have been sourced from available information and has not been authenticated by any statutory authority. The author, Equitymaster, Quantum AMC and Quantum Advisors do not claim it to be accurate nor accept any responsibility for the same. Please read the detailed
Terms of Use
of the web site.