Why I am the Biggest India Equity Bull on Planet Earth!
16 NOVEMBER 2017
There have been a spate of recent predictions on where the Indian economy will be over the next few years and where the Indian stock market will be.
Well, all I can say is that all those studies are really very poorly done and mis- informed.
The people who authored these reports about (a) India getting all those inflows from foreign investors, (2) on how India's GDP will grow to some jaw-dropping trillion number, and (3) why India is rapidly rising in the global rankings have not really done their homework well.
They need to reexamine their Microsoft Excel sheets and start using the power of an unlimited spreadsheet....one that can head towards infinity in imagination.
They need to stop being so "bearish" on India!
Please note: I am not claiming the title of Biggest India Equity Bull in the Universe and am happy with the easy-to-prove Biggest India Equity Bull on Planet Earth for two reasons:
Firstly, Elon Musk may have sold a ticket to a Martian to make the trip back to Earth, so it is possible that I may not be the winner of any inter-planetary or inter-galactic title in the Master of the Universe category;
Secondly, Master of Universe is sort of tainted by its association with the ungod-like quality of greed. And while God is never tainted, the fact that certain co-inhabitants of Planet Earth, belonging to the homo finance strain, have claimed that derived status of "doing God's work", makes me averse to any Master of Universe title. I will leave that sole distinction to the people at Goldman Sachs whose CEO - during a Senate Committee hearing on the workings of financial firms and how they blew up more lives than ISIS, al Qaeda, and LeT combined with their nefarious activities - said that they were doing "God's work". Yeechh! The BJP may want to look into this other Jihadist, warlike militancy that many financial firms have waged on their customers. Love Jihadis decimate the population of one religion; these financial folks are out to decimate civilization - irrespective of religion! Watch your wallet!
My credentials for the Title
But let me get back to the point and not digress - as I seem to be doing - into the familiar pattern of my questioning the ability of the BJP to fast-track the economy into Vikas mode or the "we exist for ourselves" DNA-structure of the honchos in the field of finance.
Back to the rationale for my crown of the self-proclaimed "Biggest India Equity Bull on Planet Earth" title.
Let me first prove my credentials with a few tests to ensure I know what I am talking about:
Do this test of Exhibit A along with me.
In the year 2017, I am 57 years young as per my passport. Please note that I felt 37 years young. Well, until the fact that on the night of October 30th I slept on a hotel bed and seem to have messed up my back. Within 6 days I have had cranial osteotherapy, massages, physiotherapy, and acupressure therapy. In my previous 50 years of consciousness I have probably had 2 massages. But, to get back to the point, I am 57 years young - subject to my back allowing me to behave like one.
In the year 2050, 33 years from now: how old will I be? That's easy. The answer is 57 + 33 = 90 years.
So how old will you be 33 years from now?
Okay, did you get the correct answer for your age 33 years from now?
Good.
That means you are smart. Like me.
Now we qualify for the next test in Exhibit B of seeing how smart we really are compared to the Finance Ministers of India.
In Exhibit B, I would like you to answer the following:
What is this object?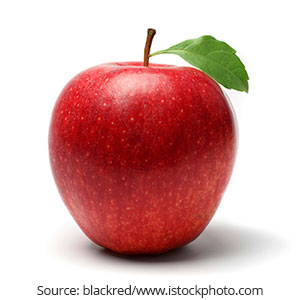 Good, it is an apple.
Now, what is this?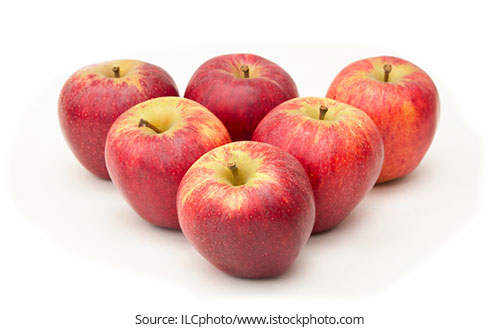 Excellent: It is a picture of 6 apples.
By getting the answers to these apple questions correct, you are smarter than each of the recent 3 Finance Ministers of India!
Seriously, you are!
Between 2004 and 2017, India has had 3 Finance Ministers: Mr P. Chidamabaram; Mr Pranab Mukherjee; and Mr. Arun Jaitley.
The income-tax departments which they oversee as Finance Ministers have correctly seen the photograph of one equity mutual fund and called it an equity mutual fund. This made it eligible for taxation as "equity": if you own the equity mutual fund for over 1 year, your capital gains tax is zero.
1 EGG IS AN EGG, 6 EGGS ARE A CHICKEN?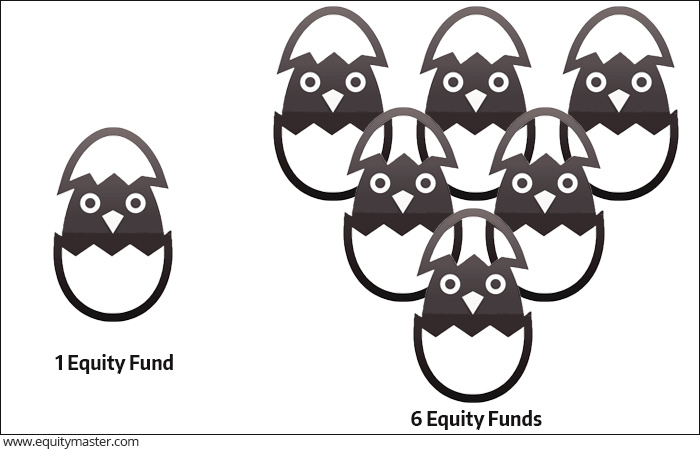 However, when you show them the photograph of 6 equity mutual funds in a basket, they have classified it as a "debt fund" and have been taxing it as a debt fund for capital gains.
Either the Finance Ministers are not aware of the creative genius of the department that works under them - or they probably have never invested in an equity fund of funds to understand the real impact of this contortion of a photograph of 6 equity mutual funds into a debt fund.
Even the great magicians and illusionists like P. C. Sorkar and Houdini may find this feat of converting equity into debt a challenge.
Removed from reality and not shopping for daily groceries or dealing with the eager financial planner makes those who oversee policy lose sight of reality. They are not really experiencing the aam aadmi day. Hence, Finance Minister Mukherjee could happily introduce a law to charge tax retrospectively without thinking about the moral right of such a move. Imagine if he had gone shopping for vegetables and the vendor charged him higher prices retrospectively for all the vegetables he had purchased since he moved to New Delhi. How would he have liked it?
Similarly, Finance Minister Jaitley could say with great confidence that a Rs 500 note was a "High Value" note and not realise that it is a "High Denomination" note. If the FM had been to a grocery store he would know that it is a pretty worthless exercise to carry a Rs 100 note for shopping during Samvat 2073, when Rs 100 cannot buy you what 1 anna bought you in the good old days when Sita went shopping for food circa 5,000 years ago. A commentary of the scriptures should contain that important nugget of information that distinguishes between High Denomination (a number on the note) and High Value (what it can actually purchase)?
Test the genius of history
Okay, so now that we have established that we are smart by:
Adding 33 years to our age, and
Identifying the fact that 1 equity mutual fund is an equity mutual fund and that 6 equity mutual funds in a basket of an equity fund of funds is also an equity fund.
Our smartness will now take us -and the BSE-30 Index - to a level never explored by any of the talking heads you see on the business news channels.
So, back to why I am the Biggest India Equity Bull on Planet Earth...
In 1979, the BSE Index was 100.
Today it is over 33,000.
That is a return of over 17% per annum.
If we were to add back dividends received and assume that they were to be reinvested in the BSE-30 Index, then the return is nearly 20% per annum.
Over the past 37 years, the Indian economy has grown by a real rate of GDP of 6.3% on average.
Inflation, as measured by the CPI, has been in the 8% range.
Add the two together and you get 6.3% + 8% = 14.3%.
Let's round that down to 14%.
This is the approximate rate of growth of activity in the overall economy, taking into account the level of prices of various goods and services at that point in time. This is also called the nominal rate of growth in GDP.
So, the economy grew by 14% per annum for the past 37 years and the BSE-30 Index grew by 20% per annum.
Why is there a gap between the two?
GDP represents all economic activity: of good companies, of bad companies; of successful venture, of failed ventures; of hard working people, of retired people.
Companies that are managed by CEOs, CFOs and CCs (Crony Capitalists, in case you are wondering what that CC stands for!) are likely to grow faster than the average rate of economic activity in the country.
More importantly, listed companies are generally growing faster than private companies. Then, when a listed company makes it to a select list to be part of any Index, like the BSE-30 Index, it may grow even faster than the general rate of growth in all listed companies.
Now if, over the next 33 years, the Indian economy is to grow by, say, 6% per annum and inflation is to be, say, 5% per annum then the nominal rate of GDP for the next 33 years will be = 6% + 5% = 11%
If a 14% nominal rate of growth in the economy between 1980 and now resulted in a 20% average per annum growth in the Index over the past 37 years, then what should a 11% per annum growth in nominal GDP result in over the next 33 years - till the year 2050?
Table 1: If you have to dream, dream big!
Period
Rate of Growth in GDP, % p.a, average
Rate of return of BSE 30 Index, % p.a. average
Level of BSE 30 Index
1980-2017
14
20
33,000
2017-2050
11
15.71
4,076,470
2017-2050
9
15
3,323,094
Power of Compounding
4.8%
22.7%
Sources: Using the combination of imagination and Excel sheets
That's right: if the nominal rate of growth in GDP will be 11% per annum for the next 33 years, then the market may give a 15.71% rate of return and the BSE-30 Index will be 4,076,470.
No errors: I checked the formula.
Four million seventy six thousand four hundred and seventy!
By the time the business news anchors will say what the Index level is, it will have moved a few thousand points...and they will need to say all those words again!
I am not likely to be around in 2050 (if I am, I will be 90 years old and will not waste my limited time watching business channels!) but it would be fun to watch the anchors running out of breath recording the movement in the Index.
And, on a side-note: look at the power of compounding: the power of taking a rate of return and extending it into the future.
If we drop the assumed rate of return from 15.71% to 15% (a drop of 4.8%) the Index is projected to be "only" 3,323,094 - which is 22.7% lower than what it could be if the annual rate of return stayed at 15.71%!
To sum up, I am a big bull on Indian equity.
The others are fooling you with limited use of their spreadsheets.
If you have to dream, may as well dream big!
The bigger question - and the unknown - is what sort of country will India be in 2050?
Will it be a great country to live in - where everyone is moderately happy and has the roti, kapda, aur makaan that Mrs Gandhi promised Indian since the 1970's and every Congress government has failed to deliver!
Will it be a country full of ache din as the current BJP government promised us?
Will we be covered in smog or blessed with our time in the sun?
Will we be allowed to eat what we wish to eat and dress the way we wish to dress - or will we have to wear khadi white or saffron?
Will we have money but no wealth?
I will leave the answers to those more difficult questions when I give my acceptance speech for receiving the award of the Biggest India Equity Bull on Planet Earth!
Jai Hind!
Suggested allocation in Quantum Mutual Funds (after keeping safe money aside)
Quantum Long Term Equity Fund and Quantum Equity Fund of Funds
Quantum Gold Fund
(NSE symbol: QGOLDHALF)
Quantum Liquid Fund
Why you
should own
it:
An investment for the future and an opportunity to profit from the long term economic growth in India
A hedge against a global financial crisis and an "insurance" for your portfolio
Cash in hand for any emergency uses but should get better returns than a savings account in a bank
Suggested allocation
80% in total in both; Maybe 20% in QLTEF and 60% in QEFOF
20%
Keep aside money to meet your expenses for 6 months to 2 years
Disclaimer: Past performance may or may not be sustained in the future. Mutual Fund investments are subject to market risks, fluctuation in NAV's and uncertainty of dividend distributions. Please read offer documents of the relevant schemes carefully before making any investments. Click here for the detailed risk factors and statutory information"
Disclaimer:
The Honest Truth is authored by Ajit Dayal. Ajit is Founder of Quantum Advisors Pvt. Ltd and Quantum Asset Management Company Pvt. Ltd. The views mentioned above are of the author only. Data and charts, if used, in the article have been sourced from available information and has not been authenticated by any statutory authority. The author, Equitymaster, Quantum AMC and Quantum Advisors do not claim it to be accurate nor accept any responsibility for the same. Please read the detailed
Terms of Use
of the web site.