Limited Upside, Higher Downside
6 MAY 2019

India is enveloped in the midst of its two greatest passions: cricket and politics!

The 8 teams that participated in the 56 round-robin matches of IPL 12 will see a winner by May 12th when the finals are played in Hyderabad.

The elections to the 17th Lok Sabha, now being held in 7 phases from April 11th to May 19th, will start seeing signs of a winner on Thursday, May 23rd. Depending on how many paper votes have to be counted to verify the results of the 2.23 million electronic voting machines spread over 1 million polling stations, the final tally should be known before the stock markets break for the weekend after trading hours on May 24th.
Table 1: Election Fever grips India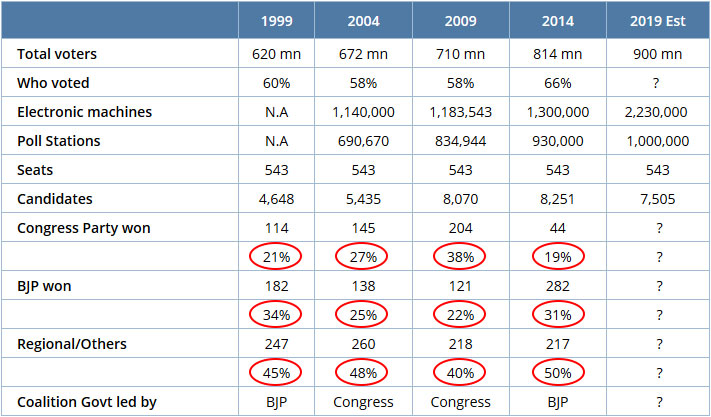 Source: Election Commission of India.
From the trend in the media articles to the flood of posts on social media and WhatsApp groups, there are varied opinions on who will win - and by how much.
But, let's leave that for the political pundits and - eventually - for the voters.
--- Advertisement ---


Here's How One Stock Gave its Investors 1,99,014% Returns

If one had invested just Rs 1,000 in Symphony Ltd. in 2001, he would have made Rs 20 lacs by now.

What's interesting is the fact that this company earlier filed for bankruptcy in 2001-2002.

But its able management made a significant turnaround and in that process made their long-term investors holy rich.

Successful turnarounds are rare but Richa seems to have found one.

While no one can guarantee returns on any stock, she strongly feels this recently recommended stock has a long way to go from here.

Just in 5 years, this company's net losses have turned into double digit net profit margins. And that's just the beginning.

If you're someone who can look beyond the history and want to spot the rare plays then...

This could potentially become your once-in-a-decade opportunity to make money.
------------------------------
Let's focus on how the market is likely to behave depending on various outcomes.
A tale from history.
Over the past 40 years, India's GDP measured under the "old series" for much of this time, has averaged about 6.3% per annum. Inflation has been about 6% p.a. So, India's economic activity, measured in what is called "current, nominal terms" is about 12.5% per annum: a product of economic activity measured in volume (GDP growth rate) and then converted at the prevailing prices at which those goods and services are transacted.
Stock markets, over this same 40 year period, have generated a return of about 15% per annum.
So, stock prices of the larger listed companies have risen a little more than the activity in the economy.
That is the good news: over the past 40 years, across 10 governments, stock markets have given a sensible rate of return and allowed investors to earn more than they would have from safe FDs and from many other forms of riskier investments. There have been periods when the stock markets have lost money for investors and there have been periods when stock market returns have been extraordinarily high. But, on average, an investment in the BSE-30 Index would have given you 15% per annum.
With that in mind, let's see how stocks have performed under some recent governments. Data on indices and stock returns is available from many sources but, for this purpose, I will use the data provided by Business Standard - this as my defense against those readers who will send me abusive emails as if I am trying to create data that will put down the efforts of this current government! Kindly note that I am only the messenger!
Table 2: How returns stack up: The market has under-performed during NDA governments
Government in power
Term started
Total Change in
BSE-30 Index
Compounded average return
over the period
Atal Behari Vajpayee, NDA
October 13, 1999
-1.9%
-0.4% p.a.
Manmohan Singh, UPA-1
May 22, 2004
176.9%
+22.6%
Manmohan Singh, UPA-2
May 22, 2009
79.8%
+12.4%
Narendra Modi, NDA
May 26, 2014
53.1%
+9.2%
Source: Business Standard, including the headline; for Modi government returns are as of March 25, 2019
So, as the saying goes, two swallows do not make a spring. Or two drops of rain don't mean that the monsoon is here. Having studied this very small sample size of 4 governments, one cannot come to any sort of conclusion on what may happen in the future. Voting based on this above data is clearly not a smart or advisable thing to do.
But can one try to guess what will happen to the market after the election? Knowing fully well that it is a guess; and that - in the long run tenure of the next government - the market reaction of a few days will not matter; though - in extremes - the market's irrational reaction may present opportunities for that very limited time of a few days or a week.
Do share your view on what the market will do between May 19 (the last day of voting) and May 24 (the date by which election results will be known) with me, and I will share mine with you!
Markets could move +5% to -15% after the election results are known.
Since October, 2018 the markets have been driven by election news and seems to be ignoring any real economic news.
Government and RBI data points suggest that the economy is slowing over the past few quarters and certainly not gathering speed. Car sales have plummeted and tax collections for the fiscal year ending March 31, 2019 may be 10% lower than estimates. The ban by the US government on preventing any country buying oil from Iran will have an impact on India. Yet, the market has moved up significantly on expectations of a Modi victory. The thirst for a perceived political outcome has prevailed over economic data.
Prior to the May 2009 elections, the world was whacked by the Lehman crisis and - from that low - the markets had a strong recovery as global central bankers stepped in to rescue the financial markets. Despite that 50% run up from the low levels of September 30 2008 till May 15, 2009 (the last day of trading before election results were declared in India) the markets were still about 50% lower than the highs set in January 2008. So, from that low base and with global tailwinds of free money, when the Congress-led coalition was reelected on a larger majority in the May 2009 elections, the market rejoiced and surged by +17.2% in INR on May 18, 2009 (Table 3).
Five years later the story was a little different. By 2013, the UPA-2 were seen as the most corrupt and inefficient government that India has ever had since Independence. Gujarat Chief Minister Narendra Modi was nominated as the candidate for Prime Minister by the BJP in September 2013. From the depths of policy paralysis and the impact of Ben Bernanke's twist towards higher interest rates on a capital deficient country like India, the stock markets surged on the (correct) expectation of a Modi win. The Modi-led BJP government had packaged themselves as a "business-friendly" government with business development in Gujarat as an example - and stock market investors liked that tone and tune. Not surprisingly, the stock market went into a waltz much before the historic Modi victory surging 41% in US Dollars and gaining from the benefit of a stronger Indian Rupee as global confidence returned towards India. However, despite the landslide win of the BJP, the markets were muted on victory day. Much of the Modi magic was priced in the stock markets and, on May 22, despite the final tallying of the votes the market was up only +0.8% in US Dollars.
Table 3: A Modi victory is priced in, a Modi loss in not
| Date / Period | Govt in power | BSE-30 Index in USD | MSCI World Index in USD | MSCI Emerging Mkt Index in USD |
| --- | --- | --- | --- | --- |
| September 30, 2008 to May 15, 2009 | Congress coalition | 50.9% | 24.6% | 32.3% |
| 18-May-2009 | Congress coalition wins | 3.5% | 0.1% | 1.2% |
| September 6, 2013 to May 21 2014 | Congress coalition | 41.0% | 13.9% | 9.4% |
| 22-May-2014 | BJP coalition wins | 0.8% | 0.4% | 1.0% |
| Feb 14, 2019 to April 30 2019 | BJP coalition | 11.2% | 6.8% | 4.3% |
| If Modi wins a landslide like in 2014 | | +5% | | |
| If there is a coalition government led by Modi as PM | | -5% | | |
| If there is any other government elected | | -15% | | |
Source: Bloomberg for past returns, not for estimates of market reactions
This time it's different! In 2019, the BJP is in power and the market has had another strong pre-election run up despite very poor macro-economic fundamentals. The stress due to the collapse of IL&FS has led to a liquidity and solvency issue across corporate India - particularly in the construction, real estate, and automobile sectors. In 2014, Modi was seen as the magician with a magic wand who would clean up the mess left by the Congress coalition. A run-up on optimism could then be justified.
Today, much of the mess in India is not only due to 60 years of Congress misrule but has also got some contribution from the present government! Hence, in my view, a run-up of 11% after February 14, 2019 (Pulwama) is "sentiment" and not based on any future hope of some brilliant Modi Magical economic package, as such, after a Modi reelection.
And please note that I am not saying that - the fans of Modi are saying that!
No one is arguing on any WhatsApp group or TV channel that "let Modi win because he will create more jobs". The main argument for Modi to be reelected in 2019 is that Modi will teach Pakistan a lesson. That was not the reason for his support base in 2014: at that time it was economic mismanagement by the Congress and proven delivery in Gujarat by Modi. It was "vikas" and "ache din".
Neither is there another messiah-like alternative to Modi. The Mahaghatbandhan cast of characters does not inspire any confidence or exude the charisma of Modi.
So we are back to Teach Pakistan A Lesson. February 14, 2019 was the date when the Pakistan-backed Indian terrorists blew up a bus with security personnel in Kashmir which led to Indian fighter jets flying in to Pakistan to retaliate - adding to the belief that Modi is a strongman who can deal with Pakistan and, therefore, must be reelected.
If a Modi victory was not to materialize, it is logical that much of the 11.2% gain since February (an excess of 5% to 7% compared to 6.8% for the MSCI World and 4.3% for the MSCI Emerging Markets Index) could evaporate pretty quickly. In addition to this 5% to 7% surrender of "excess returns" compared to world stock markets, the shock news of Modi not winning a majority on his own could cause a market and currency rout - a 15% downside in US Dollars is possible. It has happened before.
On May 13th, 2004 when the then ruling BJP government led by Prime Minister Vajpayee lost the election to the Congress-led UPA-1 coalition government, the stock markets fell by 15% in 2 days and the INR lost 1%. History may not repeat, but it could rhyme.
So, for those who worry about what stock markets will do in a few days, my guess is the +5% to -15% range, depending on the outcome of the election results.
But, for the long haul, a sensible approach to investing in the stock market has given a return of 15% per annum in the past for 40 years! One lakh invested in the BSE-30 Index nearly 40 years ago would now be worth Rs. 2.7 crore.
Election results may not be as fun as IPL games - though they may be more murderous. In the long run, the election results should not matter.