Indian Stock Market News January 20, 2018
Markets will remain closed on May 13, 2021 on account of Id-Ul-Fitr (Ramzan Id).
Of Global Markets Hitting Record Highs and Top Stocks in Action During the Week
Global stock markets ended the week on a positive note. Benchmark indices in US grew by 1% during the week.
The Down Jones Industrial Average topped the 26,000 mark for the first time during the week. This is a new landmark in the Wall Street stock market boom that has gathered pace since the new year. The rally is fuelled by an upswing in the global economy coupled with the corporate tax rate cuts brought in by Mr. Donald Trump.
Stock markets in Asia too ended on a good note as the benchmark indices in Hong Kong and China posted gains of 2.7% and 1.7% during the week.
Hong Kong stock markets hit a record high on upbeat China data. China's economy expanded at a faster pace than expected. China's economy grew at a pace of 6.8% in the fourth quarter of 2017 from a year earlier, beating estimates compiled by Reuters and Bloomberg.
Key World Markets During the Week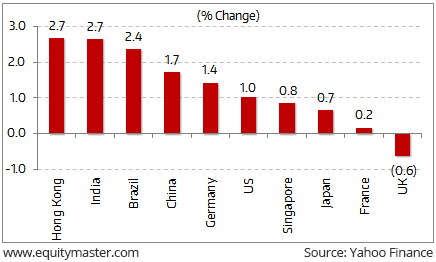 Back home, benchmark indices in India too logged gains of 2.7% as BSE Sensex closed at 35,512. Good corporate earnings coupled with heavy inflows from foreign institutional investors (FIIs) led to the spurt in the indices.
BSE Indices During the Week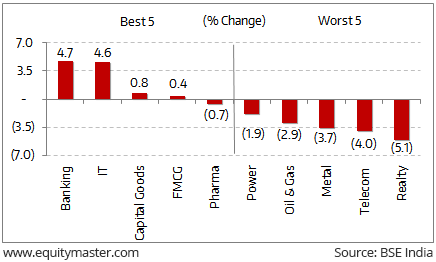 Now let us discuss some key economic and industry developments during the week gone by
Sensex Touches Record High of 35,000
BSE Sensex is on a roll. The index touched a record high of 35,000 on Wednesday and further inched upwards to end yesterday's trade at a level of 35,512. Considering a span of one year, the benchmark index has delivered a 30% return. Such superior returns within a short span have occurred after almost two decades. So, this is historic.
BSE SmallCap and BSE MidCap index too have delivered mind-boggling returns in the preceding year. Both the indices have shot up by 53.8% and 41.5% respectively.
The index has surged mainly on the back of huge domestic inflows coming into mutual funds. Apart from this, an expected recovery in the earnings too has fueled a hope rally in the benchmark index.
Given the sharp surge, the Sensex price/ earnings (P/E) ratio has risen to 25.8 times. This is way ahead as compared to the ten-year median price/earnings (P/E) ratio of 19.6 times. This ratio indicates that the benchmark index could well be in a bubble territory (subscription required) as of now. The benchmark index lost around 4000 points within a quick span of one month during the 2008 financial crisis. At that time, the benchmark index was trading at a P/E ratio of around 28 times.
Subdued earnings have led to the P/E ratio remaining high. It's high time that corporate earnings catch up to the market's expectation. In-case they don't, a crash as seen in the earlier years cannot be ruled out.
Government Cuts Extra Borrowing
In the news from macroeconomic space, India cut its additional market borrowing requirement for the current fiscal year by 60%. This was done after reviewing trends in revenue receipts and expenditure patterns.
The Finance Ministry said that the government would only borrow an additional Rs 200 billion versus an initial plan of Rs 500 billion for FY18.
This comes as a welcome breather as it would help in achieving the fiscal deficit target during this financial year.
Movers and Shakers During the Week
Source: Equitymaster
Some of the key corporate developments in the week gone by
HDFC Bank share price ended the week on an encouraging note after the bank reported a record high quarterly profit, as an increase in interest and fee incomes as well as a steady non-performing loan ratio boosted the bottom line.
Net profit for the lender rose 20% to Rs 46.4 billion (US$728.4 million) for the third quarter ended 31 December from Rs 38.7 billion a year ago.
Further, the bank's gross bad loans as a percentage of total loans were 1.29% at end-December, versus 1.26% at end-September.
HDFC Bank, the most valuable in the sector with a market capitalisation of more than US$78 billion, has the lowest bad-loan ratio among top lenders as it focuses on retail clients. It has relatively smaller exposure to segments such as infrastructure financing.
That has helped it grow loans faster at a time when rivals, especially the state-backed lenders, are struggling with record levels of soured loans in the sector.
Torrent Pharma announced the acquisition of US based Bio-Pharm during the week. Bio-Pharm is a generic and over the counter (OTC) drug maker. The deal was done for an undisclosed sum.
To date, Bio-Pharm Inc has 10 approved abbreviated new drug applications (ANDAs) and 10 ANDAs under review at the United States Food and Drug Administration (USFDA) for itself and its partners. The company also has an additional 17 products under development.
Torrent plans further investments to expand Bio-Pharm's facilities including R&D capabilities and will increase the number of its product filings.
The company added that this acquisition is an important step for increasing its presence in the United States and is consistent with its strategy of dosage form diversification, and provides it with new capabilities including manufacturing and R&D presence in the US.
Just Released: Multibagger Stocks Guide
(2018 Edition)
In this report, we reveal four proven strategies to picking multibagger stocks.
Well over a million copies of this report have already been claimed over the years.
Go ahead, grab your copy today. It's Free.
NO-SPAM PLEDGE
- We will NEVER rent, sell, or give away your e-mail address to anyone for any reason. You can unsubscribe from The 5 Minute WrapUp with a few clicks. Please read our
Privacy Policy
&
Terms Of Use
.
Tata Steel was in focus during the week after the steel major raised over US$ 1.3 billion through bond issues.
The company raised funds through unsecured bonds in the international markets. The issue comprises US$ 300 million 4.45% unsecured bonds due on July 24, 2023 and US$ 1 billion 5.45% unsecured bonds due on January 24, 2028 by Abja Investment Co Pte Ltd, a wholly-owned subsidiary of Tata Steel incorporated in Singapore.
The bonds are rated 'BB-' by S&P and will be listed on the Singapore Exchange (SGX).
Tata Steel said that the funds from the issue will be used to refinance the offshore obligations of the group, which will enhance its financial flexibility and improve the overall balance sheet.
With the current development, Tata Steel is set to join the ever-growing list of Indian companies opting to raise funds via bond issues.
As per an article in a leading financial daily, Sun Pharma has settled a patent litigation with Ironwood Pharmaceuticals Inc and Allergan plc in the US over a generic version of Linzess. It is a drug used to treat bowel problems.
Reportedly, the company's wholly-owned subsidiaries have reached an agreement with Ironwood Pharmaceuticals and Allergan to resolve the patent litigation regarding submission of an abbreviated new drug application (ANDA) for a generic version of Linzess in the US.
Under the terms of settlement, Ironwood and Allergan will grant Sun Pharma subsidiaries a license to market a generic version of Linzess in the US beginning 1 February 2031 subject to USFDA approval or earlier under certain circumstances.
As a result of the settlement, all Hatch-Waxman litigation between Sun Pharma and both the companies, regarding the Linzess patents, will be dismissed, the reports noted.
In news from software sector, TCS expanded its relationship with British retailer Marks & Spencer (M&S) to enable it become a digital-first business. As part of the deal, the company will become a principal technology partner for the retailer.
TCS will transition M&S to a new technology operating model, which embraces the agile mind-set to transform business and IT strategy, aligned with rapid technology innovation to meet fast changing business priorities.
The announcement comes days after TCS announced a US$2 billion contract win from American insurer Transamerica to transform the latter's insurance and annuity business lines.
Bitcoin is crashing and it has fallen to levels below US$ 12,500. The cryptocurrency has lost almost 40% of its value since Mid-December when it was trading at US$ 20,000.
The crash was mainly on the back of a news that South Korea is considering banning the trading of cryptocurrencies.
Over the last three weeks we've introduced you to Tama-Richard Churchouse. He's one of the world's leading experts on crypto currencies. And his man in India... The Cryptowallah, Prasheel Vartak.
In case you missed it, here's a cryptocurrency Q&A with Tama in The 5 Minute WrapUp. And cryptos in the Indian context by Prasheel.
According to Tama, depending on how things pan out over the next few years, massive gains could potentially be yours for the taking. These gains could come from cryptocurrencies or from the blockchain technology. Join us here to unlock the best ideas and insights about the enigmatic world of cryptos.
And here's an update from our friends at Daily Profit Hunter...
The Nifty 50 Index traded on a strong note during the week. On Monday, it opened the session 61 points gap up to touch a new life-time high of 10,782 before correcting a bit in the next session. But the selling was temporary as the index continued the bullish momentum and hit a new life-time high daily for the next three sessions. Finally, the Nifty index ended its weekly session 2% up.
The RSI indicator, which suggest the strength of the trend, is now trading in its overbought territory.
So can the index maintain the bullish momentum in the week to come or will it see some correction before scaling up? Let's keep a close watch on it... You can read the detailed market update here...
Nifty 50 Index Ends at Life-time High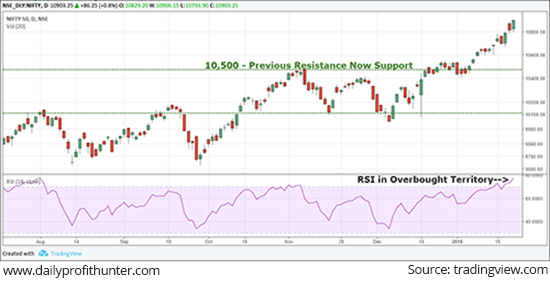 For information on how to pick stocks that have the potential to deliver big returns,
Read the latest Market Commentary
What else is happening in the markets today? Dig in...
Stock Market Updates
May 12, 2021 12:30 pm
BSE Sensex is trading down by 328 points, while the NSE Nifty is trading down by 89 points.
May 12, 2021 09:30 am
Indian share markets open lower. The BSE Sensex opened down by 325 points, while the Nifty is trading lower by 84 points.
May 12, 2021 Pre-Open
Top cues to track in today's stock market session.
View More Indian Share Market News
Most Popular
Apr 30, 2021
Price is the only due diligence one might require to buy this business.
Apr 30, 2021
In this video, I'll show you why I favour smallcaps over the Nifty.
May 6, 2021
Why are markets discounting the economic impact of Covid?
May 7, 2021
I've used this trading technique for many years with great success. I'm sharing it with you today.
More