Indian Stock Market News January 23, 2019
Sensex Opens Flat; Telecom & Realty Stocks Gain
Asian stock markets are higher today as Chinese and Hong Kong shares show gains. The Shanghai Composite and the Nikkei 225 are trading flat while the Hang Seng is up 0.2%. US stocks ended lower on Tuesday, snapping a four-session rally, as a gloomy global economic growth outlook, trade concerns and disappointing company forecasts dampened sentiment.
Back home, India share markets opened on a flat note. The BSE Sensex is trading up by 16 points while the NSE Nifty is trading up by 8 points. The BSE Mid Cap index opened up by 0.2% while BSE Small Cap index opened up by 0.1%.
All sectoral indices have opened the day in green with telecom stocks and realty stocks witnessing maximum buying interest.
The rupee is currently trading at Rs 71.14 against the US$.
Insurance stocks opened the day on a mixed note with HDFC Standard Life Insurance & ICICI Lombard General Insurance leading the gainers. As per the Moody's Investors Service, India's insurance and reinsurance sectors will grow strongly driven by strong economic growth and evolving regulatory regime.
It said robust GDP expansion, coupled with current low insurance penetration, should support double digit growth for the non-life sector over the next 3-4 years.
During fiscal 2018, total gross premiums for the non-life and life insurance sectors grew 11.5% to Rs 6.1 trillion (US$ 94 billion), bringing the 5-year compound annual growth rate (CAGR) to 11%.
Moody's said it expects India's real GDP to expand by 7.4% and 7.3% in fiscal 2019 and 2020, making the Indian economy one of the world's fastest-growing.
Liberalisation of the reinsurance sector with the admission of foreign reinsurers since 2017 and IRDAI's steps to ensure that they can compete with incumbents will specifically benefit the non-life sector.
Further, regulatory reforms will also improve the sector's capital strength, Moody's stated.
Note that, in 2015, IRDAI raised the ceiling on foreign ownership of Indian insurers to 49% from 26%, encouraging global players to buy holdings in local entities.
Besides, the government's launch of a new program in 2018 to provide health insurance for 100 million families is credit positive as it will help grow health premiums and provide insurers with cross-selling opportunities, it noted.
Now speaking of GDP growth, have a look at the latest data projecting the nominal GDP of countries by the year 2030.
India in the Pecking Order of Strongest Economies in Another Decade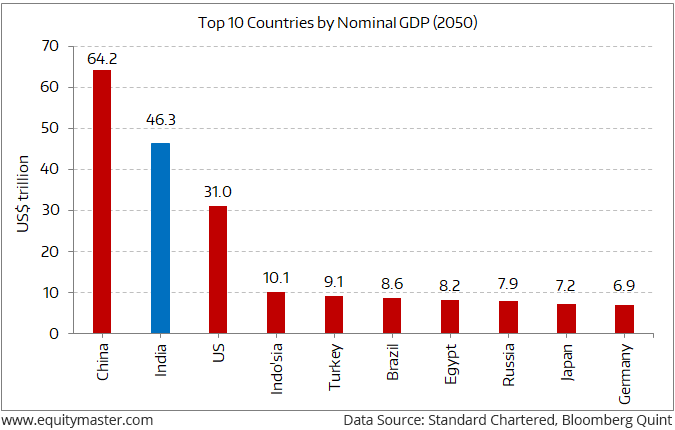 As you can see in the chart, China would be by far the strongest economy in another decade. In fact, its GDP could be more than double of America's.
But that India will be a close second.
With GDP crossing 40 trillion dollars, the Indian economy will be at least a third bigger than the US.
No doubt the 40 trillion-dollar GDP will not come without some hiccups.
But once you know the stocks that could gain the most in the coming decade, you too be saying - 'Buy Indian. I am'.
In another development, the Reserve Bank announced a Rs 100-billion bond buyback on Thursday, continuing with its commitment to provide adequate liquidity.
The central bank had earlier committed to purchase government securities under its open market operations for an aggregate Rs 500 billion in January and has so far done Rs 300 billion.
The latest OMO to be conducted Thursday has been decided based on an assessment of prevailing liquidity conditions and also of the durable liquidity needs going forward, the Reserve Bank stated.
The RBI will buyback five securities maturing between June 2019 and December 2033 through the purchase.
It can be noted that ever since August, the system is passing through a liquidity deficit which is being bridged by the central bank using various tools with OMOs being a primary instrument deployed.
OMOs are the tools which can be used to either inject or drain liquidity from the system.
It is employed to adjust rupee liquidity conditions in the market on a durable basis.
If there is excess liquidity, RBI resorts to sale of government securities and sucks out the rupee liquidity. Similarly, when the liquidity conditions are tight, it buys securities from the market, thereby releasing money into the market.
To know what's moving the Indian stock markets today, check out the most recent share market updates here.
For information on how to pick stocks that have the potential to deliver big returns,
Read the latest Market Commentary
Stock Market Updates
Feb 22, 2019 Closing
Indian share markets end the day on a flat note with the BSE Sensex down by 27 points, while the NSE Nifty closed up by 2 points.
Feb 22, 2019 03:55 PM
Here's a list of most active small-cap stocks today. It also includes information on BSE Smallcap index and the broader benchmark indices.
Feb 22, 2019 03:55 PM
Here's a list of 5 stocks that gained the most in the BSE Mid-Cap Index today. It also includes information on BSE Mid-Cap index and the broader benchmark indices.
Feb 22, 2019 03:32 PM
AIA ENGINEERING share price has surged by 5% and its current market price is Rs 1,730. The BSE CAPITAL GOODS is up by 0.3%. The top gainers in the BSE CAPITAL GOODS Index are AIA ENGINEERING (up 5.3%) and SUZLON ENERGY (up 34.8%). The top losers are LAKSHMI MACHINE and ABB INDIA LTD. (down 0.1%).
Feb 22, 2019 03:28 PM
FDC LTD. share price has surged by 5% and its current market price is Rs 157. The BSE HEALTHCARE is up by 0.6%. The top gainers in the BSE HEALTHCARE Index are FDC LTD. (up 5.0%) and BLISS GVS PHARMA (up 5.2%). The top losers are TORRENT PHARMA and FORTIS HEALTHCARE (down 0.2%).
Feb 22, 2019 03:18 PM
HOUSING DEV. INFRA share price has surged by 6% and its current market price is Rs 24. The BSE REALTY is up by 1.3%. The top gainers in the BSE REALTY Index is HOUSING DEV. INFRA (up 5.8%). The top losers is SOBHA LIMITED (down 0.3%).
View More Indian Share Market News
Most Popular
Feb 13, 2019
The real estate sector is ready to make a comeback. This is the stock to consider buying.
Feb 14, 2019
During this tough period in the market, a contrarian approach holds huge potential upside for this Smart Money Secrets stock.
Feb 14, 2019
Don't let the dark clouds hovering over small caps scare you into hiding; it will rain gold as sentiments recover. Indeed, there is a blood bath. And if you are a first time investor, the correction is deep enough to scare you out of markets.
Feb 12, 2019
Two questions I have been eagerly waiting to ask you ever since Budget 2019 was announced.
Feb 15, 2019
Why its great news that prices for small caps over the last few days have been falling like there's no tomorrow.
More