Indian Stock Market News January 23, 2021
Crucial Week Ahead for the Indian Stock Market
The market scaled new life-time highs this week but it was the bears who took control. The benchmark indices, Sensex and Nifty ended mostly flat for the week but the momentum was in favour of the bears.
For the last two weeks, we have seen the markets facing resistance at higher levels. The bulls have been showing signs of tiring. Momentum was low when the market was going up and high when the market went down.
I discuss this and a lot more in today's Momentum Moves.
Watch the video and share your thoughts in the comments section. I would love to hear from you.
The Week Ahead
Equities proved to be the best asset class in 2020. The market has started the year on a similar positive note..
For long-term investors, nothing has changed, and I believe they should continue to hold fundamentally strong stocks in their portfolios.
I have been interacting with many investors recently. One such investor is around 54 years old and investing in markets since 1995.
We discuss the markets every couple of weeks.
This week when I talked to him, his first question to me was "Should I trim my position and sit on cash?"
--- Advertisement ---
The Smallcap Fortunes Summit

Join us on the evening of 16th March to learn,

• Why despite rallying over 100% since March-2020 lows... small-cap stocks are set for a massive rally over the coming months and years
• Details of our top 3 stocks to capture potentially huge gains from this upcoming small-cap rally
• And how to spot opportunities, even in the current market, with potential to generate 200%, 400%, and even 900% long-term gains

Plus there is a lot more that we are going to cover.

The summit is free to attend for Equitymaster readers.

But since there are limited seats, we would recommend you to register at the earliest.

Click here to register. It's free
------------------------------
Well such questions can be in your mind too!
I simply shared a chart with him on Nifty and asked him, "Are you ready to take a hit of 5-7% in your portfolio?"
I had good reason to ask him this question.
If markets continue to rally till the budget or post budget, he might miss an opportunity.
I don't have an answer of how much higher the markets can go.
However, certainly trailing your portfolio in profits might be the best decision in the current scenario where Nifty has closed below the previous week's low since December 2020.
You might be wondering which chart I shared with him.
Please watch my Fast Profits Daily video to know more about this chart.
The bulls are in an exhausted position and the bears had an upper hand this week.
This can be witnessed by the volumes in the recent bearish moves. On the other hand, the bullish moves have happen on lower volumes.
We don't see any change in view for investors, but for traders, moves of even a couple of percent counts.
Nifty Futures Continuous Daily Chart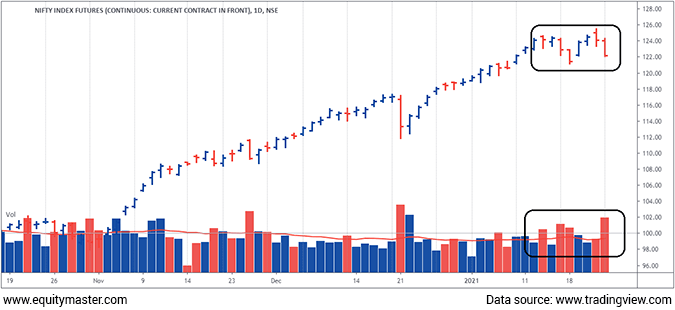 This is a daily chart of the Nifty. Every vertical line represents weekly data (Monday to Friday).
The volumes in the recent move has been consistently above the 20 days average for the bears for the first time since September 2020.
Watch Now: 3 Little-known Stocks We are Super Bullish On
If you look at the week-on-week moves since November 2020, when Nifty was around 11,500, the bulls fought like lions and continued to rule the market.
This is the first week were we had 3 bearish days against 2 for bulls.
If you're still unconvinced that bears are taking charge, look at this chart.
Divergence Between Nifty, Midcap, and Smallcap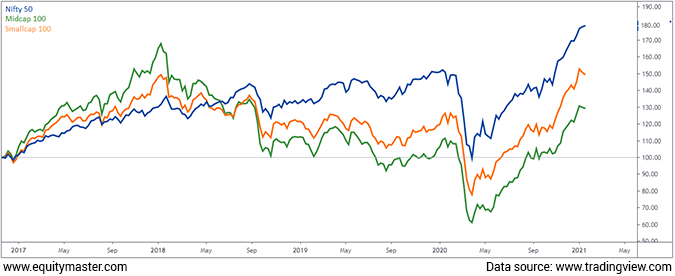 In the recent momentum where the benchmark indices Nifty 50 has hit new all-time high of 14,753.55, we haven't seen contribution from Midcap and Smallcap indices.
This is surprising.
The lack of overall contribution is a red flag in the recent momentum.
It's too early to say for sure but this may be the sign of distribution.
Till we don't get any contribution, there are two possibilities-we continue to see diversion in Nifty 50 against Midcap and Smallcap indices and second, the bears attack with tanks loaded and consecutively, we see a closing below the previous week low.
One chart you should keep watch on is the Dollar Index. We discussed this in last week's Momentum Moves.
Conclusion:
Dalal Street is celebrating the new all-time high, but I think this week's high can turn out to be fake or a trap for traders.
The medium-term or long-term trend continues to remain bullish till we don't get confirmation of distribution.
But the bulls need to protect the recent low of 14,222 while the bears need more strength to break that level.
With a truncated week and futures expiry, the long rolls number in large cap stocks will be in the spotlight for further momentum in February 2021.
Have a great weekend and I wish you a Happy Republic Day!
For information on how to pick stocks that have the potential to deliver big returns,
Read the latest Market Commentary
What else is happening in the markets today? Dig in...
Stock Market Updates
Mar 2, 2021 03:31 PM
GUJ. STATE PETRONET share price is trading up by 5% and its current market price is Rs 262. The BSE 500 is up by 1.4%. The top gainers in the BSE 500 Index are GUJ. STATE PETRONET (up 5.2%) and GSK CONSUMER (up 5.1%). The top losers are BAYER CROPSCIENCE and LAURUS LABS.
Mar 2, 2021 03:23 PM
GUJARAT PIPAVAV PORT share price is trading up by 12% and its current market price is Rs 114. The BSE REALTY is up by 0.8%. The top gainers in the BSE REALTY Index is GUJARAT PIPAVAV PORT (up 12.5%). The top losers are PRESTIGE ESTATES and PHOENIX MILL (down 0.2%).
Mar 2, 2021 03:23 PM
STRIDES PHARMA SCIENCE share price is trading up by 5% and its current market price is Rs 878. The BSE HEALTHCARE is up by 1.1%. The top gainers in the BSE HEALTHCARE Index is STRIDES PHARMA SCIENCE (up 5.1%). The top losers are AJANTA PHARMA (down 0.4%) and CAPLIN POINT (down 0.4%).
Mar 2, 2021 03:23 PM
JAGRAN PRAKASHAN share price is trading down by 7% and its current market price is Rs 63. The BSE 500 is up by 1.3%. The top gainers in the BSE 500 Index are SYMPHONY (up 20.0%) and SHIPPING CORP (up 20.0%). The top losers is JAGRAN PRAKASHAN (down 7.4%)..
Mar 2, 2021 03:15 PM
JK LAKSHMI CEMENT share price is trading up by 11% and its current market price is Rs 438. The BSE 500 is up by 1.0%. The top gainers in the BSE 500 Index are JK LAKSHMI CEMENT (up 11.0%) and TTK PRESTIGE (up 11.1%). The top losers are CROMPTON GREAVES CONSUMER ELEC. and RAYMOND .
Mar 2, 2021 12:30 pm
BSE Sensex is trading up by 209 points, while the NSE Nifty is trading up by 76 points.
View More Indian Share Market News
Most Popular
Feb 24, 2021
Last time the smallcap index crossed 19k a big correction followed. Here's what makes it different this time.
Feb 25, 2021
In this video, I'll show you how to get started on the path to daily trading profits.
Feb 19, 2021
In this episode, ace trader Brijesh Bhatia talks to us about the best investments of 2021, his profitable trading system, and much more.
Feb 23, 2021
An Indian company founded three decades ago in a garage caught my attention...
More