Indian Stock Market News January 25, 2018
Sensex Finishes in Red; Dr Reddy's Lab Falls on Weak Q3 Peformance
Indian share markets finished in red snapping a six-day record-setting rally on last session of January expiry in the derivatives segment. At the closing bell, the BSE Sensex closed lower by 111 points and the NSE Nifty finished lower by 16 points. The S&P BSE Mid Cap finished down by 0.8% while S&P BSE Small Cap finished down by 0.7%. Losses were largely seen in PSU stocks, realty stocks and auto stocks.
Asian stock markets finished broadly lower today with shares in Japan leading the region. The Nikkei 225 is down 1.13% while Hong Kong's Hang Seng is off 0.92% and China's Shanghai Composite is lower by 0.31%. European markets are mixed today. The CAC 40 is up 0.29% while the FTSE 100 gains 0.14%. The DAX is off 0.15%.
Rupee was trading at Rs 63.50 against the US$ in the afternoon session. Oil prices were trading at US$ 66.11 at the time of writing.
Dr Reddy's Lab share price fell 2.2% in today's trade after the company's quarterly net profit slumped nearly 40%to Rs 3.03 billion in the third quarter ended December 2017, below an average analyst estimate of Rs 3.4 billion. The company had reported a net profit of Rs 4.70 billion in the corresponding quarter of last year.
The company's net profit declined third consecutive quarter as pricing pressures in the US hit sales.
Revenue from the company's generics business in North America fell 3% to Rs 16.07 bilion. Revenue from its Europe generics business dropped 7% to Rs 2.01 billion due to pricing pressures and temporary disruptions in supply.
In another development, Biocon share price plunged 4.4% in today's trade after the company's consolidated net profit declined 46% to Rs 919 million in the quarter ended December 2017 as interest and depreciation costs relating to its Malaysia facility rose.
The company's net sales rose 1.3% to Rs1,057.9 crore during the quarter from a year earlier.
As per an article in The Livemint, Biocon's branded formulations business, which includes sales in India and the UAE, reported revenue of Rs 1.56 billion, an increase of 27% from a year earlier, while research services business, registered a growth of 17% to Rs 3.87 billion.
Just Released: Multibagger Stocks Guide
(2018 Edition)
In this report, we reveal four proven strategies to picking multibagger stocks.
Well over a million copies of this report have already been claimed over the years.
Go ahead, grab your copy today. It's Free.
NO-SPAM PLEDGE
- We will NEVER rent, sell, or give away your e-mail address to anyone for any reason. You can unsubscribe from The 5 Minute WrapUp with a few clicks. Please read our
Privacy Policy
&
Terms Of Use
.
Revenue of Biocon's small molecules business fell 9% from a year ago to Rs 3.69 billion. This business continues to face headwinds arising from pricing pressures and channel consolidation in the US but continued demand for immunosuppressants offset some of the pressure.
Moving on to news from steel sector. As per an article in The Economic Times, Japanese steelmaker JFE Holdings, and Sajjan Jindal's JSW Steel, are likely to put in a joint bid for bankrupt Bhushan Steel.
As per the reports, even Tatas and Arcelor Mittal may also seek to buy the company to benefit from an upswing in an industry overcoming four years of supply overhang.
Bhushan Steel faces Rs 558.68 billion in claims from financial creditors. Of this, the resolution professional has accepted only Rs 444.98 billion by way of claims. It also faces claims of Rs 14.36 billion from operational creditors.
Bhushan Steel is among the 12 entities for which RBI directed banks to refer the company to the bankruptcy court immediately.
Steel stocks finished the day on a weak note with Jindal Saw Ltd share price and Tayo Rolls share price leading the losses.
In news from the economy, the Finance Ministry has said that the additional expenditure of Rs 800 billion towards recapitalisation of public sector banks (PSBs) through bonds, as part of Rs 2.11 trillion capital support over two years, will not have an impact on fiscal deficit as they will be cash neutral.
Besides, Economic Affairs Secretary S C Garg has noted that these bonds will have 10-15-year tenure and will not have statutory liquidity ratio (SLR) status. Garg has stated that there is no fiscal impact of bond issuance to banks. He also said that these will be swap deals and cash neutral, and there is not going to be a public issue.
He also pointed out that the additional expenditure of Rs 800 billion towards bank recapitalisation through issue of government securities will be matched by additional receipts on issues of securities to the banks and will not entail any cash outgo.
India Runs a High Government Deficit Among G-20 Countries
India's government deficit to GDP ratio is higher than most G-20 countries. Therefore, any attempts of relaxing fiscal consolidation to spur demand must be weighed carefully.
India's government revenues accounted for 21.4% of GDP in 2016. This is much less than the average of 36.4% in developed countries. But the comparison is deceptive considering India's per capita GDP of US$6,658. Per capita GDP in the UK and US was US$42,513 and US$57,293 respectively in 2016. In other words, tax earnings in an emerging economy like India have a lot of catching up to do.
And here's a note from Profit Hunter
Today, the Indian stock markets ended its January futures and options (F&O) expiry. Let's have a look at how the Nifty 50 Index performed during the expiry.
It was remarkable expiry for the Indian indices. Except for the initial two days, the bears did not stand a chance. The Nifty rallied one way from the low of 10,405 to cross another landmark figure of 11,000. It tough a life-time high of 11,110 in the last week of the expiry. The index finally ended the January series with a solid 5.65% gains.
Last expiry, we mentioned that the index has broken above its important resistance level of 10,500. This indicated strength in the price action. Our derivative and rollover analysis in Profit Hunter Pro newsletter (subscription required) also suggested positive outlook for the Indian market in the January expiry. As a result, the index rallied nearly 6% to touch a life-time high of 11,110.
But the index rally in the January expiry was quite steep. The RSI indicator is also in its extreme overbought territory. So can we expect a correction in the February expiry or will the index keep going up?
The derivative and rollover data can give us some clue about this. Look out for the detailed analysis on the derivatives data in Monday's Profit Hunter Pro newsletter (subscription required).
Nifty 50 Index Ends January Expiry 6% Up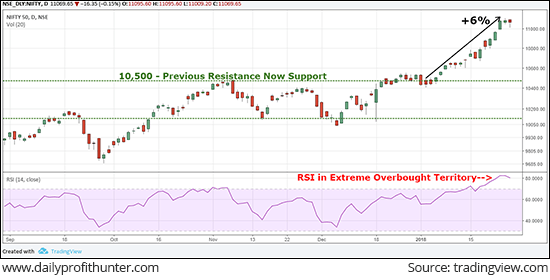 For information on how to pick stocks that have the potential to deliver big returns,
Read the latest Market Commentary
Stock Market Updates
Dec 14, 2018 03:53 PM
Here's a list of most active small-cap stocks today. It also includes information on BSE Smallcap index and the broader benchmark indices.
Dec 14, 2018 03:52 PM
Here's a list of 5 stocks that gained the most in the BSE Mid-Cap Index today. It also includes information on BSE Mid-Cap index and the broader benchmark indices.
Dec 14, 2018 03:33 PM
SYNGENE INTERNATIONAL share price has surged by 5% and its current market price is Rs 582. The BSE HEALTHCARE is down by 0.8%. The top gainers in the BSE HEALTHCARE Index is SYNGENE INTERNATIONAL (up 5.4%). The top losers are LUPIN LTD (down 0.1%) and IPCA LABS (down 0.2%).
Dec 14, 2018 02:33 PM
VARUN BEVERAGES LTD share price has plunged by 6% and its current market price is Rs 734. The BSE 500 is down by 0.1%. The top gainers in the BSE 500 Index are RELIANCE NAVAL & ENGINEERING LTD (up 14.0%) and GUJARAT GAS LTD (up 5.4%). The top losers are VARUN BEVERAGES LTD (down 5.6%) and FORTIS HEALTHCARE (down 7.7%).
Dec 14, 2018 12:30 pm
The BSE Sensex is trading up by 35 points, while the NSE Nifty is trading up by 5 points.
Dec 14, 2018 12:43 PM
COLGATE share price has hit an all time high at Rs 1,327 (up 1.3%). The BSE FMCG Index is up by 0.3%. Among the top gainers in the BSE FMCG Index today are COLGATE (up 1.3%) and NESTLE (up 0.4%). The top losers include MARICO LTD and P&G HYGIENE (down 0.1%).
View More Indian Share Market News
Most Popular
Dec 3, 2018
Indian small cap space is offering a discount season. Make sure you do not get too late to scoop up the bargains.
Dec 6, 2018
My latest StockSelect recommendation ticks all the boxes of a great safe stock.
Dec 5, 2018
Credit disbursement to the productive sectors of the economy such as infrastructure, engineering, food processing, textiles, and chemicals, among others is rising.
Dec 3, 2018
After months of heavy FII selling, November witnessed a return on foreign money into Indian equities...
Dec 5, 2018
PersonalFN explains the probable reason as to why the capital market regulator has initiated DSP Mutual Fund's bond sale that caused DHFL stock to crash.
More