Sensex Today Gains 400 Points | Adani Group Stocks See Further Selloff | Titan Rallies 5%, Adani Enterprises Cracks 35%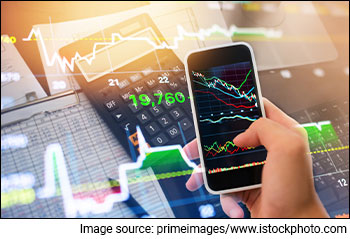 Asian share markets are higher today in cautious trading after disappointing earnings from some big-tech names weighed on sentiment following a surge in US equities.
The Nikkei is trading 0.3% higher while the Hang Seng is trading lower by 1.8%. The Shanghai Composite is down by 1.3%.
The Nasdaq and S&P 500 ended higher on Thursday and touched five-month highs as a more dovish-than-expected message from Federal Reserve Chair Jerome Powell boosted equities and Meta Platforms shares soared on rigorous cost controls.
The Dow Jones ended 0.1% lower while the tech heavy Nasdaq Composite ended higher by 3.3%.
Here's a table showing how US stocks performed yesterday:
| Stock/Index | LTP | Change ($) | Change (%) | Day High | Day Low | 52-Week High | 52-Week Low |
| --- | --- | --- | --- | --- | --- | --- | --- |
| Alphabet | 108.8 | 7.37 | 7.27% | 108.82 | 106.54 | 152.1 | 83.45 |
| Apple | 150.82 | 5.39 | 3.71% | 151.18 | 148.17 | 179.61 | 124.17 |
| Meta | 188.77 | 35.65 | 23.28% | 197.16 | 180.16 | 248 | 88.09 |
| Tesla | 188.27 | 6.86 | 3.78% | 196.75 | 182.61 | 384.29 | 101.81 |
| Netflix | 366.89 | 4.9 | 1.35% | 368.32 | 358.43 | 429.26 | 162.71 |
| Amazon | 112.91 | 7.76 | 7.38% | 114 | 108.88 | 170.83 | 81.43 |
| Microsoft | 264.6 | 11.85 | 4.69% | 264.69 | 257.25 | 315.95 | 213.43 |
| Dow Jones | 34,053.94 | -39.02 | -0.11% | 34,145.14 | 33,814.78 | 35,824.28 | 28,660.94 |
| Nasdaq | 12,803.14 | 440.04 | 3.56% | 12,880.98 | 12,600.76 | 15,265.42 | 10,440.64 |
Data source: Equitymaster
Back home, Indian share markets are trading on a positive note tracking the trend on SGX Nifty.
All Adani group stocks have once again started on a negative note with Adani Transmission and Adani Green Energy falling 10% each.
--- Advertisement ---
Revealed a Potential 33x Opportunity by 2030

We just concluded our special event on defence.

It was a huge success. Thousands of Indians signed-up to attend it LIVE.

You too had signed up for this event.

But for some reason you couldn't make it to the event.

Well, don't worry.

We just released a special replay of the event.

So now you can get all the information about this potential 33x opportunity that Tanushree revealed today at the event...
*1 out of these 3 stocks have already run up. Act fast or you might completely miss out on this big opportunity.

Including details of 3 next-generation stocks to ride this mega opportunity.

Watch Now
------------------------------
Meanwhile, the biggest loser is Adani Enterprises, which crashed 25% after it was removed from the Dow Jones Sustainability index.
More concerns keep adding up for the Adani group and it appears this will keep the markets busy for a long time to come...
At present, the BSE Sensex is trading higher by 438 points. Meanwhile, the NSE Nifty is trading higher by 68 points.
Titan, IndusInd Bank, and Bajaj Twins are among the top gainers today.
Tata Steel, NTPC, and Reliance Industries are among the top losers today.
Broader markets are trading on a negative note. The BSE Mid Cap index is trading lower by 0.9%, while the BSE Small Cap index is down 0.5%.
Sectoral indices are trading on a mixed note. Stocks in the banking sector, and finance sector witness buying.
Meanwhile stocks in the oil and gas sector, power sector and metal sector witness selling.
Shares of Britannia and Blue Star hit their 52 week high today.
The rupee is trading at Rs 82.18 against the US dollar.
In the commodity markets, gold prices trade lower by Rs 314 at Rs 57,800 per 10 grams.
Meanwhile, silver prices are trading higher by 0.2% Rs 70,336 per 1 kg.
Speaking of stock markets, SBI has been caught up in the recent market volatility due to the Adani-Hindenburg saga.
There are contradictory views on the stock. Some say the stock is a great buy. Others warn of the dangers from a possible fallout from the Adani group.
But what do the charts say?
In the below video, chartist Brijesh Bhatia discusses what he thinks about trading SBI based on the latest technical chart patterns.
Tune in to the video to know more.
More dark clouds for Adani Enterprises
After inclusion of three of the best Adani group stocks(Adani Enterprises, Adani Ports and Ambuja Cements) in additional surveillance measure list for short term, Adani Enterprises shares have received another jolt from the US markets.
Adani Enterprises shares are now facing removal from the Dow Jones Sustainability Indices, effective prior to open on Tuesday, 7 February 2023. The information has been made in index announcement by the US markets.
Announcing about removal of Adani Enterprises shares from the S&P Dow Jones Sustainability Indices, the Index announcement said,
"Adani Enterprises (XBOM: 512599) will be removed from the Dow Jones Sustainability Indices following a Media & Stakeholder Analysis triggered by allegations of stock manipulation and accounting fraud."
Speaking of Adani group, take a look at the technical chart below which shows the Adani marketcap index.
Adani Marketcap Index Weekly Chart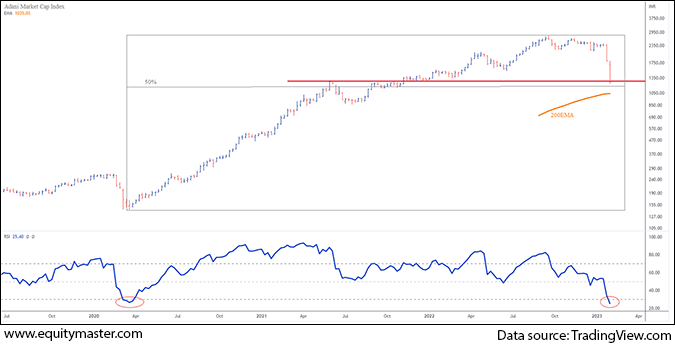 The Adani Marketcap weekly chart above is created using the stocks of the Adani group listed on the National Stock Exchange (NSE) as per the closing of 1 February 2023.
We haven't considered Adani Wilmar (AWL) while creating the index because it was a recent listing, and we didn't have enough data to analyse it.
To know what the charts suggest for Adani Enterprises and other Adani stocks, read our editorial on: Adani Group Stocks: Beginning of the End?
Tata Consumer Q3 results
Tata Consumer Products on Thursday reported a 25.6% rise in consolidated net profit to Rs 3.6 bn (about Rs 364.43 crore) for the December 2022 quarter. This is against a net profit of Rs 2.9 bn in the year-ago period.
The consolidated revenue of Tata Consumer Products major grew by 8.3% to Rs 34.7 bn in the quarter under review from Rs 32.1 bn a year ago.
Consolidated earnings before interest, tax, depreciation and amortisation (EBITDA) for the quarter declined by 2% to Rs 4.6 bn.
For the quarter, revenue from operations increased by 8% as compared to corresponding quarter of the previous year, mainly driven by underlying growth of 8% in India Business, 2% in international business and 22% in non-branded Business.
Did you know that Tata Consumer is one of the Top 5 FMCG companies in India by growth?
Speaking of top FMCG companies in India, Dabur India also declared its quarterly results.
Dabur India Q3 results
FMCG major Dabur India on Thursday reported a 5.5% decline in consolidated net profit to Rs 4.8 bn for the December 2022 quarter. This is against a net profit of Rs 5 bn in the year-ago period.
The consolidated revenue of Dabur grew by 3.4% to Rs 30.4 bn in the quarter under review from Rs 29.4 bn a year ago.
EBITDA fell 2.7% to Rs 6.2 bn. Its consolidated revenue posted a constant currency growth of 5.7%.
Berger Paints Q3 results
Berger Paints on 2 February reported a consolidated net profit of Rs 2 bn for the third quarter ended 31 December 2022, down 20.5% from Rs 2.5 bn registered in the year-ago period.
Revenue from operations came in at Rs 26.9 bn, up 5.6% against from Rs 25.5 bn logged in the corresponding period of the last financial year.
On a standalone basis, the net profit stood at Rs. 2.1 bn as against Rs 2.2 bn in the corresponding quarter of the previous financial year, representing a decline of 6%. Revenue from operations increased 7.2% to Rs 24.2 bn during the quarter under review.
EBITDA (excluding other Income) for the September-December period was at Rs 3.5 bn, representing a drop of 10.8% from Rs 3.9 bn in the same quarter last year. At the same time, its margin also fell to 13% from 15.4% year-on-year.
To know what's moving the Indian stock markets today, check out the most recent share market updates here.
For information on how to pick stocks that have the potential to deliver big returns,
Read the latest Market Commentary