Indian Stock Market News February 4, 2019
Sensex Ends Day in Green, Takeaways from Interim Budget, and Top Stocks in Action
On Monday, share markets in India opened on a positive note and ended the day in green after an volatile day of trading.
The BSE Sensex closed higher by 213 points to end the day at 36,469. While the broader NSE Nifty ended up by 63 points, to end the day at 10,894 points.
Among BSE sectoral indices, auto stocks rose the most by 2.7%, followed by realty stocks at 1.3%. Hero Moto Corp and Maruti Suzuki were among the top gainers.
Top Stocks in Action Today
Jet Airways price will be in focus amid reports that the Naresh Goyal-controlled airline has agreed with most of the conditions set by its partner Etihad for offering a lifeline to the debt-laden domestic carrier.
As per the news, the stake of Naresh Goyal may fall below 20% from 51% post the fresh share issuance, while that of Etihad may go above 40% from 24% as it infuses money equity.
Hero MotoCorp share price is likely to be in focus today as the company has reported a 4.5% fall in its net profit in Q3FY19.
Profit declined to Rs 7.7 billion compared with Rs 8.1 billion in the corresponding period a year ago.
Revenue from operations climbed 7.5% to Rs 78.6 billion. The company sold 1.8 million two-wheelers last quarter, an increase of around 5% over 1.7 million units sold in the year ago period.
Takeaways from the Interim Budget 2019
Presenting the budget, Finance Minister Piyush Goyal on Friday said that the NDA government has removed the 'policy paralysis' plaguing the country.
He said India is back on track and the country is heading towards growth a prosperity.
From announcing full tax rebate on annual income upto Rs 5 lakh to announcing various benefits for farm sector, the budget was geared towards populism.
Here are the key highlights Finance Minister Piyush Goyal announced in interim Budget 2019.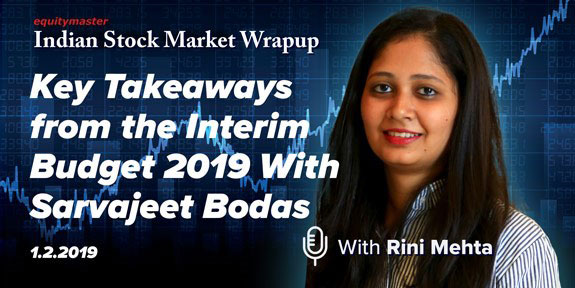 In regard to agriculture, the government announced assured income of Rs 6,000 per year for small and marginal farmers. The government is to allocate Rs 750 billion for the scheme.
For the rural sector, it announced budgetary allocation of Rs 190 billion for construction of rural roads under Gram Sadak yojana in the year 2019-20. The government will be allocating Rs 600 billion for a MNREGA scheme.
For the rail sector, the government has set railway capex for FY20 at record Rs 1.6 lakh crore.
For defence sector, the government increased defence budget to over Rs 3 lakh crore and said that it will provide additional funds for defence, if needed. It also disbursed Rs 350 billion under OROP scheme in the last few years.
On the employment front, the government announced new social security coverage scheme for unorganised sector workers. It also assured monthly pension of Rs 3,000 rupees per month, with contribution of 100 rupees per month, for workers in unorganized sector after 60 years of age. There was also a scheme announced to benefit 10 crore workers in unorganized sector, which, the government claimed, may become the world's biggest pension scheme for unorganized sector in five years.
Regarding taxation, the government raised income tax exemption limit to Rs 500,000. It also announced the benefit of rollover of capital tax gains which is increased from one residential house to two houses which is for capital gains up to Rs 20 million and can be exercised once in a lifetime. It also announced that Income Tax returns will be processed within 24 hours and returns will be paid immediately in next 2 years.
Speaking of the economy at whole, Finance Minister said that average monthly tax collection stood at Rs 971 billion per month so far this year. Gross market borrowing was seen at Rs 7.04 lakh crore in FY20.
Fiscal deficit for FY19 is seen at 3.4% of gross domestic product (GDP) and that for FY20 and FY21 is estimated at 3.4% of GDP and 3% of GDP, respectively.
Indian stock markets took cues from the above announcements and went on to trade on a strong note throughout the budget day.
But what does this Budget mean for the Indian stock markets from a long-term point of view?
Tanushree Banerjee answers this in Friday's edition of The 5 Minute WrapUp, Here's a snippet of what she wrote...
From the market's point of view, this was as good as it gets. There was no major disruptive announcement. The minor slip up in the fiscal deficit target was largely expected and the market brushed it aside.

The market will probably now take cues from global markets which are rallying after the US Fed's dovish stance on interest rates.

All things considered, the short-term looks good for the market.

That said, I strongly believe this Budget should not be the yardstick by which you chart your investment portfolio.

What matters are the big long-term trends that will greatly support India's growth story.

These trends will go a long way in powering the Sensex to 100,000.

I was not surprised the Finance Minister spoke about some of the 50 irreversible trends I've identified - road construction, tourism, Jan Dhan, Aadhar, RERA, startups, increased tax collections...and more.
So, it is not short-term events like the Budget that will decide India's future. Rather the 50 irreversible trends will drive a historic transformation that what Tanushree calls the Rebirth of India.
For information on how to pick stocks that have the potential to deliver big returns,
Read the latest Market Commentary
Stock Market Updates
Aug 20, 2019 04:39 PM
Here's a list of 5 stocks that gained the most in the BSE Mid-Cap Index today. It also includes information on BSE Mid-Cap index and the broader benchmark indices.
Aug 20, 2019 03:34 PM
PARAG MILK FOODS LTD share price has plunged by 5% and its current market price is Rs 169. The BSE 500 is down by 0.3%. The top gainers in the BSE 500 Index are MAHANAGAR GAS (up 7.8%) and JAGRAN PRAKASHAN (up 5.2%). The top losers are PARAG MILK FOODS LTD (down 5.3%) and EDELWEISS FINANCIAL (down 8.8%).
Aug 20, 2019 03:32 PM
NIIT TECHNOLOGIES share price has surged by 5% and its current market price is Rs 1,397. The BSE IT is up by 1.4%. The top gainers in the BSE IT Index are NIIT TECHNOLOGIES (up 5.3%) and PERSISTENT SYSTEMS (up 5.4%). The top losers are FIRSTSOURCE SOL. (down 0.1%) and TECH MAHINDRA (down 0.2%).
Aug 20, 2019 03:24 PM
MRPL share price has plunged by 5% and its current market price is Rs 51. The BSE OIL & GAS is down by 0.9%. The top gainers in the BSE OIL & GAS Index are CASTROL INDIA (up 0.8%) and INDRAPRASTHA GAS (up 0.4%). The top losers is MRPL (down 5.2%).
Aug 20, 2019 02:14 PM
ISGEC HEAVY ENG. share price has surged by 5% and its current market price is Rs 345. The BSE CAPITAL GOODS is down by 0.5%. The top gainers in the BSE CAPITAL GOODS Index is ISGEC HEAVY ENG. (up 5.4%). The top losers are SADBHAV ENGINEERING (down 0.3%) and LAKSHMI MACHINE (down 0.3%).
Aug 20, 2019 12:30 pm
Indian share markets are trading marginally lower with the BSE Sensex down by 139 points while NSE Nifty is trading lower by 57 points.
View More Indian Share Market News
Most Popular
Aug 7, 2019
As markets continue to rattle amid earning season, upcoming elections, volatile crude price and US China trade war, it's a great idea to add some stability to your portfolio by adding dividend stocks.
Aug 8, 2019
This debt-free, well-managed company is all set to soar.
Aug 12, 2019
My experience at the recent AGM of this smallcap company which has financials of any FMCG major.
Aug 9, 2019
Here's why the relentless correction in the Indian stock markets has not unnerved the big investors.
Aug 12, 2019
Only These Smallcaps Will Give Historic Returns in the Future.
More