Indian Stock Market News February 10, 2017
Dull End to the Week, SAIL Dips 6% on Weak Q3 Results
Share markets in India continued to trade near the dotted line in the afternoon session as investors remained wary ahead of key industrial production (IIP) economic data for December to be released later today.
At the closing bell, the BSE Sensex stood higher by 5 points, while the NSE Nifty finished up by 15 points. Meanwhile, the S&P BSE Mid Cap finished down by 0.3% & the S&P BSE Small Cap finished up by 0.1%. Gains were largely seen in IT and capital goods sector. Meanwhile, pharma stocks and energy stocks lead the losses.
Asian markets finished broadly higher today with shares in Japan leading the region. The Nikkei 225 is up 2.49% while China's Shanghai Composite is up 0.42% and Hong Kong's Hang Seng is up 0.21%. European markets are higher today with shares in London leading the region. The FTSE 100 is up 0.27% while Germany's DAX is up 0.25% and France's CAC 40 is up 0.17%.
The rupee was trading at Rs 66.83 against the US$ in the afternoon session. Oil prices were trading at US$ 53.50 at the time of writing.
Steel Authority of India (SAIL) share price plunged 6% in today's trade after the company reported a net loss of Rs 7.94 billion for the quarter ended December 31, 2016, as compared to a net loss of Rs 14.81 billion for the same quarter in the previous year.
However, total income of the company increased by 21.64% at Rs 126.88 billion for the quarter under review as compared Rs 101.76 billion for the corresponding quarter previous year.
Rating agency ICRA in its report stated that imposition of anti-dumping duty, along with safeguard duty and minimum import price (MIP) have resulted in a 37% year-on-year de-growth in India's steel imports during April-December (2016-17), after rising steeply by 26% in 2015-16.
India's Steel Imports- Top 5 Sources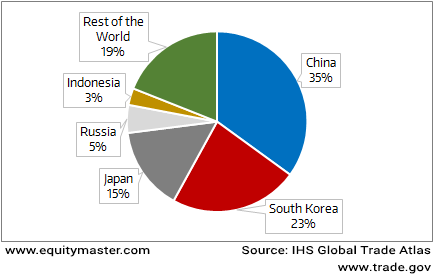 The decline in steel imports has coincided with a strong growth in steel exports by domestic mills, supported by an improvement in the pricing scenario in international markets. This has helped bridge the gap between India's steel imports and exports to just 0.52 million tonne during April-December of 2016-17 as against a much wider 7.64 million tonne during 2015-16.
In another development, Tata Steel share price surged 1.7% in today's trade after the company's subsidiary, Tata Steel UK, signed a definitive sale agreement to sell its Specialty Steels business to Liberty House Group for a total consideration of 100 million pounds.
Steel stocks finished the day on a negative note with SAIL and Bhushan Steel leading the losses.
Moving on to news from stocks in fertilizer sector. According to a leading financial daily, Tata Chemicals has received its board's approval to invest Rs 5.65 billion to set up two facilities in Andhra Pradesh and Gujarat.
Out of total investment, the Board approved an investment of Rs 2.7 billion for setting up of a state-of-the-art, biotechnology unit in Nellore district, Andhra Pradesh for manufacturing of soluble dietary fibres with cutting-edge health benefits. The company had signed a MoU on January 27 with Andhra Pradesh government in this regard.
Furthermore, the board has also approved an investment of Rs 2.95 billion for setting up of a plant to manufacture precipitated highly dispersible silica in Gujarat. This specialty chemical represents downstream value addition to the company's soda ash business.
The technology for manufacturing highly dispersible silica has been developed in-house at its innovation centre in Pune and seven patents have already been filed. Precipitated silica is a versatile product with applications in many industries including rubber, coatings, pesticides and oral care.
Tata chemicals share price finished the day down by 0.3% on the BSE.
Along with keeping an eye on valuations, it's also important that you have a process in place. Many of you have already tasted the fruits of one of Rahul Shah's processes with his Microcap Millionaires service.
At the Equitymaster Conference 2017, Rahul asked attendees to mark 10 February, 2017, on their calendars. Why? Because he announced that he will send out his first Profit Velocity report to subscribers.
Profit Velocity is a system-based strategy.
With Profit Velocity, Rahul has created a system to help subscribers potentially fetch gains several times those of the benchmark index. Our Founder Member opportunity, which closes at midnight today, offers a whopping 60% discount on the usual membership fees. So don't miss out. Act now.
And here's a note from Profit Hunter:
The entire metal sector has risen sharply since February 2016 - the Nifty Metal index is up 105%. The Steel Authority of India (SAIL) Ltd. was no exception.
SAIL, although the weakest amongst its peers, generated over 60% returns from February 2016 lows.
Yesterday, SAIL announced its quarterly results after market hours and today the stock is down more than 6%. This fall may have surprised others, but we aren't. Here's why...
The stock was trading near its resistance level of 66. This level has proved to be an important level for the stock in the past. The level acted as a support several times in 2014 and 2015. And now the same level is acting as a resistance. The falling trend line also provided resistance near the 66 level, as the below chart shows.
The combination of resistances suggested going up was difficult from these levels. Of course, there are other factors at play, but unless we see a sustained close above this resistance level, bulls are going to have a tough time.
SAIL encountered a Strong Resistance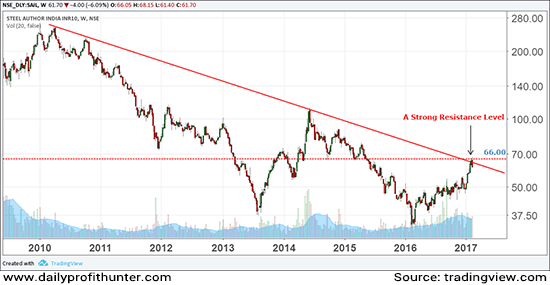 For information on how to pick stocks that have the potential to deliver big returns,
Read the latest Market Commentary