Indian Stock Market News February 14, 2017
Sensex Ends Marginally Lower; Hindustan Petroleum Tanks 6%
Indian share markets continued to trade range bound in the afternoon session amid mixed global cues. At the closing bell, the BSE Sensex closed lower by 12 points, whereas the NSE Nifty finished lower by 13 points. The S&P BSE Midcap finished down by 0.5%, while the S&P BSE Small Cap finished down by 0.6%. Losses were largely seen in auto and metal stocks.
Hindustan Petroleum Corporation Limited (HPCL) share price plunged 6% in today's trade despite reporting 53% rise in its net profit for the October-December 2016 quarter. For the December 2016 ended quarter, HPCL's net profit was at Rs 15.9 billion, 53% higher from Rs 10.41 billion. Total income for the quarter under review was at Rs 558.28 billion, 15% higher from Rs 485.26 billion.
Asian markets finished mixed as of the most recent closing prices. The Shanghai Composite gained 0.03%, while the Nikkei 225 led the losses and was down 1.1%. the Hang Seng was marginally lower today. Meanwhile, European markets are trading flat.
The rupee was trading at Rs 66.95 against the US$ in the afternoon session. Oil prices were trading at US$ 53.32 at the time of writing.
Just Released: Multibagger Stocks Guide
(2017 Edition)
In this report, we reveal four proven strategies to picking multibagger stocks.
Well over a million copies of this report have already been claimed over the years.
Go ahead, grab your copy today. It's Free.
NO-SPAM PLEDGE
- We will NEVER rent, sell, or give away your e-mail address to anyone for any reason. You can unsubscribe from The 5 Minute WrapUp with a few clicks. Please read our
Privacy Policy
&
Terms Of Use
.
According to a leading financial daily, India's wholesale price inflation (WPI), surged to its highest level since July 2014 in the month of January, on the back of faster increase in cost of manufactured product and a surge in cost of petrol even as food and vegetable prices contracted during the month. As per the data of Ministry of Commerce & Industry, the annual rate of inflation, based on monthly WPI, stood at 5.25% for the month of January, 2017, as compared to 3.39% for the previous month and negative 1.07% during the corresponding month of the previous year.
Build up inflation rate in the financial year so far was 5.31% compared to a buildup rate of negative 0.4% in the corresponding period of the previous year. Meanwhile, for the month of November 2016, the final WPI index was revised upward to 3.38 % from 3.15%.
Among primary articles, the index for 'Non-Food Articles' group jumped 2.5% to 231.3 from 225.6 for the previous month and the index for Minerals' group was up by 1.0% to 215.5 from 213.3 for the previous month, while the index for 'Food Articles' group declined by 1.1% to 267.2 from 270.1 for the previous month.
Fuel & Power index having weight of 14.91% rose by 4.7% to 201.2 from 192.1 for the previous month due to higher price of coking coal.
Can Inflation Come Back to Haunt the Economy?
Manufactured Products index having weight of 64.97% increased by 0.5% to 158.8 from 158.0 for the previous month. Among the items in the group, the index for 'Basic Metals, Alloys & Metal Products' group surged 2.3% to 161.2 from 157.6 for the previous.
Moving on to news from stocks in mining sector. According to an article in The Economic Times, Coal India is contemplating a major diversification as it plans to produce oil and gas from its coal in a big way as growth from its core activity is declining. It also plans to enter commercial production of coal bed methane and expand presence in thermal & solar power generation.
The proposals are to be placed before the company board soon. While Coal India is yet to take up coal to oil and coal gasification, it has already tested the waters in thermal and solar power generation and coal bed methane.
This comes at a time when the government plans to divest up to 10% in Coal India by August. If the government divests 10% of its shares, it is likely to help the Centre raise around Rs 200 billion and will allow Coal India to conform to holding norms in which a public listed company needs to have at least 25% shares listed on stock exchanges.
Coal is still fundamental to India's energy mix, but it's under growing threat from the plummeting cost of renewables. Coal India's financial performance in the December 2016 quarter was weak when compared with that in the corresponding quarter of the previous year. In the December 2016 quarter, sales volume rose by 4% year-on-year and by 23% compared with the previous quarter.
Coal India share price finished the day down by 0.3%.
And here's a note from Profit Hunter:
Being the best stock in the best sector can generate exceptional returns, obviously. In fact, in a recent note we talked about Hindustan Petroleum (HPCL) as being a shining example of that. Till date, HPCL is the best performer among its peers.
Today, however, we will review this stock because it closed down by 6% just after it announced its third quarter results.
Events like quarterly results can cause short-term volatility in a stock. But when you keep the big picture in mind, you see that this is not the first time the stock has fallen on result day. During Q2FY17 results, the stock made an intraday low of 10%, and during Q1FY17 results, the stock fell by 2%. But these were only temporary dips. Afterwards, the stock went on to outperform its peers as well as the market by a huge margin. You can see this in the chart below.
After today's Q3FY17 results the stock tanked but the momentum in the last few days remained positive. Let's see if the stock continues to outperform or the results will impact it adversely.
HPCL a True Outperformer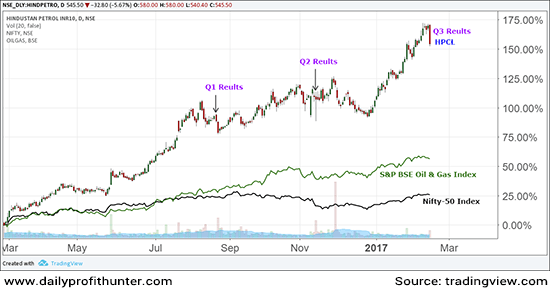 For information on how to pick stocks that have the potential to deliver big returns,
Read the latest Market Commentary