Indian Stock Market News February 17, 2017
Sensex Opens Strong; HDFC Bank Zooms 8%
Asian equity markets are under pressure today as Chinese and Hong Kong indices opened lower. The Shanghai Composite is off 0.30% while the Hang Seng is down 0.44%. The Nikkei 225 is trading down by 0.57%. Share markets in the US & Europe ended their previous session on a weak note.
Meanwhile, share markets in India have opened the trading day firm. The BSE Sensex is trading higher by 262 points while the NSE Nifty is trading higher by 67 points. The BSE Mid Cap index and BSE Small Cap index both have opened the day up by 0.3% & 0.4% respectively.
Sectoral indices have opened the day on a mixed note with information technology stocks and capital goods stocks witnessing selling pressure. While, banking stocks and healthcare stocks are among the top gainers on the BSE. The rupee is trading at 66.95 to the US$.
HDFC Bank share price surged 8% in opening trade after it was reported that Reserve Bank of India removed restrictions placed on foreign institutional investors on the purchase of shares of the lender with immediate effect.
RBI in notification stated that the aggregate foreign shareholding through American Depository Receipts (ADR)/Global Depository Receipts (GDR)/ Foreign institutional Investors (FIIs)/Foreign Portfolio Investors (FPIs)/ Foreign Direct Investment (FDI)/Non-Resident Indians (NRIs)/ Persons of Indian Origin (PIOs) in M/s HDFC Bank Ltd. have gone below the prescribed limit stipulated under the extant FDI Policy.
Hence the restrictions placed on the purchase of shares of the above company are withdrawn with immediate effect. Foreign ownership in private banks is restricted to 74 per cent, a limit which is periodically reviewed by the Reserve Bank.
Housing Development Finance Corporation share price too surged and was trading up by 1.6% in early trade.
Pharma stocks have opened the day on a positive note with Elder Pharma and Cadila Healthcare being the most active stocks in this space. Cadila Healthcare share price staged a swift rally (surging 3.6%) after it was reported that its manufacturing facility in Moraiya, Gujarat was inspected by the US Food & Drug Administration (USFDA).
Claim This Report Now. Hurry!
In this report, we reveal an easy-to-implement four step process that could boost your trading profits.
If you act right now, you can download it FREE.
Go ahead, grab your copy today. This is a limited period opportunity
As soon as you confirm, we will also sign you up for our free newsletter,
Profit Hunter
, which offers regular opinions on how to become a star trader.
Please read our
Terms Of Use
.
Reportedly, USFDA inspected company's Moraiya facility from 6 February 2017 to 15 February 2017. At the end of the inspection no observation (483) was issued. An FDA Form 483 is issued to firm management after an inspection when an investigator(s) has observed any conditions that in their judgement may constitute violations of the Food Drug and Cosmetic (FD&C) Act and related Acts.
In the meanwhile, Dr Reddy's Laboratories has received an unfavourable ruling in the US court regarding a patent infringement case over anti-nausea injection Aloxi.
According to reports, New Jersey-based Medicines Co. has filed a suit in a US court alleging Dr. Reddy's is infringing upon its patent to make the generic version of bivalirudin. The drug used as an anticoagulant in angioplasty procedures.
Notably, Aloxi accounts for sales of around US$ 600-650 million in the US. To be sure Dr Reddy's received an approval for generic Aloxi from the USFDA in March 2016, after it settled patent litigations relating to its anti-nausea injection Aloxi.
Innovators in the pharmaceutical industry make use of patents largely. They make heavy use of patents whenever they create a new drug. In one of our recent editions of The Equitymaster Digest, we have spoken everything that you need to know about patented drugs, its advantages and its implications. Here's a snippet:
"That's how the innovators in the pharmaceutical industry work. They make heavy use of patents whenever they create a new drug. The patent allows them to recoup the high capital expenditure that goes into the research and development (R&D) of new drugs. Companies that have a patent on a particular product are immune from competition for the duration of the patent."
However, the settlement will allow Dr Reddy's to market the generic version of Aloxi in the US, the reports noted. In one of our editions of The 5 Minute WrapUp, we wrote about the USFDA crackdowns faced by the Indian Pharma in the recent times and how they have been constantly investing towards R&D. We believe pharma companies that are upgrading and keeping facilities compliant, and have niche product pipelines in place will see sustained revenue growth going forward.
Dr Reddy's Outperforms BSE-Healthcare Index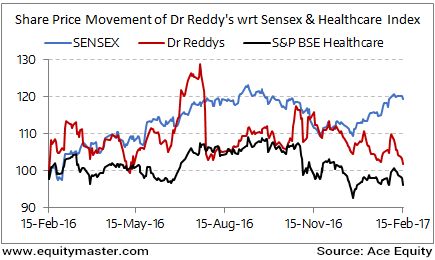 Dr Reddy's Lab share price opened the day down by 0.4%.
Moving on to the news from automobile stocks. As per an article in a leading financial daily, Tata Motors and Microsoft India have entered into a partnership for the latter's Connected Vehicle Platform. The partnership will work on solutions for inter-connectivity in cars, autonomous vehicle technology and other services.
Under the partnership, Tata Motors will offer a digital driving experience which will allow drivers and travellers advanced navigation, predictive maintenance and vehicle-centric services, remote monitoring of car features, external mobile experiences and over the air updates.
These offerings will be powered by Microsoft Azure cloud and services such as advanced analytics, machine learning, internet of things and artificial intelligence. The two companies began working with each other last year.
This move will help it make future proof cars in India which in some ways promote the Make in India campaign as well. In a bid to make cars for the future, the company is poised to get into a tie-up with global technology major Microsoft.
With large auto makers already investing in these emerging technologies, it is clear that Tata Motors needs to make the move quickly to avoid losing out the race particularly when also technologically assisted driving can soon become a reality.
To know more about the company's financial performance, subscribers can access to Tata Motors' latest result analysis (subscription required) and Tata Motors stock analysis on our website.
For information on how to pick stocks that have the potential to deliver big returns,
Read the latest Market Commentary