Indian Stock Market News February 22, 2017
Sensex Finishes on a Positive Note; Energy & Bank Stocks Rally
Stock markets in India continued to trade on a positive note in the afternoon session amid firm European markets. At the closing bell, the BSE Sensex stood higher by 103 points, while the NSE Nifty finished up by 19 points. Meanwhile, the S&P BSE Mid Cap finished & the S&P BSE Small Cap finished down by 0.6% respectively. Gains were largely seen in bank stocks, energy stocks and FMCG stocks.
Axis Bank share price surged 3.9% in today's trade after the bank described reports of a merger between itself and Kotak Mahindra Bank as 'baseless'. The clarification came even as there was speculation that other private banks, including ICICI Bank, might show interest in the government stake in Axis Bank.
While Axis Bank is India's third largest private-sector lender, it has reported a string of poor results in the past few quarters because of a rise in bad loans.
Asian stock markets finished mixed as of their recent closing prices. The Hang Seng gained 0.99% while the Shanghai Composite was higher by 0.24%. The Nikkei 225 was even. European markets are higher today with shares in France leading the region. The CAC 40 is up 0.38% while Germany's DAX is up 0.30% and London's FTSE 100 is up 0.13%.
The rupee was trading at Rs 66.96 against the US$ in the afternoon session. Oil prices were trading at US$ 54.07 at the time of writing.
According to a leading financial daily, Hindalco Industries is planning to invest Rs 10 billion in downstream expansion to increase the contribution of aluminum and copper value added products in overall sales.
Moreover, the company has secured an enabling resolution to raise up to Rs 50 billion through qualified institutional placement (QIP) to pre-pay loans and embark on downstream expansion.
As of the December quarter, the company has consolidated debt, including that of its American subsidiary Novelis Inc, of Rs 672.48 billion spread over five years. The company plans to accelerate deleveraging and want to reach a debt Ebitda level of 3 from current 4.5.
If aluminum and copper prices on LME stay higher, the company can deleverage faster and invest in less capital intensive downstream projects. Hindalco plans to set up a third copper rod plant of 2.30 lakh tonnes at Dahej in Gujarat by February next year, taking the overall capacity to 3.90 lakh.
Meanwhile, Hindalco expects higher growth in the next fiscal year because of the implementation of the Goods and Services Tax (GST), and higher consumption of aluminum and copper because of a rise in budgetary allocation to the infrastructure sector. Electricity, packaging, building and construction, automobile, defense, and transportation are the sectors the company has identified as growth areas for consumption demand.
Hindalco Share Price Has Surged 164% in Last One Year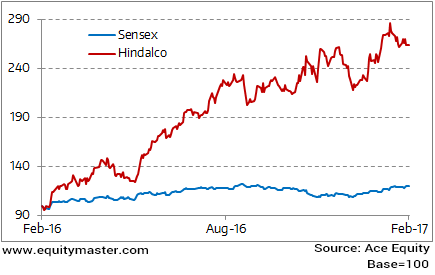 Hindalco reported a net profit in the December 2016 quarter from a loss in the year-ago period. Net profit in the third quarter stood at Rs 3.20 billion compared to a loss of Rs 327.5 million a year earlier. Net sales rose 13.7% to Rs 99.14 billion from Rs 87.15 billion a year earlier because of a rise in average realization for both aluminum and copper, weaker rupee and higher aluminum volume.
Hindalco share price finished the day down by 1.3%.
Moving on to news from stocks in FMCG sector. According to an article in The Livemint, ITC Ltd is set to increase prices of its leading cigarette brands, India Kings, Classic and Gold Flake, by 11-13%.
The increase in cigarette prices was expected as the Union budget on 1 February had proposed hiking the excise duty on cigarettes between 2.5% and 6%. ITC is passing on the increased duty to the consumers.
ITC had, before the budget, increased prices by around 14% for cigarettes including top-selling brands. Last year, ITC had increased cigarette prices by 12.8% after the budget proposed to increase excise duty by 10-15%.
Increasing cigarette prices is an annual exercise as the government hikes excise duty on tobacco products every year in its budget proposals.
In another development, ITC plans to set up multi-specialty hospitals and leverage its experience in hospitality for tapping into the expanding medical tourism segment in India. The move is in the context of the company's vision to sub-serve national priorities which has driven the company's operations, diversification initiatives and CSR policies and practices.
ITC share price finished the day up by 0.2% on the BSE.
And here's a note from Profit Hunter:
Axis Bank Ltd has been in the news on merger talks with Kotak Bank. It is up 23% from its December 2016 lows.
The stock is making a higher-top, higher-bottom pattern on the daily chart, and the RSI indicator is almost in overbought territory. The stock has also filled the downside gap area. All of these indicate near-term strength.
But the stock is now trading near its horizontal resistance level of Rs 530. This level also coincides with a 50% retracement level of the previous decline from Rs 635 to Rs 435.
Will the stock continue its recent upside momentum or will it resume its downtrend after resisting from the Rs 530 level?
Axis Bank to Resume Its Downtrend?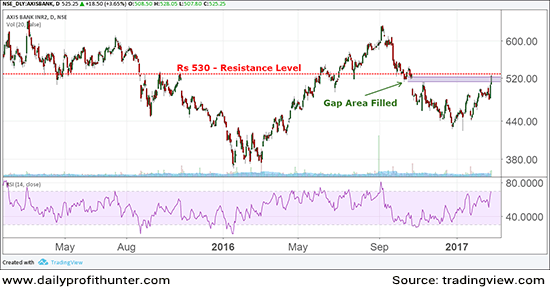 For information on how to pick stocks that have the potential to deliver big returns,
Read the latest Market Commentary
What else is happening in the markets today? Dig in...
Views on News
Sorry! There are no related views on news for this company/sector.
Most Popular
May 26, 2020
Six charts showing how Indian financial markets have performed in 2020 so far...
May 25, 2020
The RBI governor has cut the repo rate to 4%. What does this mean for options traders? Find out in this video.
May 21, 2020
The coronavirus led uncertainty refuses to go away from the markets. Here's what retail investors should do with their stocks...
May 28, 2020
Covid-19 has made it a survival of the fittest race for many companies. The ones that can adapt will thrive in a post crisis world.
More