Indian Stock Market News March 1, 2017
Sensex Finishes Firm Post Q3 GDP Data; Tata Steel Surges 3.7%
Share markets in India continued the rally and headed for a firm close on positive GDP data for the December quarter and favorable Asian cues. At the closing bell, the BSE Sensex closed higher by 241 points, whereas the NSE Nifty finished higher by 66 points. The S&P BSE Midcap finished up by 0.1% while the S&P BSE Small Cap ended up by 0.5%. Sectoral indices ended the day on a mixed note with power stocks and energy stocks leading the losses. While, realty and metal stocks were among the top gainers on the BSE.
Asian equity markets finished broadly higher today with shares in Japan leading the region. The Nikkei 225 was up 1.44% while China's Shanghai Composite ended up 0.16% and Hong Kong's Hang Seng was up 0.15%. European markets are higher today with shares in Germany leading the region. The DAX is up 1.38% while France's CAC 40 is up 1.25% and London's FTSE 100 is up 0.87%.
The rupee was trading at Rs 66.84 against the US$ in the afternoon session. Oil prices were trading at US$ 54.21 at the time of writing.
Steel stocks ended the day on a firm note with Tata Sponge and Jindal Saw being the most active stocks in this space. Tata steel share price continued the rally and finished up by 3.7% after it was reported that the company's recently commissioned Ferro-chrome plant at Gopalpur Industrial Park in Ganjam district of Odisha commenced production.
In November 2016, the company had inaugurated the ferrochrome plant in Gopalpur industrial park in Odisha. As part of the anchor investment in Tata Steel's Gopalpur Industrial Park, the Rs 5.42 billion Ferro-chrome plant has an installed capacity of 55,000 tonne per annum (tpa).
Ferrochrome is an alloy of chromium and iron containing 50% to 70% chromium by weight. It is a unique environment friendly plant with hi-tech pollution control equipment and technology such as ETP (effluent treatment plant) and STP (sewage treatment plant). It is the first plant in India to use briquetting method of chrome ore fines agglomeration.
Besides the new unit at Gopalpur, Tata Steel has two other such plants in Odisha under the management of its subsidiary TS Alloys.
To know more about the company's financial performance, subscribers can access to Tata Steel's latest result analysis (Subscription Required) and Tata steel stock analysis on our website.
Moving on to the news from stocks in pharma sector. According to a report by The Hindu Business Line, Indian pharma sector is expected to grow up to 45% by 2025 and 58,000 additional job opportunities are likely to be created in the industry.
Despite the capping of prices, notebandi and GST implementation, all of which are perceived to impact the pharma sector adversely (subscription required), the industry will continue to grow. The major growth engines will be domestic sales, exports, an ageing population, health insurance coverage, increase in per capita spending, medical tourism etc., the reports noted.
Indian Pharma Revenue Growth Accelerates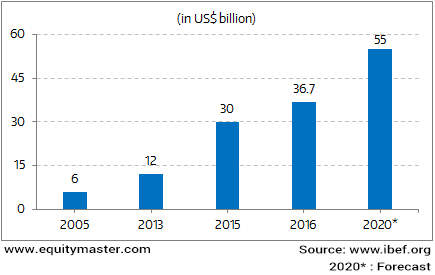 In fact, by 2020, the pharma market will be touching US$ 55 billion with a CAGR of about 15.9%, with generics occupying 70% market share followed by over-the-counter 21% and patented drugs capturing 9% market share.
Reportedly, Biosimilars and Biologics are burgeoning sectors in 2017 also major scientific and technological advances, coupled with socio-demographic changes and increasing demand for medicines will revive the Indian pharma industry's fortunes for another 10 to 20 years.
But given the complexity of biologics, will Indian companies be able to break some ground in this space? A premium edition of The 5 Minute Wrap up offers a view on the same (subscription Required).
Meanwhile, we also wrote about the USFDA crackdowns faced by the Indian Pharma in the recent times and how they have been constantly investing towards R&D. We believe pharma companies that are upgrading and keeping facilities compliant, and have niche product pipelines in place will see sustained revenue growth going forward.
Pharma stocks ended the day on a mixed note with Panacea Biotech and Elder Pharma leading the gains.
And here's a note from Profit Hunter:
The pharma sector has been the worst-performing sector since the market topped out in March 2015. The Nifty 50 Index is just half a percent away from its all-time high, but the Nifty Pharma Index is down more than 14%.
The pharma index has been in a downtrend since April 2015, and the index made a low of 9,870 in December 2016 after breaking its important support of 10,600 (indicated by the green line in the chart below). The index briefly crossed above this level on 6 February but slipped back below the next day for a false break-out.
Today, the index again broke above this important level. Will it be able to sustain above 10,600 or will it slip back again like before? Keep a watch on this level. It's shaping up to be a make or break level for the index.
If you are serious about doing well as a trader, we strongly recommend you to download our special report, How To Boost Trading Profits in Four Easy Steps.
It is available FREE ONLY FOR TODAY. So don't delay. Download your copy today.
Nifty Pharma at Make or Break Level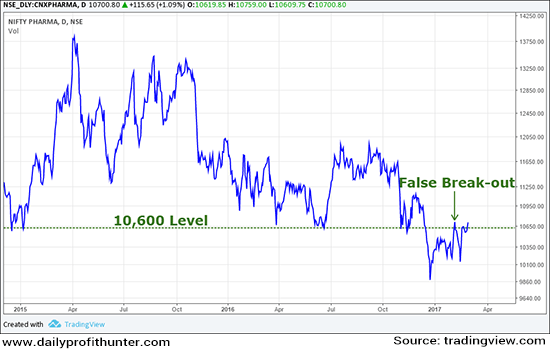 For information on how to pick stocks that have the potential to deliver big returns,
Read the latest Market Commentary